25 Easy Crockpot Meals for busy nights when you want a hot home-cooked meal and you are short on time in the evening.
Have you ever had one of those days when you didn't realize until you got home that you forgot to take something out for dinner? It happens to the best of us!
We have the greatest plans for making a fabulous meal for our family only to realize at dinner time we are less than prepared to do so. This is why on busy nights, I make sure that I have dinner cooking in my crockpot before I leave for my busy day.
Here are 25 easy crockpot meals for those busy nights so you don't even have to think about what's for dinner when dinnertime rolls around. If you like to make Crockpot meals that have 5 ingredients or less, try these.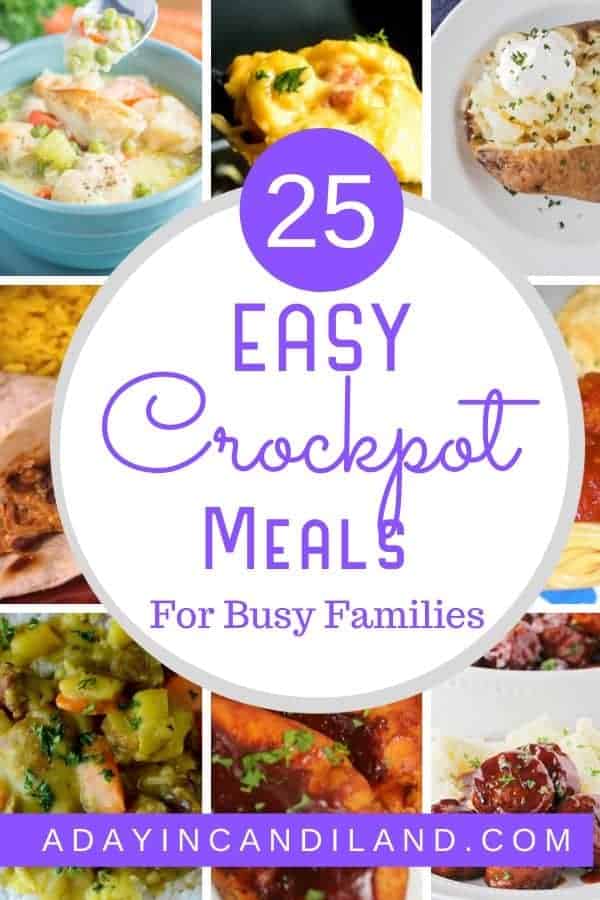 Easy Crockpot Meals and Recipes
I love this easy crockpot lasagna recipe because it is easy to prepare + you do NOT have to cook the noodles….and it tastes great! 5 Ingredients or less.
You will adore this Pulled Pork Recipe. It's savory and a little bit sweet and just melts in your mouth. I literally stand by the crockpot and sneak nibbles out before dinner when we make this. It's just so good! 5 Ingredients or less.
Love comfort foods? This Crockpot Chicken and Dumplings recipe is packed full of veggies and is a cinch to make!
Here is a simple method for crockpot baked potatoes.
It just does not get any easier than this. This is a meal that you can put the meat in the crockpot while it is still frozen and everything turns out perfect. It does cook quickly, so if you're putting it in the crockpot before you leave for work you will want to use the low setting.
This Spicy Crock Pot Macaroni and Cheese is a no-boil macaroni and cheese recipe that takes it to the next level with the addition of diced tomatoes and green chiles!
3 Minute prep Mexican Chicken with 6 Ingredients
Check out this new twist on an old favorite…CrockPot Coconut Curry Beef Stew. All the things you love but kicked up a notch with the addition of curry and coconut milk. I promise you will love it! Yum.
This tortellini soup recipe is so easy. It cooks in the crockpot. This soup can even be made ahead as a freezer meal. It is hearty enough for a complete dinner.
To make these grape jelly meatballs, you'll need 3 things – a bag of meatballs, 1 jar of BBQ sauce, and one jar of grape jelly. Under 5 Ingredients.
Here is an easy crockpot orange chicken recipe to make that cook on its own in your crockpot. Healthy and easy to make, even my kids love this one!
This Slow Cooker BBQ Chicken recipe is incredibly easy to put together. It has only 3 ingredients and is always a hit. My family can't get enough of it.
This easy crockpot meal is quick to prepare and very tasty. If you want to make it for yourself, you probably have most of the ingredients on hand.
Remember, anything that can be cooked in the oven can be cooked in your slow cooker. It is so easy and requires no attention.
Typically, Chicken Marsala is made in a pan where you have to stand and flip and reduce the sauce. Way too much work for this busy working mom! I figured out a way to make Slow Cooked Chicken Marsala without losing the authenticity of the dish. All you need is a crockpot and these fantastic ingredients.
Slow Cooker Tuscan Soup is a delicious and hearty homemade meal that is so simple to make in your Crockpot!
Don't waste money on Chinese when you can make your own Broccoli and Beef in your slow cooker at home!
To make our mornings easier, we prepare our potato chowder the night before we want to eat it. We do all of the dicing, chopping, and mixing, and then put the mixture into the removable crock for our largest CrockPot.
More Related Recipes
More Crockpot Dinners
5 Ingredients or Less, start with 2 cans of soup.
There's nothing better than a bowl of homemade chicken noodle soup on a cold day! Throw a few ingredients into your crockpot and then snuggle up with your kiddos while dinner cooks all day.
This Crockpot Chicken Parmesan Pasta is not only easy but so very good!
This easy-ingredient crockpot chili recipe is the easiest you will ever make. Just dump everything into your slow cooker in the morning and enjoy it for dinner! You can spice it up if you like or leave it as is. Serve it inside baked potatoes or on top of rice for the perfect hearty dinner.
Here is the most tender slow cooker pot roast you will ever eat.
This creamy, dreamy Italian crockpot chicken is impressively easy!
This crockpot chicken chili recipe is one of my favorites as you probably already have most of the canned foods in your pantry needed. This recipe is also very versatile you can add or get rid of any ingredients to make it more delicious.
FAQ for Using Your Crockpot
Use the best size for your recipe – Usually 6-7 quarts
Don't open your crockpot while cooking, it lets out steam and moisture and adds time to the cooking
Don't overfill your crockpot
For the best taste, brown your red meats first on the stove.
Let foods cool down before you place them in the refrigerator. (Avoid the danger zone) You can do this by placing Tupperware on a bowl of ice.
Add milk and dairy toward the end of the cooking time.
Tips directly from Crock-Pot
*This post may contain affiliate links. If you make a purchase, I get a small commission. Please see my disclosure policy for details
KITCHEN TOOLS, UTENSILS, AND APPLIANCES NEEDED
Here are some of my favorite kitchen tools to use with my Crockpot
Slow Cooker Liners Makes Clean up a Breeze
Crockpot Travel Carrier Take your favorite crockpot with you and keep it safe from spills.
Shredding Claws Makes pulled pork and pulled chicken easier to shred without burning your hands.
Bowls for Storage Makes leftovers and clean-up easier.
Baggy Rack Bag openers to hold bags open as you pour in ingredients.