These 20 easy crockpot breakfast dishes are sure to make your life easier and tastier in no time. As a mom of three, coming up with new breakfast ideas besides cereal and toast is a challenge.
I like to write down, my meals in my planner, which you can find below, and what I am making for dinner the next night, so I can go to the store and get any missing ingredients. These recipes are fun and tasty, some are more of a breakfast snack, while others are a filling meal.
Have fun trying these additional crockpot recipes and let me know in the comments which ones you really enjoy.
Easy Crockpot Breakfast Dishes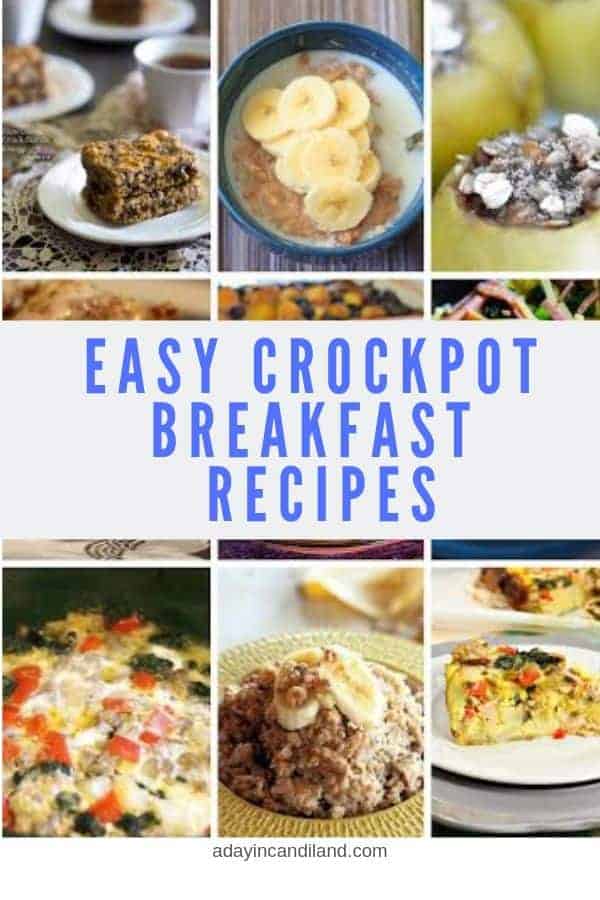 Crockpot Breakfast Recipes
Slow Cooker French Toast Casserole
Overnight Crockpot French Toast Casserole with homemade vanilla extract. Warm and Crispy.
Slow Cooker Pumpkin Bread Pudding Breakfast
Made with Cinnamon Bread, Pumpkin Puree, brown sugar, spices and more.
Slow Cooker Quinoa Energy Bar Recipe
Made with almond butter, chia seeds, quinoa, maple syrup, and dried apples.
Hollow out your apples and add, some spices for a delicious treat.
Crockpot Overnight Breakfast Casserole
Made with cheeses, bacon, sausage, eggs, and hashbrowns. A hearty meal.
Slow Cooker Stuffed French Toast
A french bread made with cream cheese and cinnamon and spices.
Peach Baked Oatmeal with Blueberries
Made with oats, flax seed, Peaches and Blueberries
A delicious apple butter for toast or to add on your oatmeal.
Made with oats, granny smith apples, brown sugar and cinnamon.
Slow Cooker Cinnamon Roll Breakfast Casserole
Cinnamon rolls, with whipping cream, maple syrup and spices
Slow Cooker Egg Casserole with Sausage, Peppers, Cottage Cheese, and Cheddar
Another hearty meal with eggs, sausage, cottage cheese and cheddar cheese.
Slow Cooker Frittata with Broccoli, Ham, and Swiss
Make this beautiful breakfast Frittata with broccoli, ham and swiss cheese.
Made with coconut, honey, steel oats, bananas, cinnamon and nutmeg.
Turkey, spinach, potatoes, eggs, cheese, bell peppers. leave out the potatoes and make it a Keto breakfast.
Crockpot Oatmeal Recipes Crockpot Banana Nut Oatmeal
Bananas, Steel cut oats, walnuts, chia seeds and more.
Slow Cooker Mexican Breakfast Casserole
This spicy breakfast is sure to please, with green chilis, eggs, onions, corn and mushrooms and mexican cheese.
Crock Pot French Toast Casserole
Whole Wheat toast, eggs, cinnamon, brown sugar and maple syrup.