If you love lemon you will love these Lemon Ricotta Pancakes!
Have you ever been to a restaurant for dinner and started looking at the breakfast menu? We were at Cheesecake Factory and if you have ever been there you know how big the menu is and not only lunch and dinner items but breakfast too. As I was looking at the menu, something lemony and cheesy stood out and after reading the description, I had to call over the waitress and ask her about it. Lemon Ricotta Pancakes.
I love anything with lemon in it and I will try to make anything that has it in it too. We went home and I found a recipe to make it. I went to the store and got all the ingredients and I made the batter and hubby made the pancakes. Now I love pancakes and all breakfast food, it's really my favorite meal of the day. I was so excited to eat it and it tasted delicious. My kids even ate it knowing there was cheese in it, made it questionable to them, but it was a hit. We added strawberries, but blueberries would have been just as good.
Lemon Ricotta Pancakes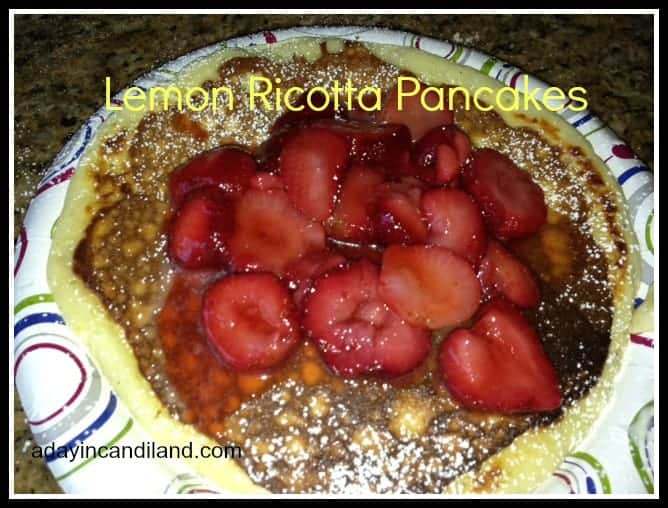 Lemon Ricotta Pancakes
This recipe is great with strawberries or blueberries on top. It is not too sweet so the addition of the berries works well. This recipe was adapted from the Cheesecake Factory.
Ingredients
1-3/4

Cups

AP Flour

1

Tbs

Baking Powder

1

ts

Salt

1 1/2

Cups

Buttermilk

2

Eggs

1

ts

Vanilla

2

Tbs

Vegetable Oil

2

cups

Fresh Ricotta cheese

4

Tbs

granulated sugar

2

Tbs

lemon zest

Fruit of choice for top

2 1/2

tsp

oil for griddle
Instructions
Place the flour, baking powder and salt into a mixing bowl. Stir the ingredients together until combined. Set aside.

Pour the buttermilk into another mixing bowl. Add eggs, vanilla and oil into the bowl. (I did add a 1/2 teaspoon of lemon juice also)

Add the ricotta cheese, sugar and lemon zest into the bowl with the buttermilk. Using a whisk. gently still the ingredients together.

Add the flour mix into the bowl with the buttermilk and ricotta cheese. continue to fold the ingredients together until evenly combined with a few small lumps remaining in the batter. Do not over mix the batter.

Heat 1/4 tsp of vegetable oil on a griddle or in a large non stick pan. Ladle the batter on the griddle until the pancake is nice and golden on each side.

This recipe is enough to feed 3-4 people.
I hope you will try these pancakes and see if you enjoy the lemon goodness as much as I do. Sign up for my weekly email recipes at the top of this post. Thanks for visiting and leave me a comment below.
What is your favorite breakfast food?