Start your morning with a green smoothie and brainfood to kickstart your day. 
This morning I got up and made a blueberry green smoothie.  This is my new breakfast drink. I usually wake up and have a glass of water with a little lemon and raw apple cider vinegar. I have heard many benefits of doing this and it helps balance the acidity in your body. Then I switched over to the green smoothie. I got a Nutri Bullet for my birthday. I had been wanting one for a while. They are so easy and clean up is a breeze. Here are a few other Healthy Smoothies you might also enjoy.
Blueberry Green Smoothie Ingredients
I start out with putting some spinach and kale, if I have it, into the bullet. Usually just a small handful. Then I add different fruits. Today I added some frozen peaches, frozen pineapples and frozen blueberries. Then I add some raw organic sunflower seeds. I then put in half of a banana or avocado, whichever I have that hasn't gone bad. Lastly, I add my liquid. You can add water but I need some good fats in my smoothie, so I add unsweetened coconut milk, another alternative is almond milk. Just check the sugar content.
Put it on the blender and about 30 seconds later, you have a delicious smoothie. It is the quickest breakfast you can make and it is so easy to clean up.
[Tweet "Quick #recipe for Green Smoothie with #Blueberries and Peaches"]
 Benefits of Green Smoothie
I haven't found out all the benefits of my blueberry green smoothie, except I know that I am getting my green veggies, antioxidants from the blueberries, vitamin E from the sunflower seeds, and it's vegan and has coconut milk for lots of great stuff. Oh and the banana has lots of great benefits like potassium and more.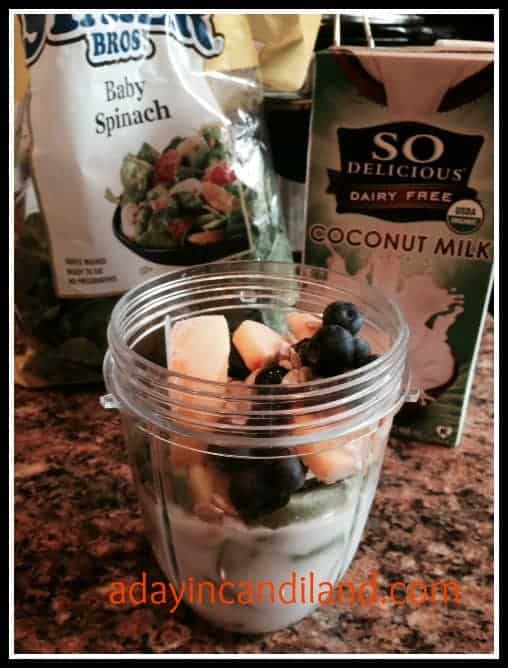 The possibilities are endless with these green smoothies. I love that you can add any fruit, liquid, and veggies and get a delicious and nutritious drink with very few calories. It's the easiest way for me to get my veggies and fruits. I drink so much during the day and now I get my liquid and nutrition in one.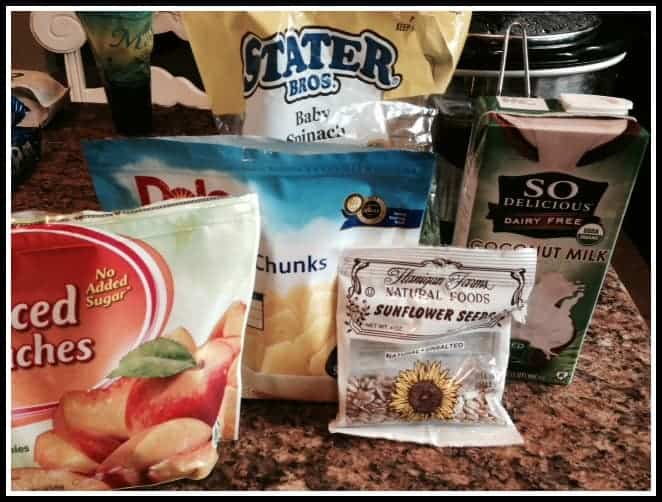 I am sure I will be sharing more beverage recipes with you. So check back often. You can also follow me on facebook to follow the conversation and let me know if you enjoyed this blueberry green smoothie. Get more healthy tips here. 
So Delicious Dairy Free – Organic Coconut Milk Beverage Organic Unsweetened, 1 Quart (Pack of 6)
Silk Almond Milk, Unsweetened Vanilla, 32 Fluid Ounce (Pack of 6)
Sincerely Nuts Organic Sunflower Seeds Hulled (Raw, No Shell) 1 Lb
Magic Bullet Blender, Small, Silver, 11 Piece Set
How do you jump start your morning?