These Best Smoothie Recipes are some of the easiest foods to add to your lifestyle. They aid in digestion, heart health, and fiber and are easy to make and drink on the go.
They are full of vitamins, and there are so many varieties, you are sure to find one here you love. Here are some of my favorite smoothie recipes.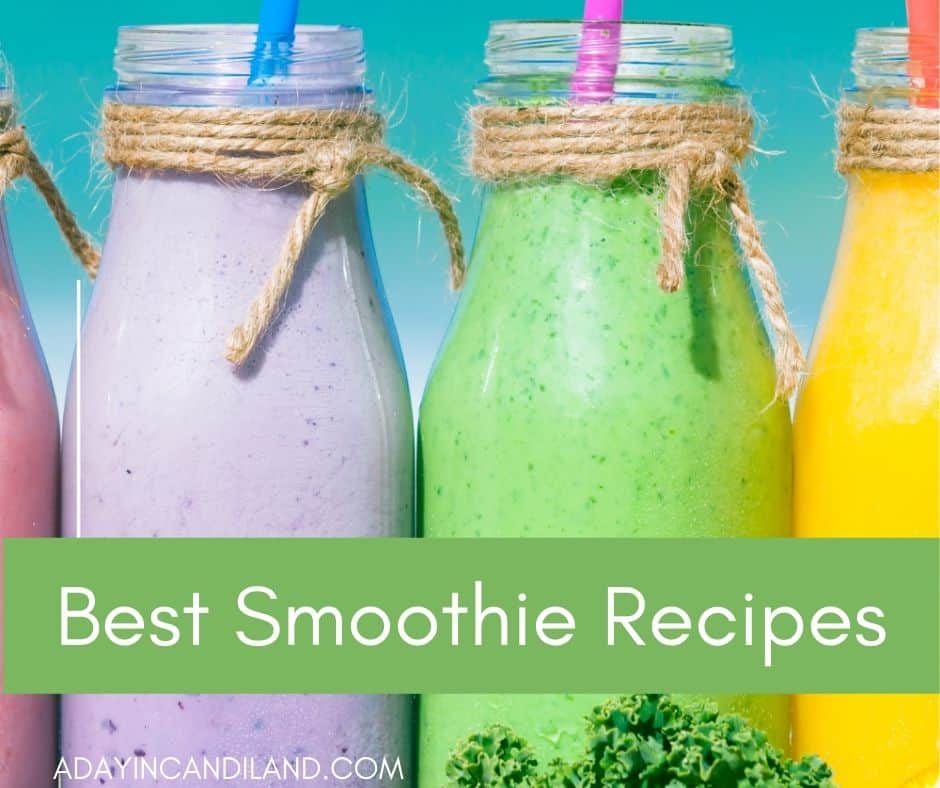 You can choose between, dairy-free smoothies, vegan smoothies, protein smoothies, green smoothies, and superfood smoothies. Each one has a few different ingredients.
It is best not to add any additional sugar if you can because many of the fruits have more than enough. I suggest using only natural ingredients or stevia to sweeten up your drink. Enjoy the best smoothie recipes below.
Dairy-Free Smoothies
These smoothies can be made with Almond Milk, Coconut Milk, Rice Milk or Oat Milk. However, Oat Milk is higher in sugar than the others. If you choose you can add regular milk to any of these recipes below. You can also choose to just use water. You can always add a little coconut oil for a superfood, and either chia, flax, pumpkin, or sunflower seeds also.
Green Smoothies
Green Smoothies get their name for either Spinach or Kale. You can also add Avocado into any smoothie which will give you good healthy fats and also a smooth neutral taste to your beverage.
You may have to overlook the color of the drink as it will be very green. Don't let the color stop you as these drinks have many vitamins and fiber you need daily.
Coffee Smoothies
If you can't get through the day without your coffee, then change it into a coffee smoothie. You will definitely get your caffeine with one of these drinks below. But you will also get some good vitamins and protein also.
Round-Up Smoothies
These round-up smoothies have several recipes in one article. We have one that has 15 Green Smoothie Recipes that have plenty of greens to satisfy you. There is also one with all dairy-free recipes. These ones have lots of fruits you will love.
Detox Smoothie
Detox Smoothies are great to get rid of toxins in the body. There are several ingredients that you can add to your favorite drink to help detoxify the kidneys and liver.
Smoothie Bowls
Superfood Smoothie Benefits
Find out what are the best superfoods to add to your smoothies to give that boost of vitamins, and healthy fats, including ways to boost your immune system.
*This post may contain affiliate links. If you make a purchase, I get a small commission. Please see my disclosure policy for details
My favorite equipment for making smoothies is the Ninja Smoothie Maker. This blends in no time. Don't forget some of these cute paper straws to make your smoothie more festive.