A Delicious Pumpkin Protein Smoothie made of Pumpkin Puree, Bananas, Protein Powder, Oranges, and spices. This smoothie has lots of vitamins, protein and is Gluten Free.
I am a pumpkin junkie, tonight we ate pumpkin pancakes, made by my son.  I don't think there is anything Pumpkin I won't eat.
Pumpkin Protein Smoothie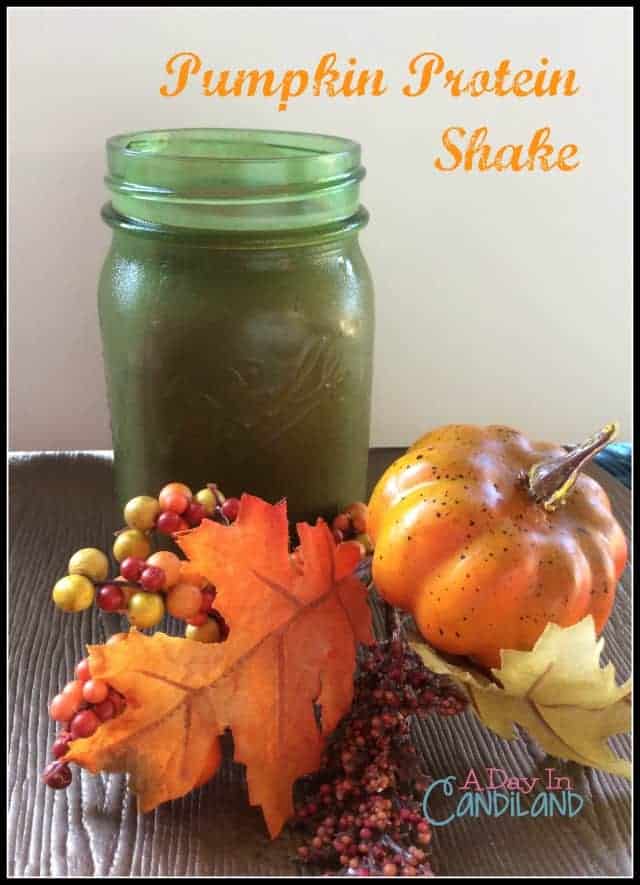 Have you seen the pumpkin recipes, even the grocery stores all carry Pumpkin this and Pumpkin that?
I was visiting another blog I enjoy Simply Sugar and Gluten Free and saw this recipe for Pumpkin spice shake. I have adapted it into a protein shake below. This is just plain goodness and deliciousness. Wouldn't this go great with my Pumpkin Swirl Cheesecake Brownies? 
Pumpkin Protein Smoothie
A healthy protein smoothie rich in vitamin A & C and Gluten Free
Ingredients
¼ cup pumpkin puree
½ cup almond or rice milk
½ of a frozen banana
¼ of an orange, peel removed
¼ cup Vanilla or Chocolate protein powder
1 teaspoon ground cinnamon
1 teaspoon of nutmeg
6 ice cubes
Instructions
Put all of the ingredients into your Vita-mix.
Start on low, increase quickly to high, until thoroughly blended.
Serve immediately.
I have been drinking one everyday. It is so delicious and its loaded with vitamins, you will never know it's good for you too.
What have you been eating with pumpkin in it. My next task is Pumpkin Creme Brulee. I can't wait. Thanks for visiting and make sure you follow me on twitter and facebook. Sign up for my email newsletter to get these recipes first and receive a free baking ingredient substitution chart when you do.
If you like this Pumpkin Protein Smoothie try these: