Choosing the Best Electric Tea Kettle might be harder than you think when you see all the options available. Here is what some die-hard tea drinkers had a lot to say about it when it comes to making their beloved beverage.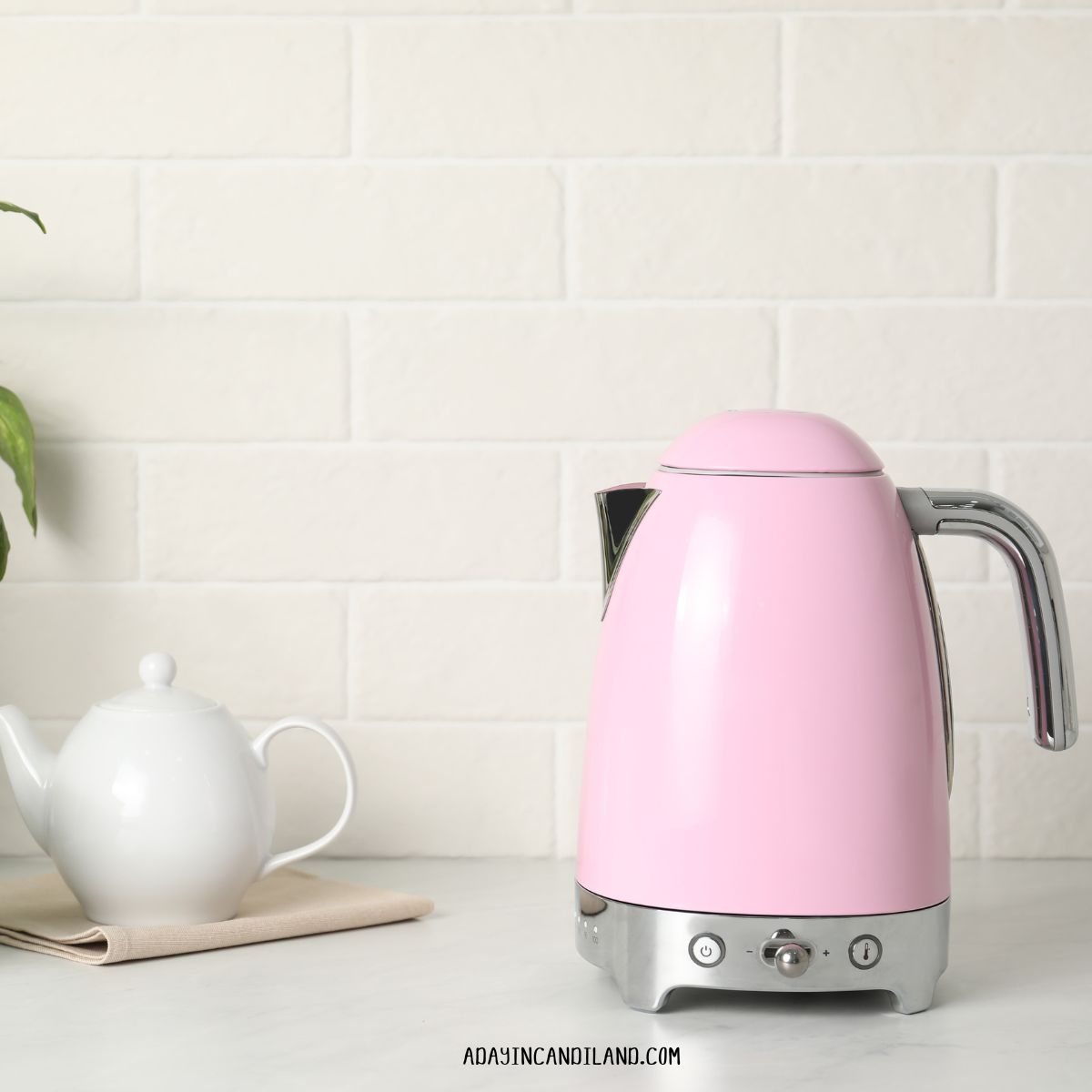 Related Tea Product Reviews:
What to Consider When Buying an Electric Tea Kettle?
Speed. For most people that love electric kettles, the main thing they cite in their praise is the speed they offer.
Temperature Options. This is a toss-up between those surveyed. Many liked the preset temp options, but some liked to choose their own temp setting.
Cost. Most surveyed said they would pay more, to get what they wanted and to know it would last.
Size. Unless you are living in a small setting this was not important.
Material. This seemed to be the most important for many surveyed. They did not want any plastic touching the water.
Ease of Use. Some people surveyed did not like the gooseneck because of the small area to clean with the spout. While others liked the gooseneck because there was no splattering when pouring.
Best Electric Tea Kettle for Small Kitchens (or RVs)
Zeppoli Electric Kettle
The Zeppoli electric kettle is very stylish with a glass teapot, stainless steel top and bottom, and a black, plastic handle. With a 1.7L capacity, water is speedily boiled in a matter of 5-6minutes.
This electric kettle has an anti-slip grip for additional safety and has a bright LED light to show when the kettle has fully boiled. It also contains a boil-dry safety feature ensuring that the kettle will not boil if there isn't any water in it.
A great feature of the Zeppoli electric kettle is that it has an automatic shut-off feature, helping to save on electricity usage.
Due to its small and compact size, it is perfect for smaller kitchens or even on the go in an RV.
Stylish appearance made from glass and stainless steel with a plastic handle
Fast boil speed up to 5-6minutes
Safety features including anti-slip grip, automatic shut-off feature, and boil-dry safet feature
Small in size with a 1.7L capacity perfect for smaller spaces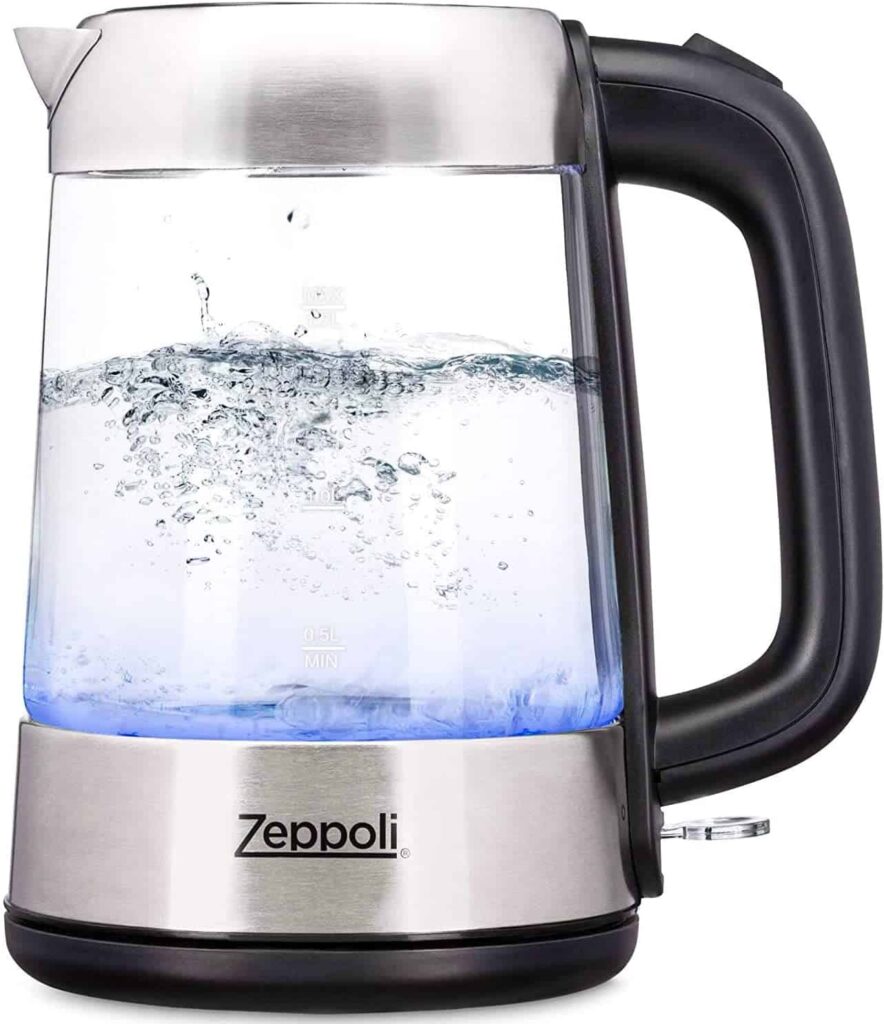 Best Kettle for Individual Use
Bodum Bistro Electric Water Kettle
Available in three sizes, 17ounce, 34ounce, and 37ounce, the Bodum Bistro Electric Water Kettle is ideal for limiting water wastage
With a handy water scale displayed, you can ensure to only fill the kettle to the number of drinks being made. This helps to save electricity and water by only boiling what is needed.
Similar to the Zeppoli, the Bodum electric tea kettle has a manual on/off switch and has a power light to show when it is on.
As this kettle is available in three different sizes, you can ensure to buy the size that fits your needs. For the average household, I recommend sticking with the 17ounce Bodum bistro electric water kettle. This holds enough water to boil 4 cups worth at a time.
This kettle is fast, only taking approximately 4 minutes to boil water so you can enjoy your cups of tea quicker.
The Bodum tea kettle is BPA-free and has an automatic shut-off safety feature included where it turns itself off once the water has boiled.
Available in a range of sizes: 17, 34, and 37ounces
Stylish design available in black, red, or white
BPA free and auto shut-off feature
Excellent speed at only 4 minutes to boil water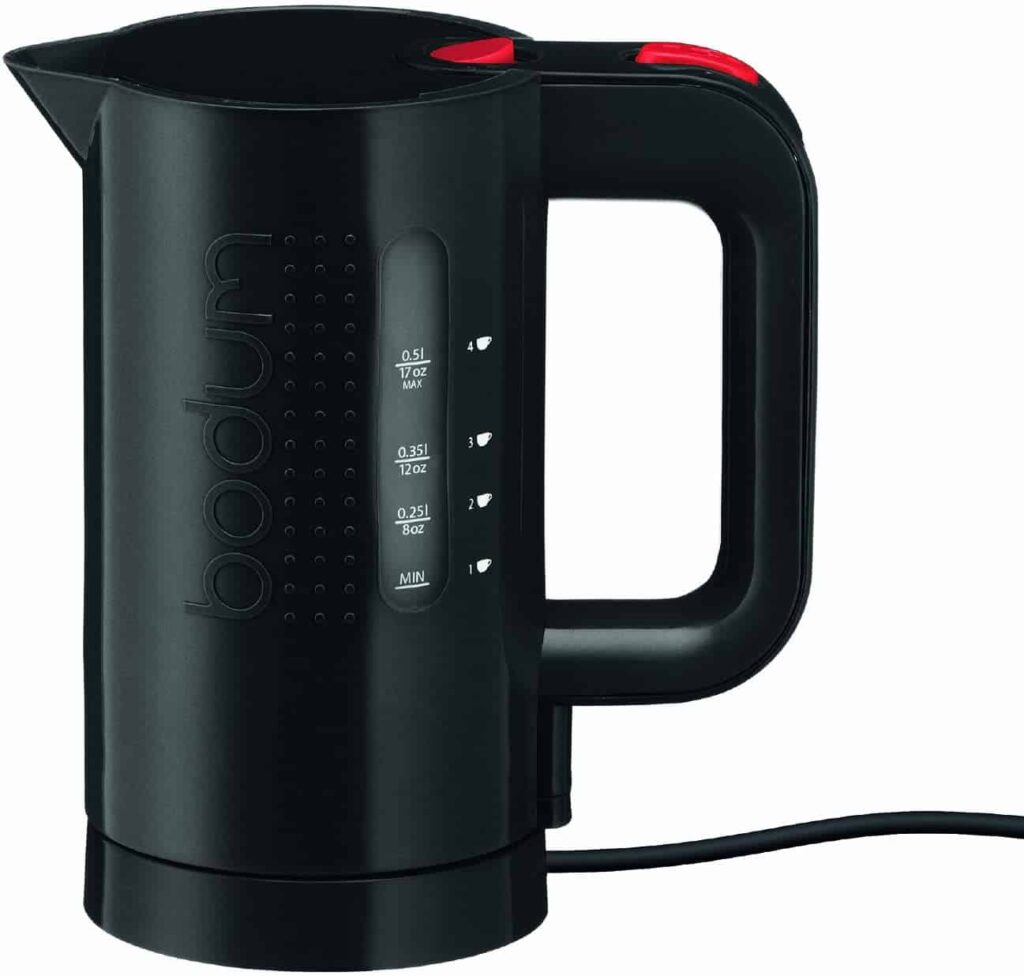 Best Budget-Friendly Kettle
Mueller Ultra Kettle
The Mueller Ultra Kettle is very similar in design to the Zeppoli, with a clear glass cylinder. The top and bottom is stainless steel and has an anti-slip grip handle for added safety.
An added bonus of the Mueller is that it also has a water scale helping you to measure exactly how much water you need and limit water wastage.
The Mueller electric kettle can hold 1.8L of water and has a boil-dry safety feature that shuts off within 30seconds of boiling.
Can hold 1.8L of water
Offers shut-off and boil-dry safety features
Has an anti-slip grip handle
Provides a water scale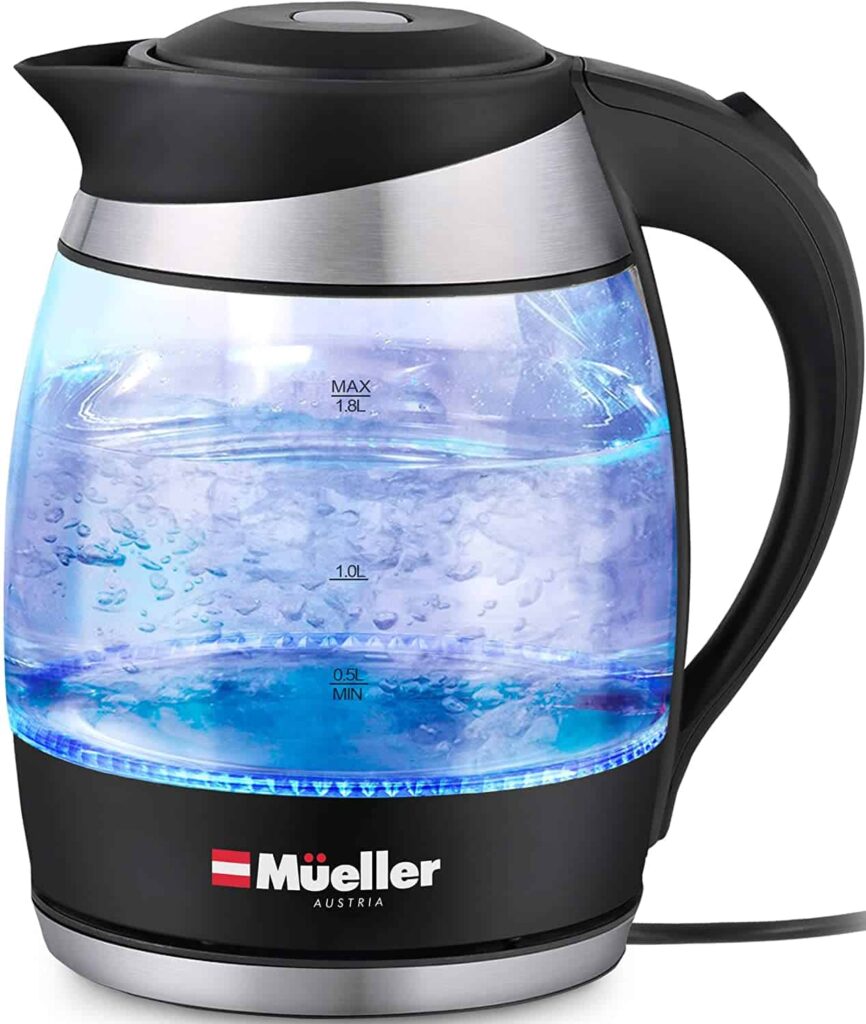 Best Gooseneck Kettle
Fellow Stagg EKG Plus Electric Gooseneck Kettle
The Fellow Stagg Gooseneck electric kettle is made with style and elegance in mind. If you are looking for an electric tea kettle that combines style with technology, then this is the kettle for you.
This tea kettle has a long, pointed spout providing an optimal flow rate of hot water to make your tea. Made from stainless steel which is available in black, chrome, or silver.
The stand includes an electric display so you can easily control the temperature it warms the water to. Plus, a handy hold feature enabling you to keep water warm for up to 60 minutes.
With built-in Bluetooth, you can easily connect your Stagg electric tea kettle to your phone and control using your kettle from anywhere in your home.
The Fellow Stagg kettle is 1200watts enabling a speedy heating time enabling you to relax and enjoy your tea faster than standard kettles.
Though it does have modern in-built features, this Gooseneck tea kettle only has a capacity of 0.9L.
Extremely stylish with a gooseneck spout
Uses modern technology enabling you to link your kettle to your phone, control the temperature, and maintain the water temperature
Fast heating time
Precision pouring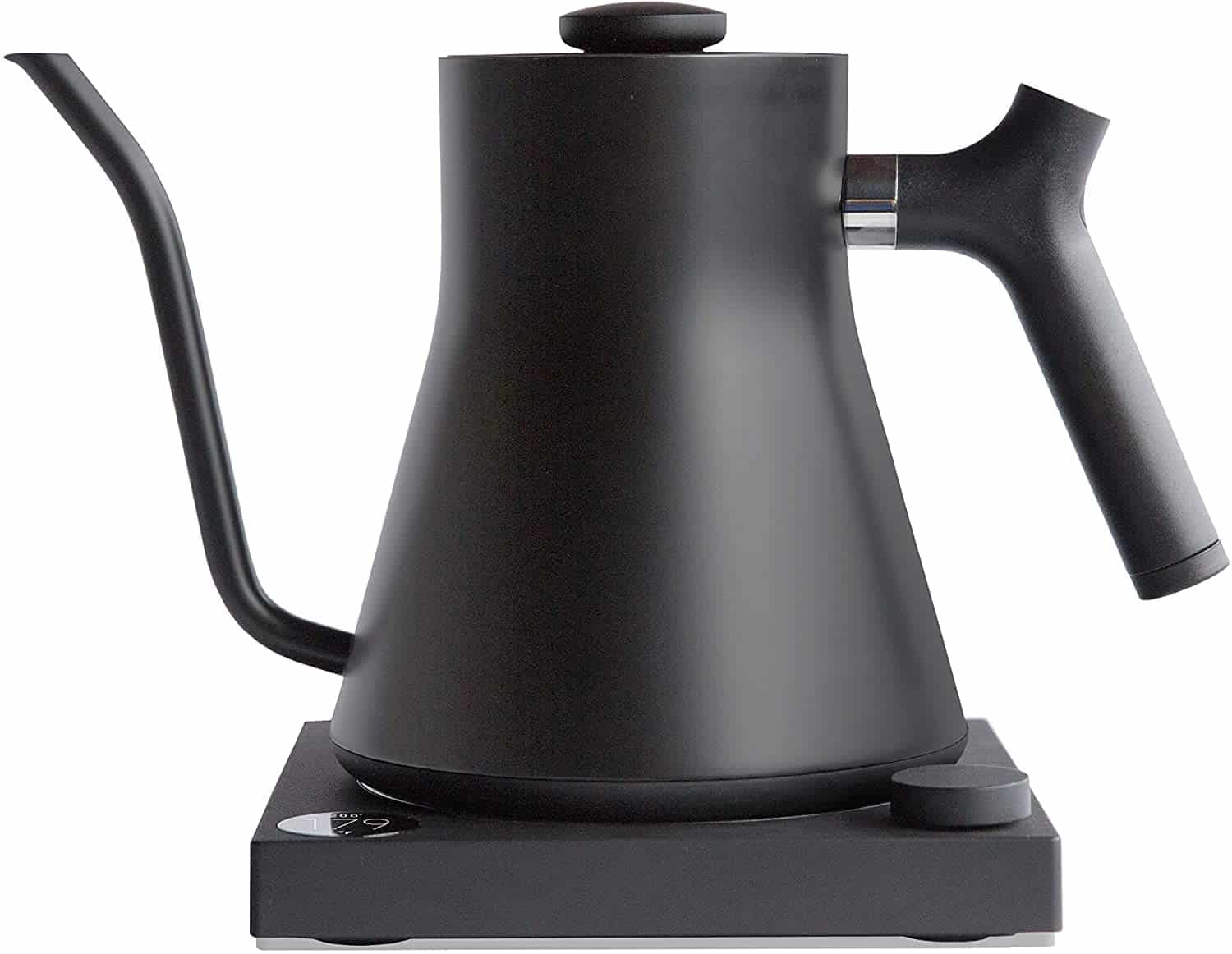 Best Cordless Glass Tea Kettle
OXO Brew Cordless Glass Electric Kettle
This kettle is a great cordless option once removed from the base. It has a non-slip plastic handle with a stylish glass cylinder with stainless steel at the top and bottom of the kettle.
The Oxo Brew electric kettle can hold 1.75L of water and has an easy-to-read water scale helping to minimize water wastage.
With an LED light to show when the kettle is boiling, it also has an auto shut-off safety feature to automatically turn off when the water has reached boiling temperature.
Though it does take longer to boil water than the other options listed above, its handle is easy to grip and an easy-to-pour kettle making it a great cordless option.
Stylish and comfortable handle
Auto stitch-off safety feature and BPA free
Water scale for accurate measuring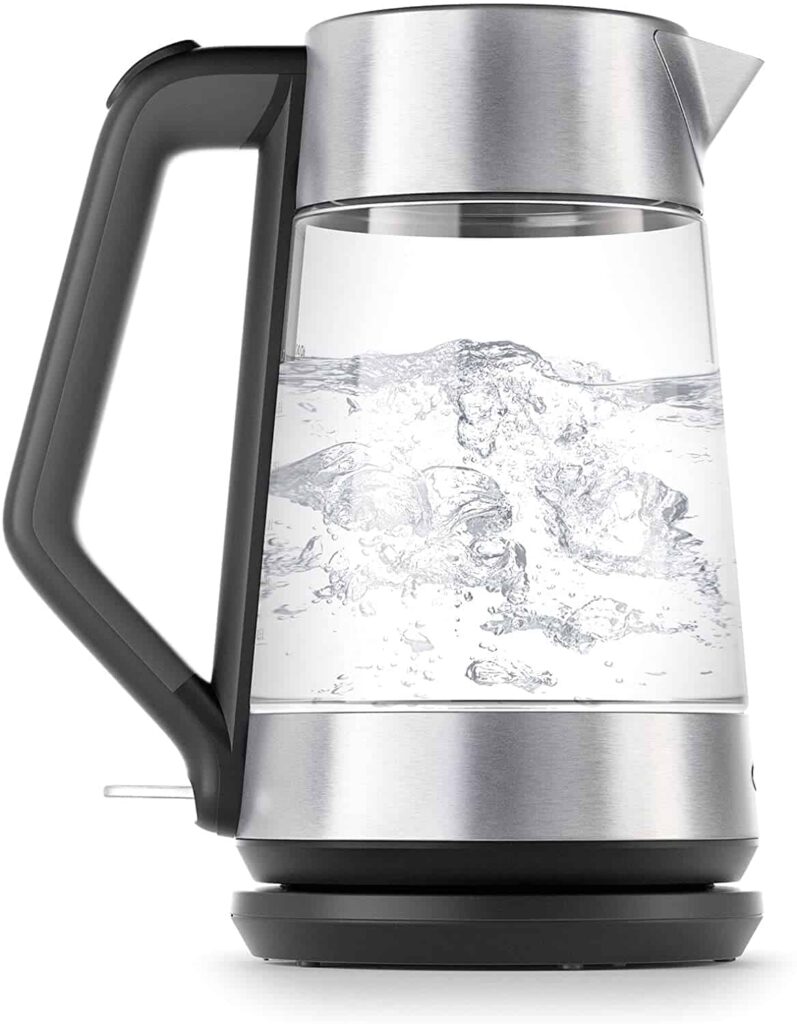 Best Overall Tea Kettle
Hamilton Beach Temperature Control Glass Electric Tea Kettle
Combining style, technology, and ease of use, the Hamilton Beach tea kettle is a great all-in-one.
Holding 1.7L, this electric tea kettle has a glass central cylinder, with a large handle and stainless steel base.
The handle itself contains 6 touch settings that control the temperature for different teas such as white, oolong, or green tea. Plus, there is a keep warm option enabling you to maintain the water temperature for up to 30 minutes.
Similar to the other tea kettles, the Hamilton Beach kettle also has those important safety features such as the shut-off when boiled and boil-dry feature.
Easy to use large handle
1.7L capacity
Can maintain temperature for 30 minutes
Safety features including shut-off and boil-dry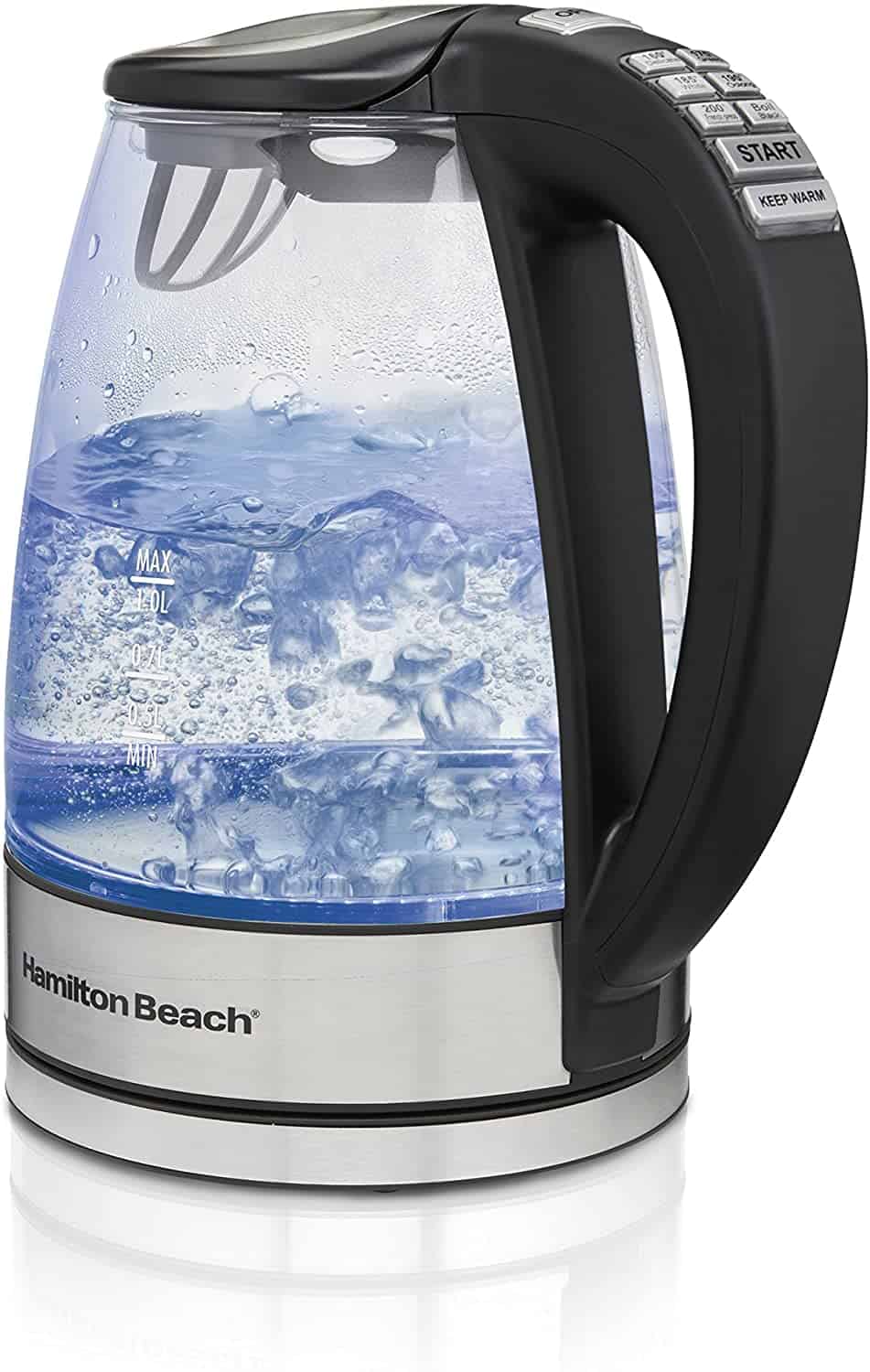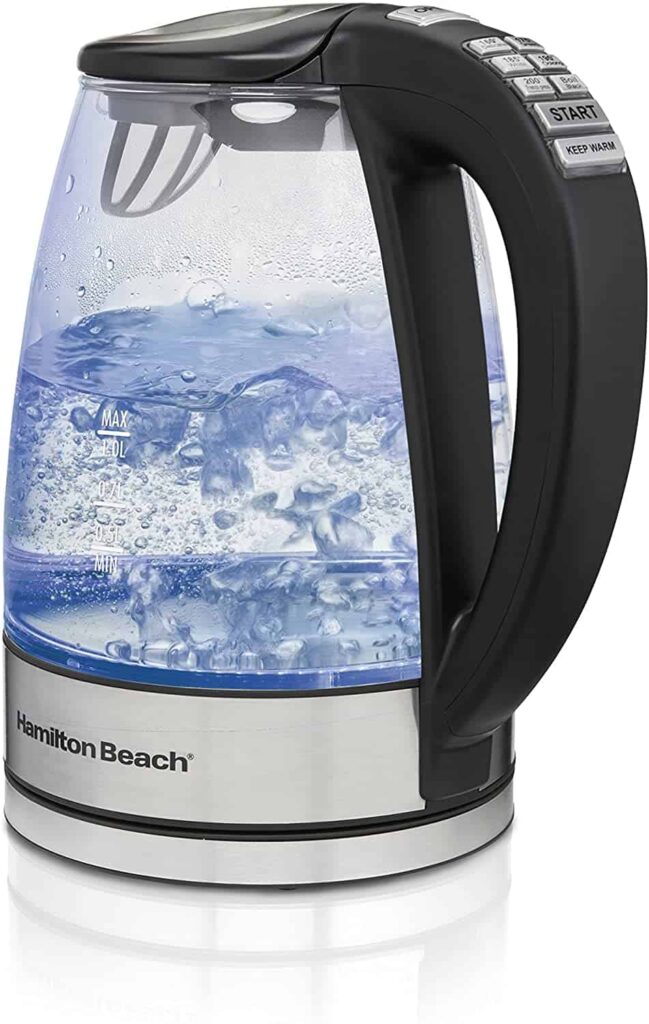 Best Stainless Steel Kettle
Willow and Everett: Gooseneck Electric Kettle with Temperature Control and Presets
This stainless steel kettle will certainly add style to any kitchen and is the fastest of all tea kettles mentioned just taking 60 seconds to boil water.
The base of this stylish gooseneck electric tea kettle offers a range of temperature settings so you can match the correct temperature with your tea e.g. herbal tea, black, or white tea.
With a gooseneck spout, it supports an easier and more accurate pour. The plastic handle is BPA-free and shaped to fit comfortably in your hand.
Though its maximum capacity is only 1L making it the smallest out of our list of tea kettles, it certainly makes up for this in style and technology.
This Gooseneck electric kettle has a function that remembers your previous settings making it faster the next time you use it to come to make your tea.
1L water capacity
Boils water in 60 seconds
Temperature settings and preset function
BPA free and auto shut-down safety feature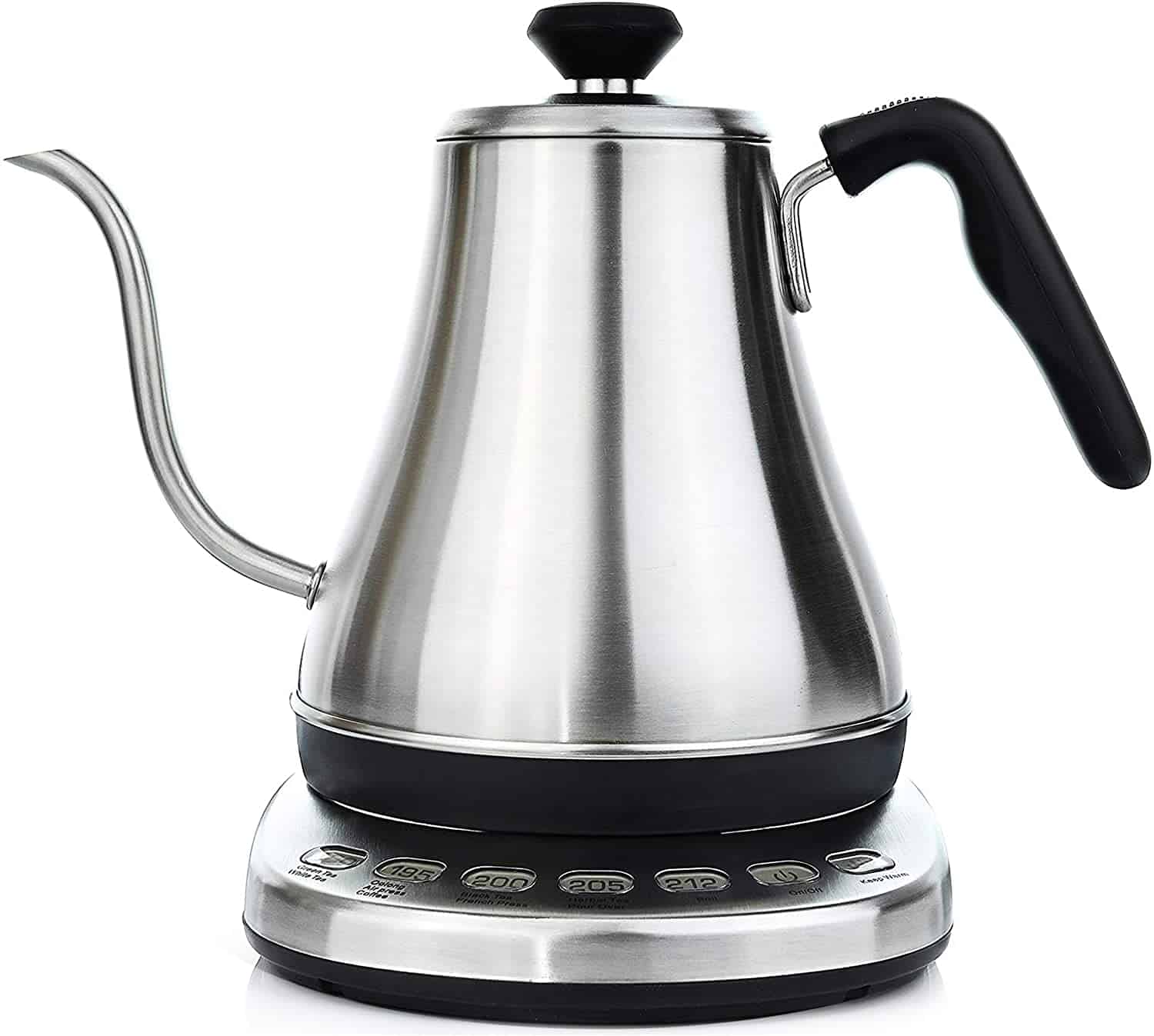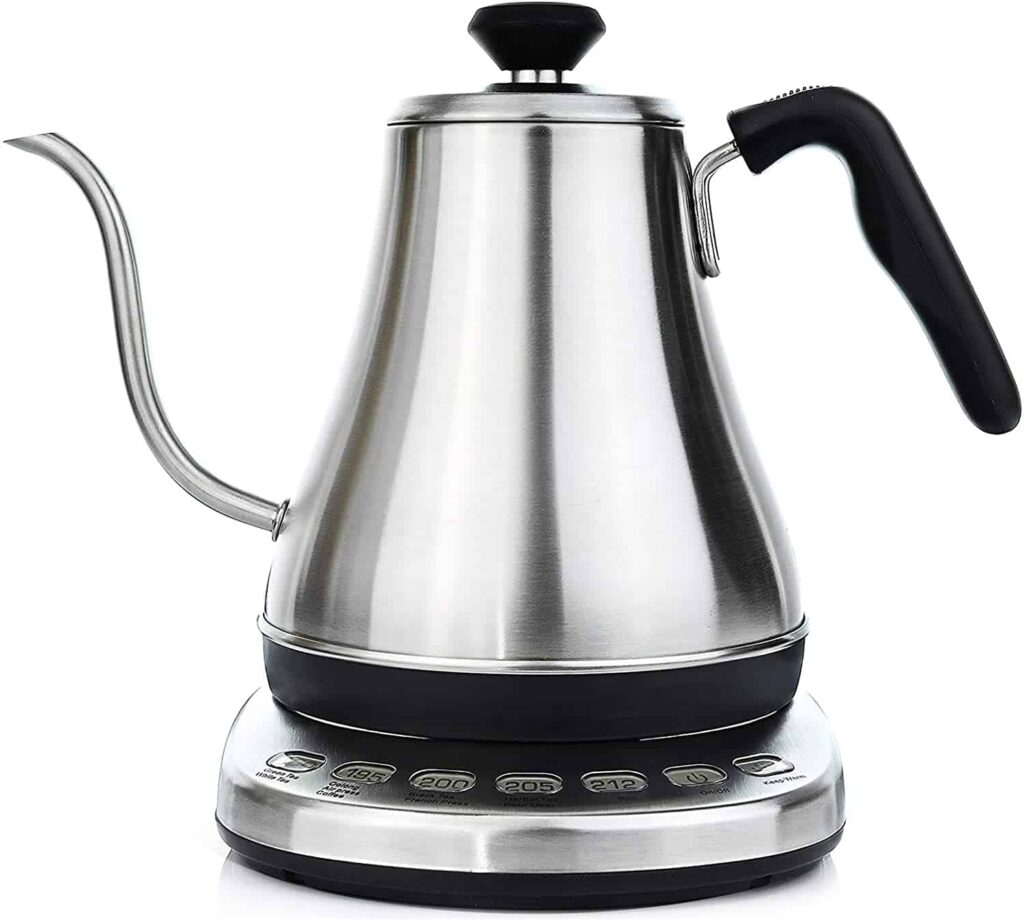 Pink Kettle from Pinky Up Noelle 1.5 Liter
Travel Tea Kettle
Which Tea Kettle Would You Choose?