Do you ever wonder what to do with all that leftover Halloween candy?
How about getting creative and make some new dessert recipes with it. Make sure you read below on other ways to use leftover Halloween candy in addition to making some of these fabulous desserts.
Of course, you can always stash it for later, or take it to work and pass it out. Do you know, sometimes I go to the store the day after and buy it while it's half off? Sometimes I just like to eat a tootsie roll or two. hehe.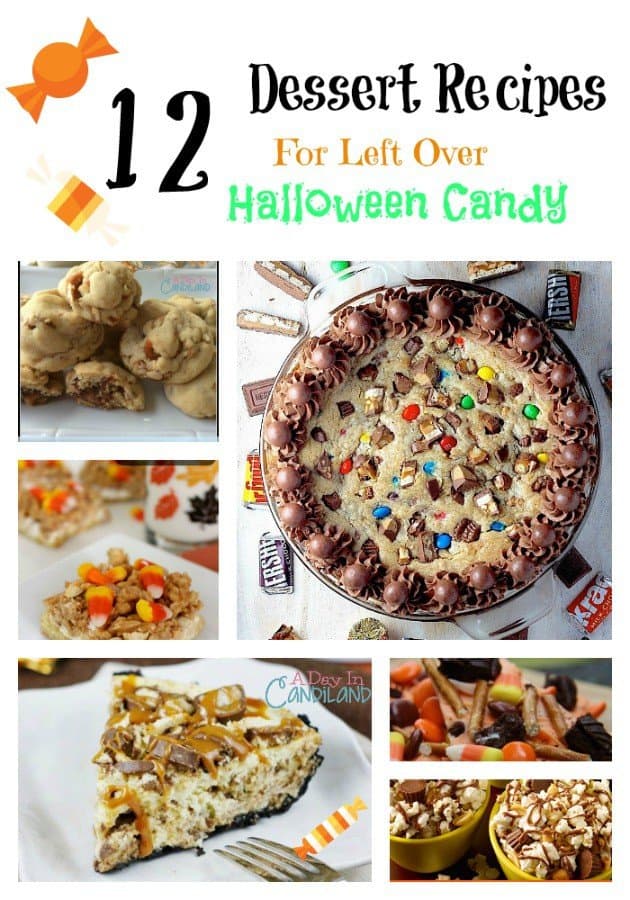 Recipes and Ideas for Leftover Halloween Candy
No Bake Chocolate Twix Ice Cream
Pumpkin Spice Cake with Leftover Snickers
Rolo Chocolate Caramel Apple Dip
More Ways to Use Leftover Halloween Candy
I know this is the time of year, that we stuff ourselves with chocolate and go crazy, but this could be a chance to make some desserts out of all the leftover candy and maybe freeze some of it for later.
It might be fun to make a few desserts and take them to neighbors as gifts and wrap them up cute with a "sweet" tag. You could also think about any upcoming holiday parties you may be going to and make a great dessert for that.
Another idea is to bring one of your desserts to some of the people who work in the service industry. Your hairdresser, your cleaning lady, your banker, your mechanic, the possibilities are endless. You can even bring them to the fire departments in your neighborhood.
I know if you really think about it, this time of year we are always looking for last minute gifts to give out as thank yous. Why don't you take that leftover candy and make something that will serve two purposes?
Have a safe weekend. What will you be doing with your leftover candy? Leave me a comment and tell me.
For other dessert recipes try:
Enjoy These Fun and Unique Ways to Use Leftover Halloween Candy