Milky Way Poke Cake is a delicious and easy way to dress up a box cake mix and make a rich dessert.
Poke Cakes are a delicious and quick dessert to make and there are so many variations you can create like the Poke Cakes I wrote about here.
What Makes Poke Cakes So Popular
I have a confession. I had never had a poke cake before this weekend and I decided I wanted to add one to my dessert recipes section. So I made this Milky Way Poke Cake on Sunday.
My kids helped me make it by cutting up the Milky Way candy bars and from then they encouraged me to make Strawberry Cider Poke Cake and Red Velvet Oreo Poke Cake several weeks later. Get your kids involved in the process. It can be a great family activity.
Now I usually make all my desserts from scratch and you could definitely do that but this awesome thing about Poke Cakes is they are known for using boxed cake mixes. This may be my new obsession.
It only took two days for it to be completely gone. My kids asked the neighbors over and before I knew it, the empty cake pan was in the sink.
The cake is super moist and I am sure you will be a Poke Cake junkie before you know it.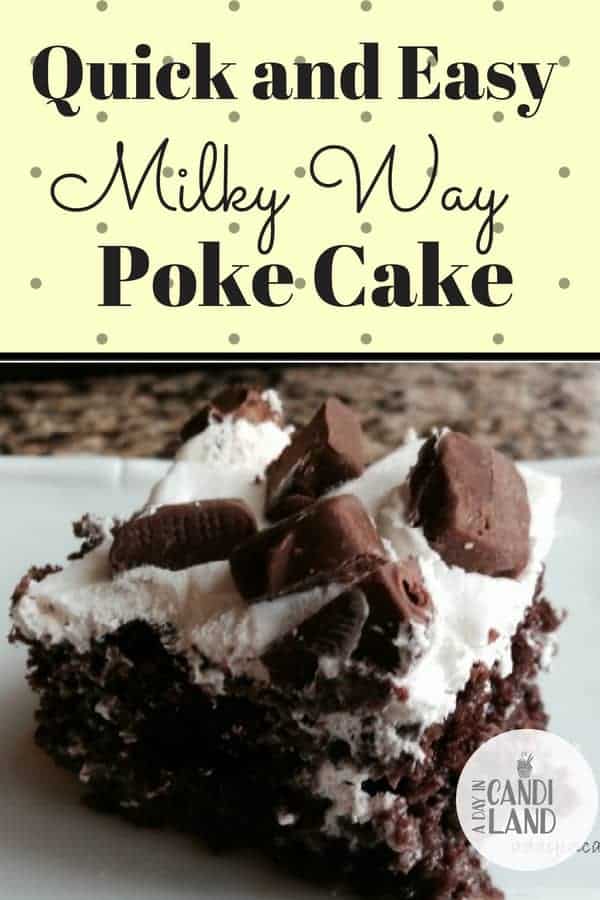 Poke Cake Recipe
Milky Way Poke Cake Recipe
A Quick and Easy Dessert recipe filled with creamy nougat and topped with a whipped frosting and Milky Way and Snickers Bars.
Ingredients
1

Box Chocolate Cake Mix plus ingredients it calls for

*Nouget

*1/4 cup butter

*1 cup sugar

*1/4 cup evaporated milk

1 1/2

cups

marshmallow creme fluff

1

tsp

Vanilla

1 12

oz

jar caramel topping

1 8

oz

tub cool whip thawed

2

regular size Milky Ways and 2 Snickers Bars Chopped
Instructions
Bake cake according to directions in a 9 X 13 pan

Let cake cool for about 5 minutes.

While cake is cooling, make the nougat filling. Melt butter in a saucepan over medium heat. Add sugar and milk stirring constantly until sugar is dissolved. Bring to a boil and stir for 4 minutes. Remove from stove and stir in marshmallow cream and vanilla. Mix until smooth

Poke holes in cake with the handle end of a wooden spoon.

Evenly our and distribute *nougat filling into the holes in the cake.

Next evenly pour and distribute caramel topping into the holes in the cake.

Let cake cool completely.

Once cake is cooled completely, evenly spread thawed cool whip over the top of cake.

Sprinkle chopped Milky Ways ( I also used snickers) over the top of cool whip.

Store in the refrigerator until ready to eat.
Nutrition
Have you made any poke cakes?
I should have drizzled some caramel over the top but we ate it too quickly. This is a quick and easy dessert, that your friends and family will love.
FAQ's about Poke Cakes
Poke Cakes are usually made with Box Cake Mixes
You will need a wide straw or Wooden Spoon to Poke it with
The frosting is almost always made with Cool Whip
The holes are generally filled with jello or pudding
Chocolate Poke Cake Recipes are the most searched of all the flavors of Poke Cakes
Pudding Poke Cake recipes are the next searched of Poke Cakes
There are hundreds of flavors and recipes of Poke Cakes and you could probably never make them all
The flavors meld together better after refrigeration
It has nothing to do with the recipe Poke Sallet (I just added this one on, hehe)
I hope you enjoy this Milky Way Cake recipe and leave me a comment letting me know what your favorite Poke Cake flavor is.
If you love this quick and easy dessert recipe try these: