I have a confession. I had never had a poke cake before this weekend and I decided I wanted to add one to my dessert recipes. So I made a Milky Way Poke Cake on Sunday. I saw so many recipes and I really wanted to make a Pina Colada Poke Cake, but I asked my kids which one they wanted and Milky Way Poke Cake was the winner.
Now I usually make all my desserts by scratch and you could definitely do that but this is a short cut and since it takes a while because it has to be refrigerated, boxed cake mixes are fine.  I found the original recipe here. There are also lots of recipes for poke cakes here. This may be my new obsession. How long will it take to make all the poke cakes that I come across.
It only took two days for it to be completely gone. My kids asked the neighbors over and before I knew it, it was gone. The cake is super moist and I am sure all the different recipes are a little different. You can find some of my other desserts on my Easy Recipes page.
Milky Way Poke Cake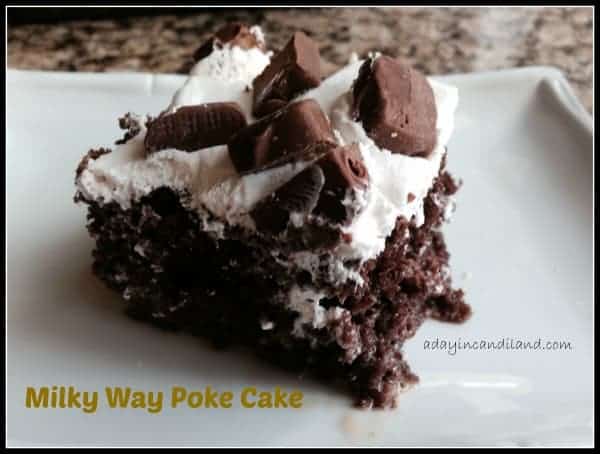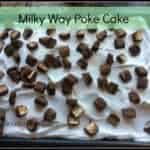 Milky Way Poke Cake Recipe
Ingredients
1

Box Chocolate Cake Mix plus ingredients it calls for

*Nouget

*1/4 cup butter

*1 cup sugar

*1/4 cup evaporated milk

1 1/2

cups

marshmallow creme fluff

1

tsp

Vanilla

1 12

oz

jar caramel topping

1 8

oz

tub cool whip thawed

2

regular size Milky Ways and 2 Snickers Bars Chopped
Instructions
Bake cake according to directions in a 9 X 13 pan

Let cake cool for about 5 minutes.

While cake is cooling, make the nougat filling. Melt butter in saucepan over medium hat. Add sugar and milk stirring constantly to until sugar is dissolved. Bring to a boil and stir for 4 minutes. Remove from stove and stir in marshmallow cream and vanilla. Mix until smooth

Poke holes in cake with the handle end of a wooden spoon.

Evenly our and distribute *nougat filling into the holes in the cake.

Next evenly our and distribute caramel topping into the holes in the cake.

Let cake cool completely.

Once cake is cooled completely, evenly spread thawed cool whip over the top of cake.

Sprinkle chopped Milky Ways ( I also used snickers) over the top of cool whip.

Store in fridge until ready to eat.

Adapted by Chef in Training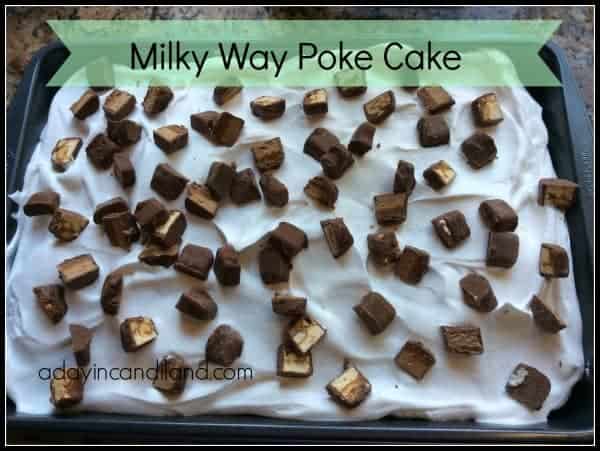 Have you made any poke cakes? I should have drizzled some caramel over the top but we ate it too quick. I hope you enjoy this Milky Way Poke Cake recipe and leave me a comment letting me know what you think. Also follow me on twitter. Leave your twitter link and I will follow you back.
If you love this dessert recipe try these: 
Get Your 9 Page Menu Planning Kit
Subscribe to get our latest recipes, budgeting and encouraging tips and receive our 9 page menu plan kit for Free. Yay!