16 Poke Cake Recipes for Summer you can make with your kids. These easy cake recipes have so much flavor and they are a great activity for your family to participate in.
Are you looking to spend more time with your family and less time in the kitchen planning your menus for the month? Are you tired of eating fast food and running out of idea options for your meals? If so sign up and receive your 30-day meal planning cheat sheets.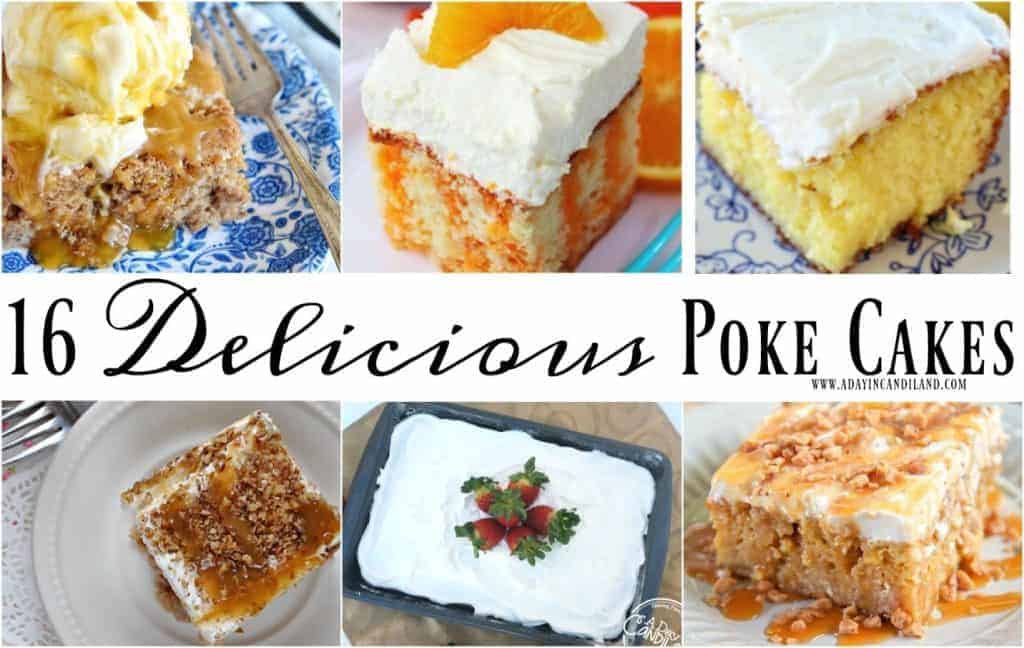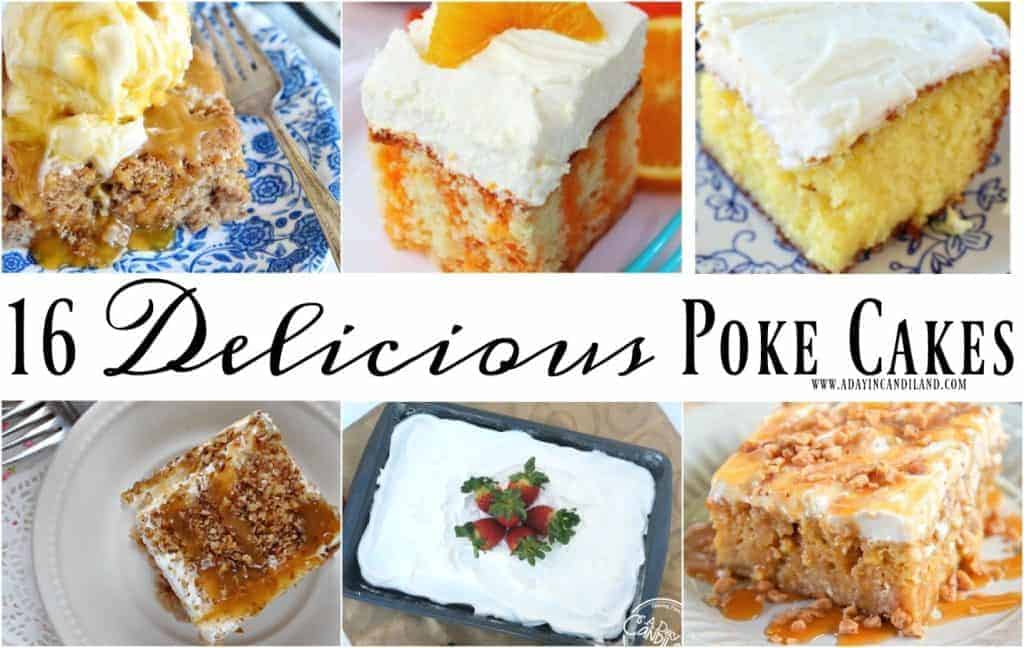 What are Poke Cakes
Poke cakes are generally made from a box cake mix. It's a cake that you poke holes in after baking. The holes are then filled with a liquid or filling — like condensed milk, fruit, cream, or pudding — to infuse extra flavor into every bite. The only extra time this cake needs is refrigeration for the flavors to mix.
Poke Cake Recipes
Sparkling Cider Strawberry Poke Cake
Strawberry jello plays well with this Vanilla Cake and sparkling cider with a light whipped cream frosting. Made by A Day in Candiland.
Lots of Milky Way and Snickers enhance this Chocolate cake with a nougat filling and whipped cream frosting drizzled with caramel by A Day in Candiland.
This delicious Red Velvet Cake is made with Red Velvet Oreos. I am not sure you can find them everywhere. They started out as a Valentine's Treat. I think they are more readily available now. This is a white cake with Oreo pudding as the filling. Made by A Day in Candiland.
More Summer Cake Recipes You Can Make with The Kids
Pumpkin Caramel Cream Cheese Poke Cake
You don't have to wait until fall for this Pumpkin Poke Cake. Use either a spice cake mix or Vanilla cake mix, with Pumpkin Puree, caramel, and cream cheese. It's heavenly. By Delightful E Made.
This is one Poke cake you need to try. Use a Chocolate Cake, chocolate frosting, sweetened condensed milk, chocolate chips, caramel, and pecans. By Mom Loves Baking.
Blueberry Cheesecake Poke Cake
This Poke Cake uses a White cake mix, Cheesecake Pudding, and a blueberry syrup. A great summer cake by Beyond Frosting.
Apple Pie filling, caramel, and toffee bits are used in the yellow cake mix by Plain Chicken
This White Poke Cake is filled with Cream of Coconut and is topped by coconut flakes. Made by The Country Cook.
This tart yet sweet Lemon cake is filled with Lemon Jello and a Cream Cheese whipped frosting. Made by Great Grub Delicious Treats.
.Make this festive Patriotic Jello Poke Cake for your next holiday get-together. It is moist and drizzled with colorful jello, and topped with whipped cream and red, white, and blue sprinkles. Made by A Day in Candiland
This yellow cake is made with crushed pineapples, bananas, cinnamon, pudding, and pecans. Made by Spicy Southern Kitchen.
This white cake is named after the Dole pineapple fields and the Dole Whip. It is filled with pudding and pineapple. Made by I Should be Mopping the Floor.
This is a taste of heaven in the form of a poke cake. Caramel, chocolate chips and pumpkin are what this cake is made of. Made by Averie Cooks
This amazing poke cake may take a little more work. But it will be worth it. Filled with Raspberry filling and homemade frosting. Made by I Heart Eating.
Made with either a box or scratch carrot cake, filled with caramel and a cream cheese frosting, topped with walnuts. Made by Something Swanky
This delicious poke cake recipe is made with a secret ingredient. You will be surprised. Made by Tidy Mom.
What are your favorite Poke Cake Recipes?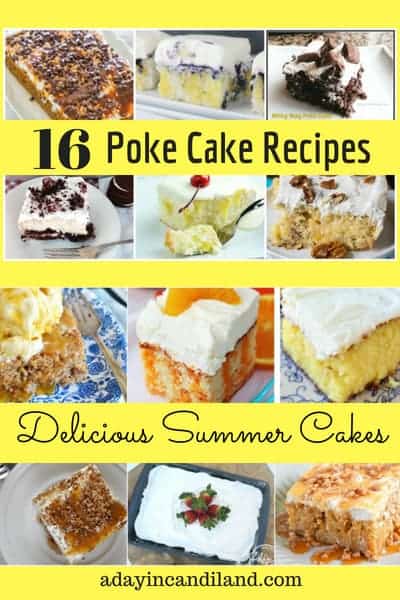 For More Delicious Dessert Recipes Try These: