Homemade Summer Drinks will Keep You Hydrated and refreshed when it's hot outside will be a welcome treat.
These refreshing beverage recipes are perfect for this time of the year. Mostly because the days are a little lazier, you can stay up later and maybe sleep in a little later. So to keep up with the hot weather, there are more than 10 of the best Summer Drink Recipes from some wonderful bloggers as a way to quench your thirst. I know you will enjoy these summer drinks in non-alcoholic style.
So get some ice ready and get a tall glass and check out these homemade recipes.
Homemade Summer Drinks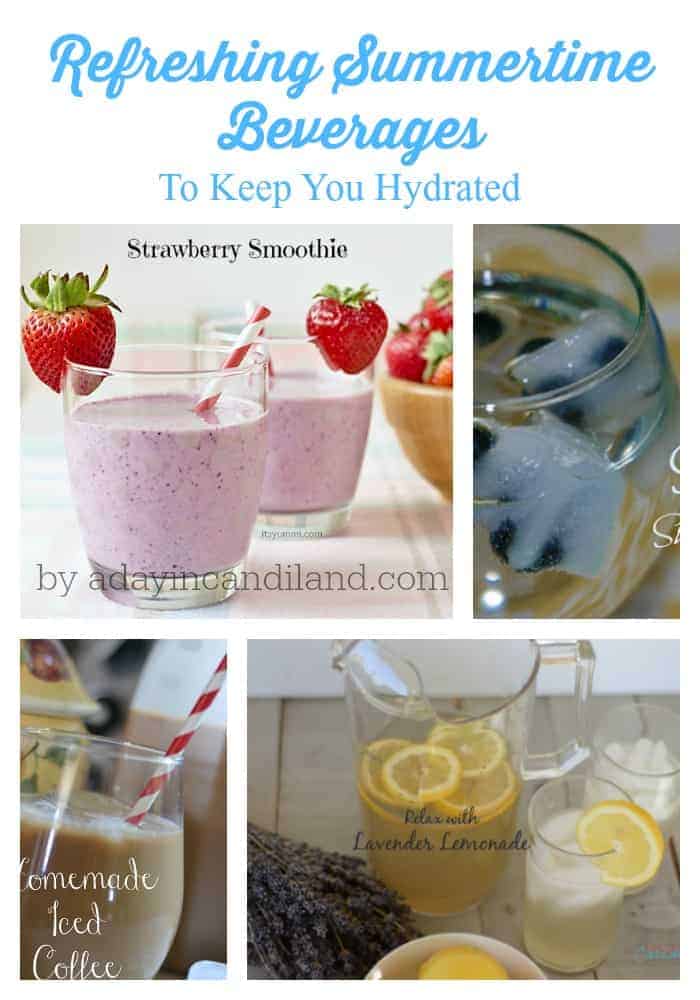 Keep Cool and Hydrated This Summer with Homemade Drinks
I hope you enjoy summer as much as I do. We don't get to go on many vacations as this is my husband's busiest time of the year at work, but we still get to relax and do a few weekend trips. We have to be creative and find short activities to do.
We do lots of movies and pool time. We also like to take walks at night time after the sun is set and it cools down just a bit. These Fruit Drink recipes will be a welcome distraction from the heat.
Signs of Dehydration
Drink lots of Water, but Don't forget to get some Water with Electrolytes. Watch for these symptoms and signs. Make sure you are also wearing sunscreen and hats when the temps rise.
Muscle fatigue
Dizziness
Nausea
Confusion
Rapid heart rate
Muscle cramps
Remember I live in the desert and it's over 100 degrees during the summer. So these Refreshing Summer Beverage recipes will keep you hydrated. I hope you all enjoy your summer and try all these wonderful drinks. If you would like to see more cool drinks to make at home try some beverages and desserts made with Tea, check out 21 Tea Flavored recipes.
If you want to try some nice cold smoothies, try some of these recipes.
I think this will get you going to keep you cool and hydrated this summer. Don't forget to leave me a comment on which beverage you will try first and share this post. You can also catch me over on Facebook, or on Instagram.
What are your favorite homemade summer drinks to quench your thirst this summer?