Do you love 7 layer bars, dream bars, magic bars, or what ever you call them? Are you gluten intolerant? Well sometimes you need to take the flavors or desserts you like and rework them to your liking. You will love these gluten free magic bars. You can also try some of my other desserts on  my easy recipe page.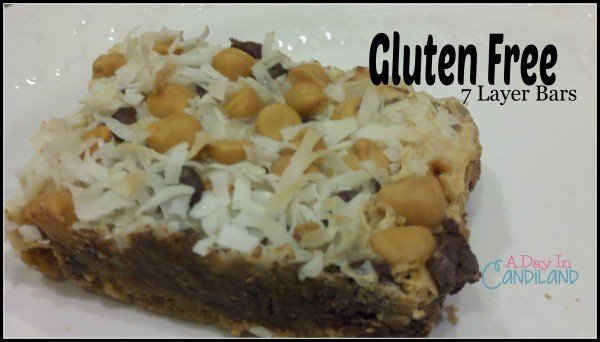 [Tweet "Easy #recipe for #gluten free magic bars"]
Gluten Free Magic Bars
I recently made these bars and changed the crust from the original Eagle Brand recipe with gluten free graham crumbs. It is an easy recipe, although its not sugar free.
Here is the recipe and directions
1 1/2 cups gluten free graham cracker crumbs (from Trader Joes or Clarks)
1/2 cup butter or margarine, melted
1 (14 ounce) can EAGLE BRAND® Sweetened Condensed Milk
1 cup semi-sweet chocolate chips
1 cup butterscotch-flavored chips (or peanut butter, white chocolate)
1 1/3 cups flaked coconut
1 cup chopped nut
Directions
Preheat oven to 350 degrees F (325 degrees F for glass baking pan). In small bowl, combine graham cracker crumbs and butter; mix well. Press crumb mixture firmly on bottom of 13×9-inch baking pan.

Pour sweetened condensed milk evenly over crumb mixture. Layer evenly with remaining ingredients; press down firmly with fork.

Bake 25 minutes or until lightly browned. Cool. Chill if desired. Cut into bars or diamonds. Store covered at room temperature. 
I just adore about any kind of dessert bar. One of my favorites is Lemon Bars and right now, I have to admit, I love the caramel bars from Starbucks.  
What is your favorite dessert bar? Do you have a variation to the magic bars that you use? Let me know?  You can follow me on instagram and twitter and keep up with my recipes and enjoy these gluten free magic bars.

Here are a few other recipe pages.