Whether you're shopping for yourself or someone else, there are so many incredible photography tools and equipment that help you not only take better pictures but also are useful in helping get those perfect shots and also help if you're a hobby photographer.
And while photography can become an expensive hobby or part of your job, the gear doesn't always have to be pricey. These useful photography accessories are all well under $50 and would make the perfect gift for anyone or just a way to up your picture game without spending a small fortune!
Here is an inexpensive way to make a photography backdrop.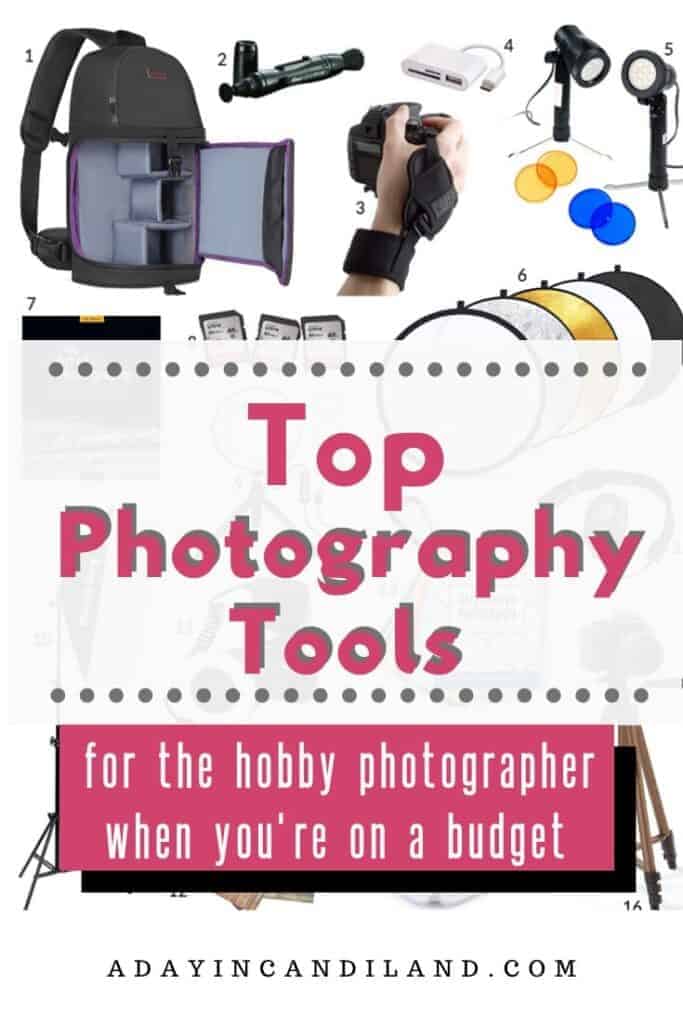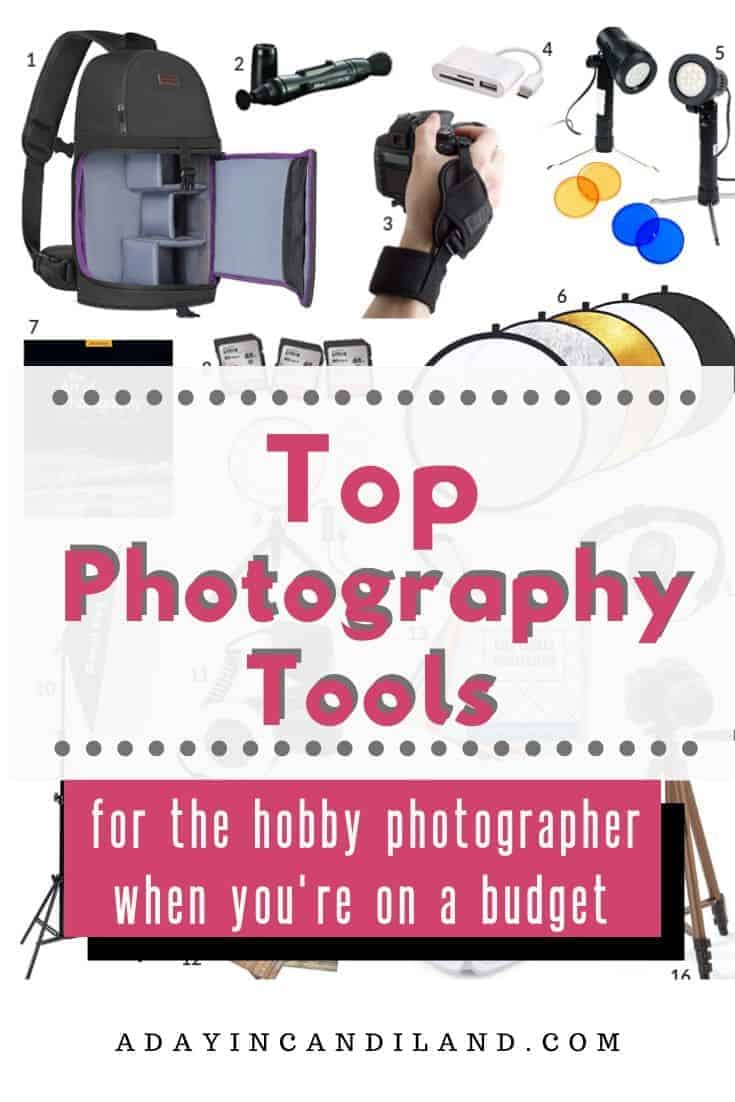 *This post may contain affiliate links. If you make a purchase, I get a small commission. Please see my disclosure policy for details
Best Photography Gifts on A Budget
Camera Backpack – This roomy, waterproof backpack has all of the compartments needed to comfortably fit your camera, lenses, accessories and more in it. It's super affordable and definitely a must-have accessory if you use your camera a lot and are bringing it on-the-go with you.
Lens Pen Cleaning System: This lens cleaning pen is a must-have tool under $10 that clears your camera screen and lenses of fingerprints, dust, etc. Such a great idea and something that everyone with a camera should keep in their camera bag!
Camera Grip Hand Strap: If you take a lot of your own photos and need to be able to multi-task while photographing, this will save you so much time and the pain of blurry photos! It helps keep a steady hand while shooting and also frees up your other hand from holding the camera. Genius!
USB Memory Card Reader: This little tool makes transferring your photos a breeze! It's something you'll use daily and has many purposes.
Portable LED Table Lights: These mini, tabletop studio lights are perfect for product and food photography. Great for shooting at all times of the day and night!
Multi-Disk Photo Reflectors: If you don't always have ideal lighting for a photo-shoot (which, let's be honest, you don't always!), these light reflectors help to divert shadows and bring more natural light onto your photo set-up.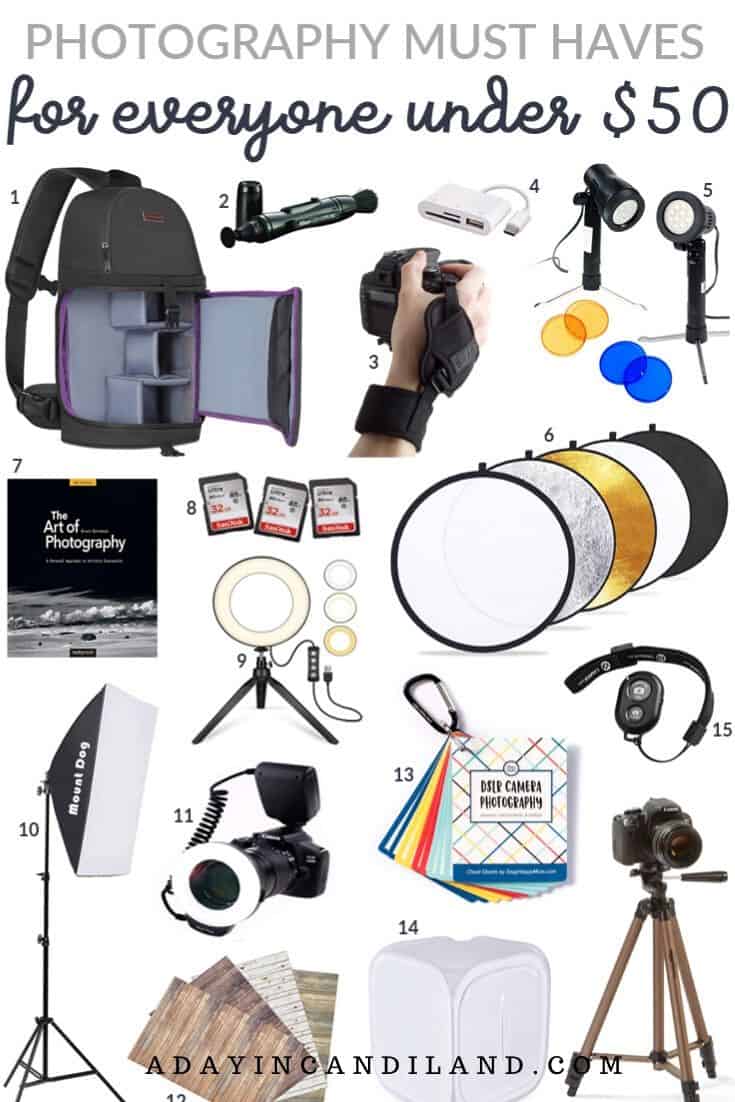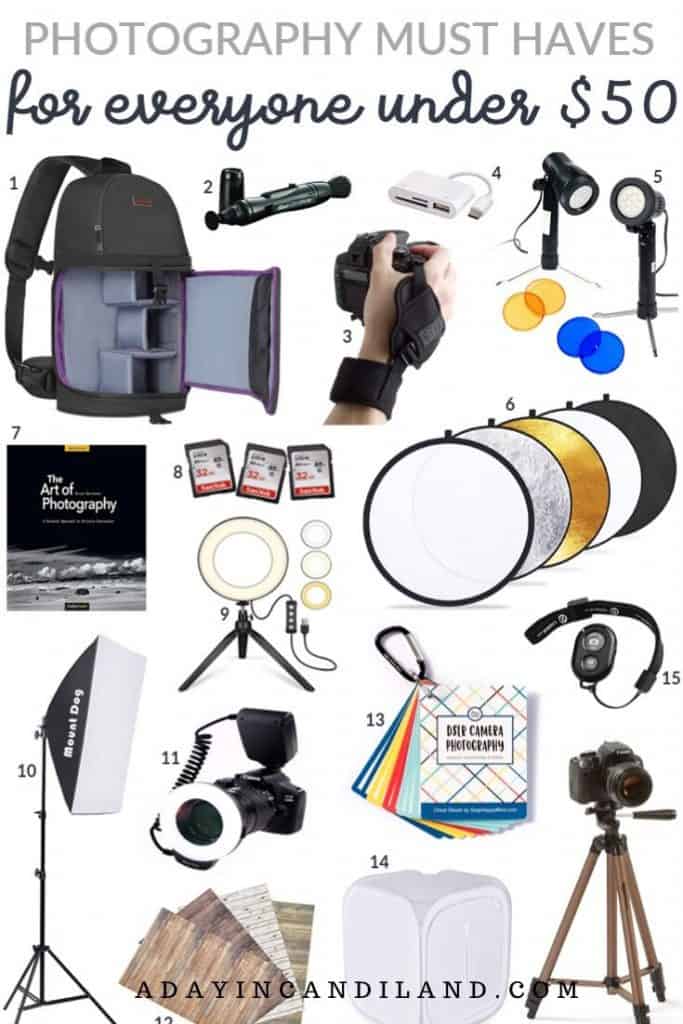 Inexpensive Gift Ideas for a Photographer
The Art of Photography: A MUST read for anyone who enjoys photography! This is basically the ultimate textbook for photography lovers.
Memory Card: These are always handy to have in your camera bag – you never know when you'll need to switch to a new one in the blink of an eye! They're also great to gift a photographer, as they're always useful to have extras of. The larger the mb the more pictures your card will hold.
LED Ring Light & Tripod Stand: Another great tool to help get the clearest, most beautiful and bright photos! Think of it as your own little trick to making people think you live in the sunniest place possible! 😉
Softbox Lighting Kit: The coolest part about this is the adjustable heights and angles you can move the lightbox to. It's great for portraits, still-life photography, and just about anything else you could think of! It'll become your best friend as a photographer.
Attachable Flash Diffusers: This tool is compatible with nearly every DSLR model, a true bonus off the bat! It helps to diffuse the flash, therefore dispersing the color across the image making it clearer, brighter and overall more beautiful.
Assorted Wooden Photo Backdrops: Every photographer needs some great photo backdrops – these wooden styled backdrop props are classic and neutral enough that you'll use them a TON.
DSLR Cheat Sheet Cards: Another great tool to keep in your camera bag! This book has some of the best tips and tricks to know and remember when you're using your DSLR camera.
Photo Studio Shooting Tent: Get studio styled images from your home in this incredibly helpful and easy-to-use photo
box!
Bluetooth Shutter Remote Control: A self-timer that works with your phone AND camera is a must-have! This makes shooting a breeze, whether you're alone or shooting with family, friends, etc. Believe it or not, this is under $10 and it works incredibly well.
Lightweight Tripod: Aside from this being the most beautiful (gold) tripod EVER, its super lightweight and folds up so it's easy to take with you wherever you go! It's easy to use, has no setup required and again, is very affordable.
If you are looking for some great locations to Visit to Photograph in the West Read Here.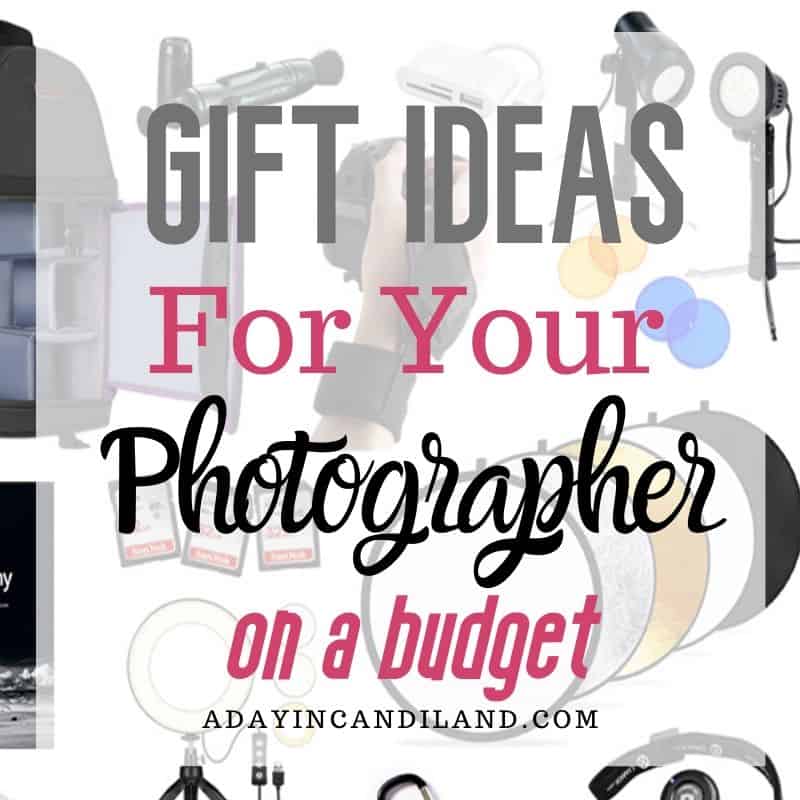 More great photography and gift ideas: