A refreshing Dairy-Free Dalgona Coffee, Keto Style, that you can make at home and save money doing it.
The best thing about this new whipped coffee craze is it's budget-friendly and can be whipped up in just a few minutes. You can adjust the dairy-free milk to suit your taste. This coffee is made with unsweetened almond milk, but you can use, coconut or whatever type you prefer.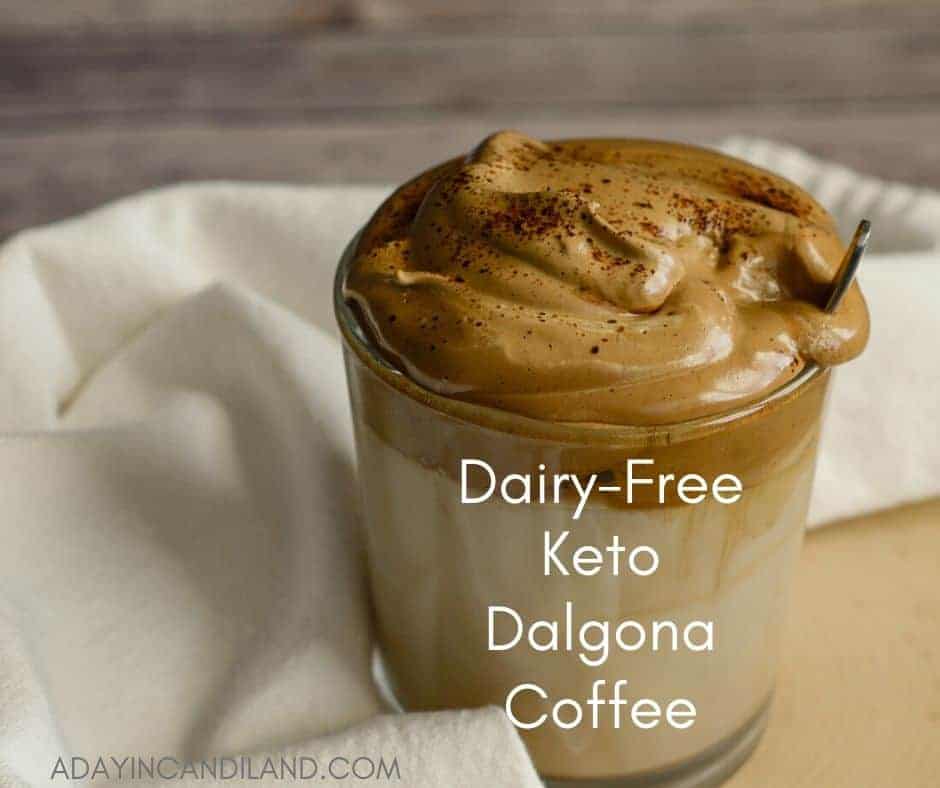 Try these other Dalgona Coffee Flavors.
It is also made with Swerve Granulated Sugar, so you can watch your insulin and keto eating plan.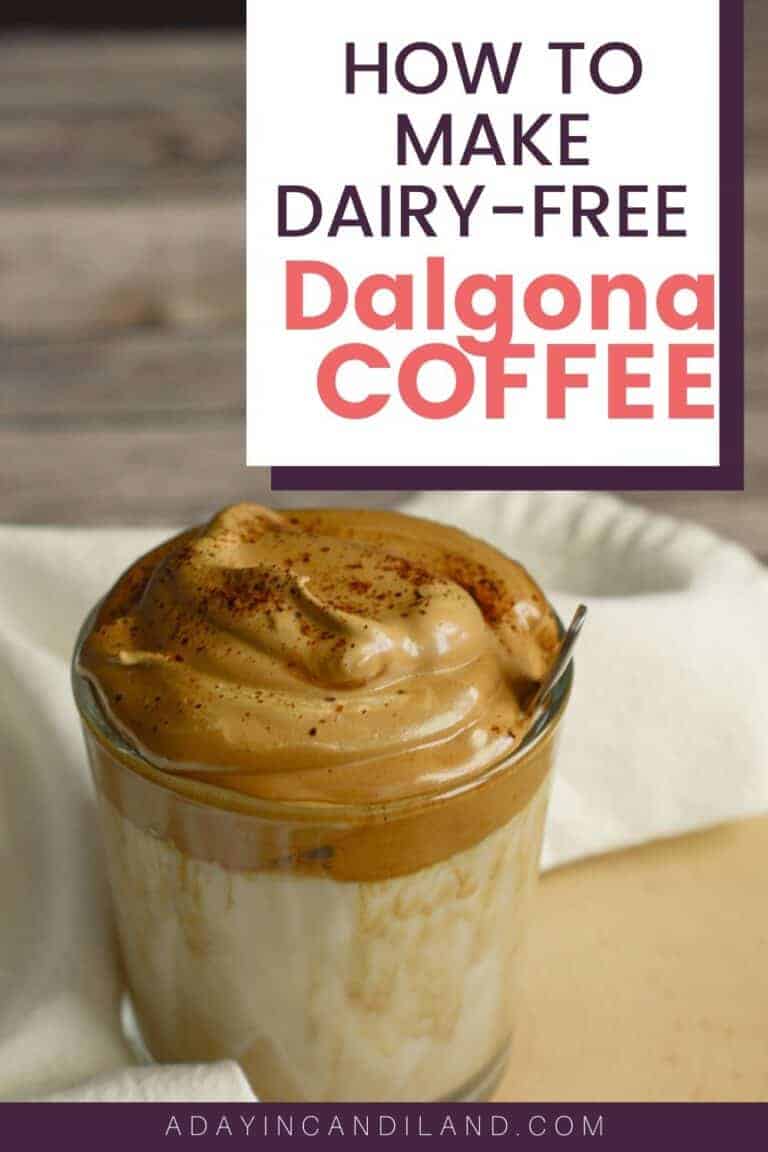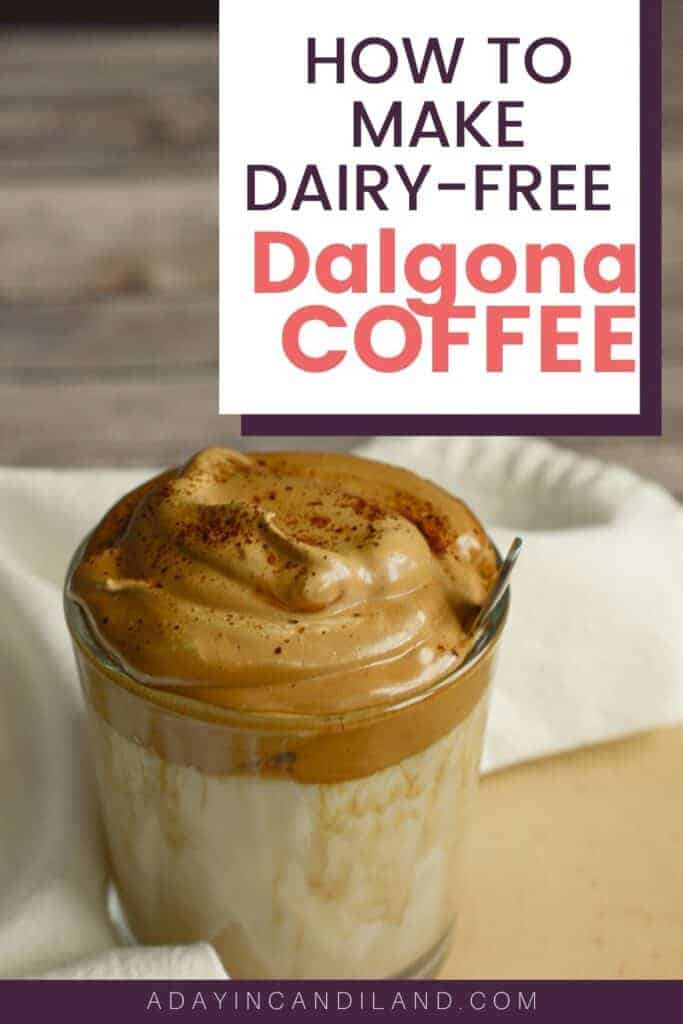 This post may contain affiliate links. If you make a purchase, I get a small commission. Please see my disclosure policy for details
Keto Dalgona Coffee
This coffee just has 4 ingredients and only takes a few minutes to whip up. You can use a handheld electric mixer which is what I recommend, or if you don't have one you can use a whisk. A whisk will work your arm muscles so it may be an added benefit.
You will only need Instant Coffee, Swerve Granular Sugar, Unsweetened Almond Milk and hot Water.
Make sure your ratios are even, in the coffee, water, and sugar. It doesn't matter if you use 1 TB, 2 TBS, or 3 TBS depending on how much foam you want as long as you make them all the same amount when whipping.
This recipe will make 2 Dairy-Free Dalgona Coffees, but you can reduce the amount if you are just making one cup.

If you prefer an iced drink fill the cup with ice first. If you prefer a hot beverage you can warm up the milk first before adding the whipped topping.
Dairy-Free Whipped Coffee Recipe
Dairy-Free Dalgona Coffee Keto Style
A refreshing Dairy-Free Dalgona Coffee, Keto Style, that you can make at home and save money doing it.
Ingredients
2

TBS

Instant Coffee

Decaffainated Optional

2

TBS

Swerve Granulated Sugar

Purchase from Amazon or Your Health Food Store

2

TBS

Hot Water

1/2

Cup

Unsweetened Almond Milk
Instructions
In a bowl add, coffee, sugar and hot water. Using a hand mixer or whisk beat for 400 strokes or up to 5 minutes until stiff peaks form.

Add ice and milk to glasses until about 3/4 full.

Add whipped coffee to the top by spooning in on.

Add chocolate shavings if desired

Take a Picture of course.

Stir all ingredients together before consuming.
Nutrition
Serving:
1
g
|
Calories:
26
kcal
|
Carbohydrates:
19
g
|
Protein:
1
g
|
Fat:
1
g
|
Saturated Fat:
1
g
|
Sodium:
83
mg
|
Potassium:
177
mg
|
Fiber:
1
g
|
Sugar:
1
g
|
Calcium:
82
mg
|
Iron:
1
mg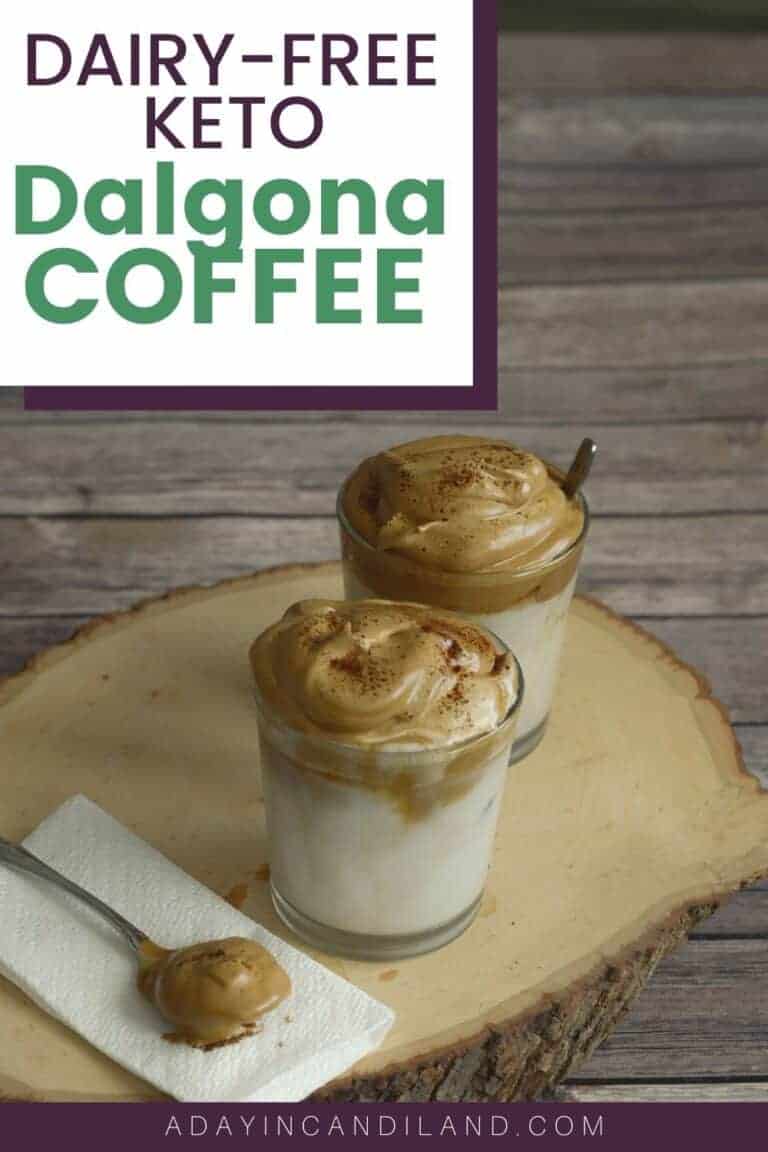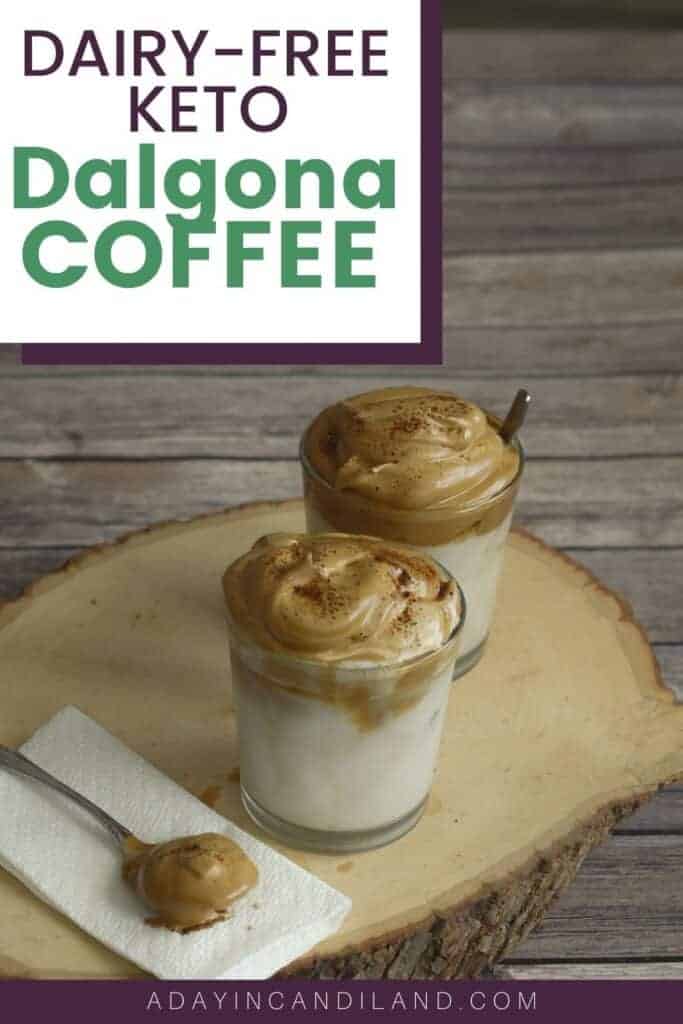 Money-Saving Iced Latte
This coffee craze was first started during the Covid-19 Pandemic in the Spring of 2020. With "stay at home" orders and unemployment layoffs, people are trying to find ways to save money and occupy their time while home.
Videos on Tik Tok started emerging on this beautiful coffee drink flavored after the Korean candy, Dalgona.
But the added benefit was that it is a money-saving drink, with just a few ingredients. It won't cost you $5 dollars or more if you were to go to your favorite coffee house.
For More Beverage Recipes Try These: