The following tips will teach you how to stock a pantry on a budget, while still eating nourishing foods and not just the rice and beans diet.
We all know that stocking a well-stocked pantry is one of the keys to success in cooking. It cuts down on meal prep time so you can spend more time with your family or friends. But it's also important to stock up on staples when they're at their lowest prices, not just when you need them!
The key to stocking your pantry on a budget is to buy items when they are on sale, make sure you get the best price per unit for each item, buy in bulk if possible, and know how long things last before they spoil or expire. Get more tips here on Meal Planning on a Budget.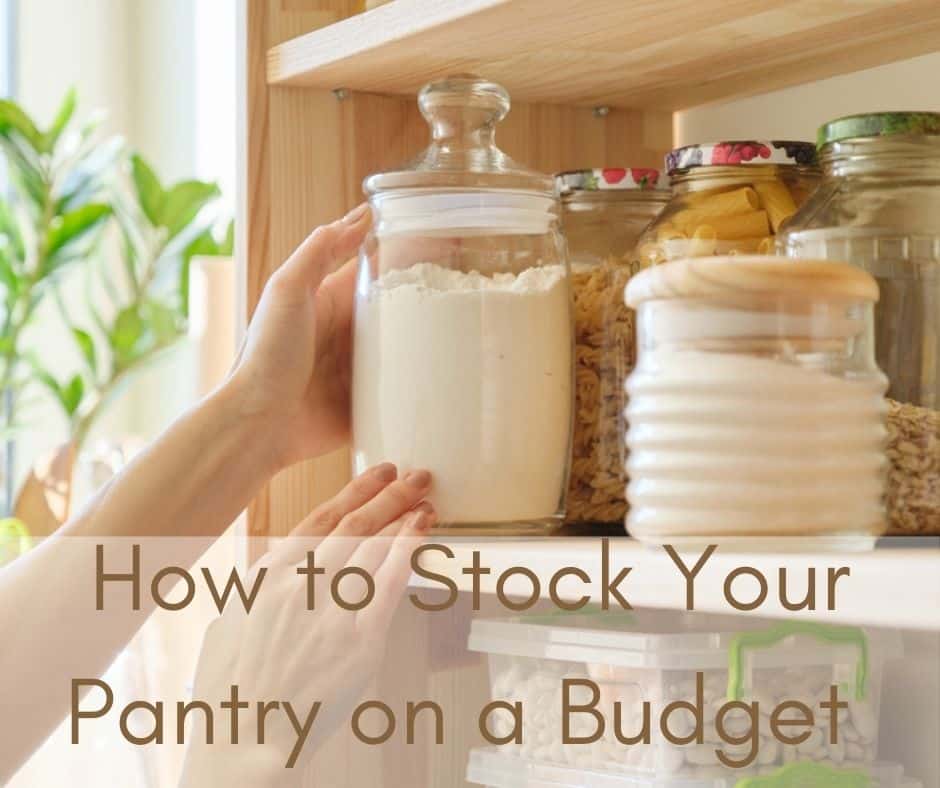 Pantry Staples on a Budget
Knowing the tricks for shopping at your local grocery store and a few kitchen pantry staples that you can't live without can help you establish a full stock of food.
In an emergency situation, (i.e. 2020) it's important to have a stockpile of food for your family. Panicked shoppers who buy all the vital supplies can disrupt the food chain supply when a pandemic hits make it challenging for all of us.
Stocking a fully-packed pantry with healthy, frugal goods can help provide you with food security and peace of mind–at the very least.
Know your likes and dislikes
Stocking up on 20 cans of white chicken chili because you found them on sale for practically pennies a can is not a bargain if you hate the texture of beans.
You want to fill your pantry with things you would actually eat so you need to be brutally honest with yourself about what you really like and don't like.
Stocking your kitchen pantry is often a time-consuming process, but making a list can help you stay organized and purchase those items more efficiently.
In my Meal Planning Binder, I share tips on how to do meal planning with your family, by first planning dinners based on shopping from your own pantry first. Also, there is a calendar and notes area, for all the family members to put what they enjoy eating, so you are not buying things you will never eat.
Work your store selling cycle
Even though grocery stores have different prices all the time, there is a low and high range that can be anticipated. If you buy your desired food item while it's on sale, and use coupons if possible as well, you will save more money than purchasing everything at its higher price.
If you keep track of a few consecutive issues of your grocery store's weekly sales flyer, you will be able to see the pattern.
Certain staples like pasta and cereal typically go on sale every six to eight weeks. When you see the lowest price before adding that item to your list, you are likely to snag a good deal. Maintain records of sale prices so that when it is time to stock up, you know the best timing for making purchases.
It is amazing how buying ten boxes of pasta for a buck each saves you almost ten dollars if you eat a pasta meal every week and it is normally two dollars a box.
Food shopping on a budget is not always easy, but if you work the store cycle it can really pay off.
This should be your saving grace when you run out of ingredients. Stock up on key ingredients such as pasta, grains, ready-to-eat cereal, and crackers.
Check the clearance aisle
One of the best ways to save on your grocery bill is by shopping at supermarkets that offer scratch 'n dent discounts. Scratch 'n Dent isn't what it used to be. You can often find items that have been pulled off the shelves for a simple thing like the company changed their packaging.
Occasionally things get closer to their expiration date; if it is something like dried beans or rice, know that they found pasta and rice in the Egyptian pyramids that were still safe to eat in current times. If stored properly, they can stay past that suggested date. When stocking these items in the pantry, make sure you put the earliest expiration dates closest to the outside where you will pull first. You can also get a sharpie and write the date on it so you will see it right away and make a meal with it.
Some things like rice, sugar, salt, and honey are practically invincible if they are stored correctly.
I love the site Still Tasty – www.stilltasty.com for a good guideline of how safe something is if it is past its date.
Clip Coupons
These days, buying groceries is considerably different than before. Whether you are a store loyalty cardholder or not, the difference can be significant.
The best way to choose coupons is through their website. You will not have to cut anything out of your life as you reap the benefits!
There are still paper coupons out there; some are printed in the store's ad circulars and others appear in local free newspapers.
If you can stack a printed coupon with a digital coupon? Now that's the best way to save! You can also save time with Grocery Pick Up.
February is National Canned Food Month
February is National Canned Food Month, and that means sales specials. Check out all the incredible canned food you can find at discounted prices right now – fresh vegetables, fruit juices, tomatoes, even a couple of different types of milk.
If you missed Canned Food Month, then supplies such as canned pasta and tuna are still mostly available in the grocery store.
If it isn't February, look at buying dried beans and lentils instead of canned. The price is a lot better, and they will last longer. Once you cook them, they can be frozen for longer storage.
Buy in bulk: Price Compare
Pre-made grocery items are cheaper per ounce, but if you buy those prepackaged items on a regular basis, your total cost will be higher for less. For example, Doritos is really cheap when you want to get a large bag of chips at $2.50 regularly priced from Costco or Sames Club, or you can buy three to four bags at $0.75 each when you get the single-serving packs. If you take that large bag and break it down into smaller bags, you will easily have six to eight bags of snacks instead of just three to four.
In order to stock up your kitchen pantry, you need a good amount of space. However, the more items you buy in bulk, the more it'll cost you.
Learn to can if you have a garden
If you have a garden or get free produce, canning your own vegetables is cost-effective. Look for supplies at thrift stores or ask Facebook groups as they may be given away. Learning how to can take some time but it's easy on YouTube!
It really isn't that hard to fill a pantry on a budget, and more importantly maintain it, once you have the tips and tricks down so you can do it.
*This post may contain affiliate links. If you make a purchase, I get a small commission. Please see my disclosure policy for details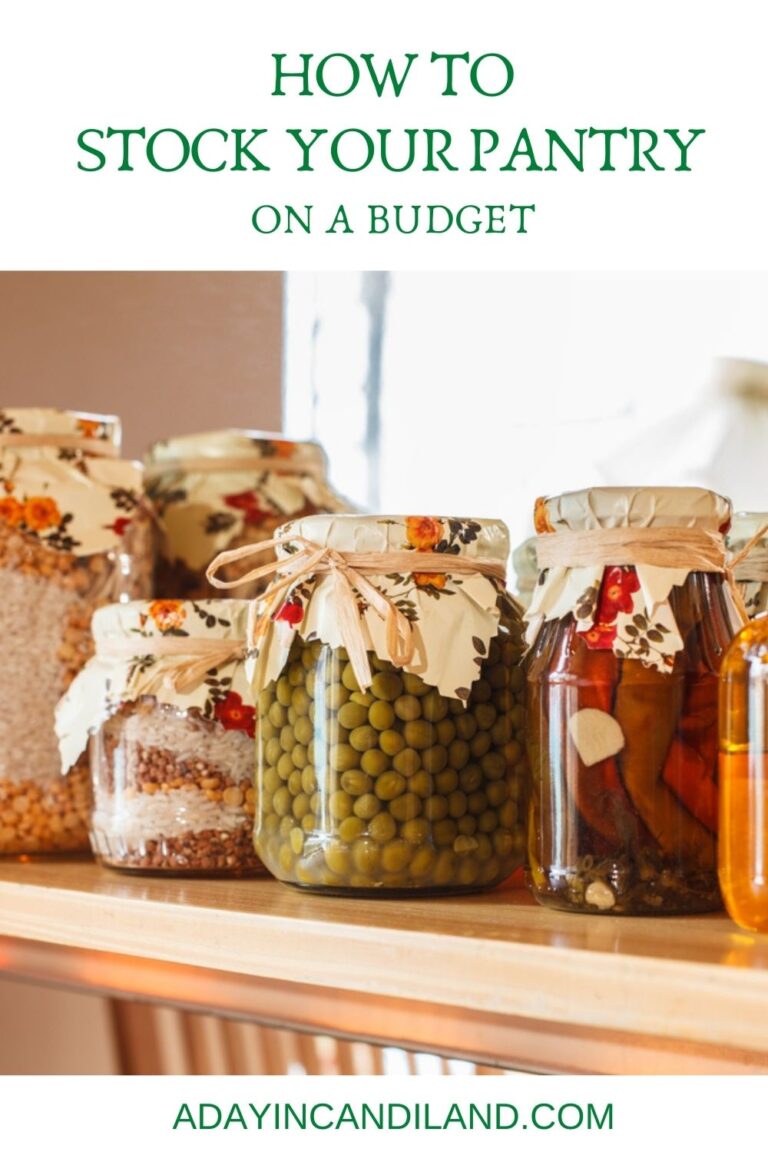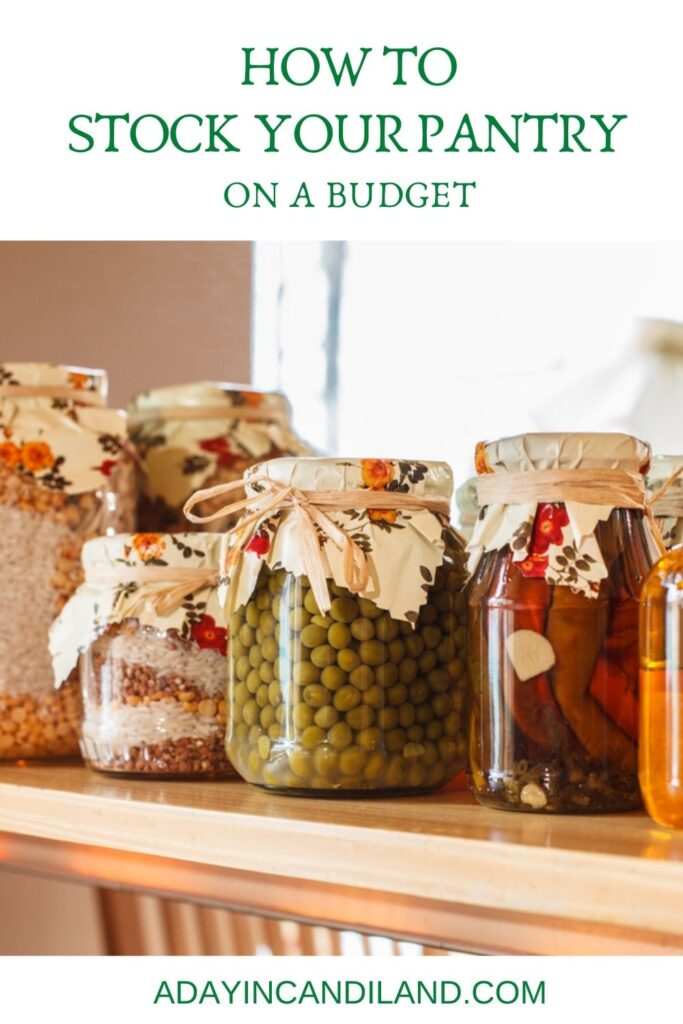 Great Resources for Stocking Your Pantry