These Red White and Blue Cupcakes start with a Vanilla cupcake, then create a swirl in the batter and frosting along with free Cupcake toppers for the 4th of July.
Have fun and be creative with the colors and toppings. For more creative cupcake ideas visit these.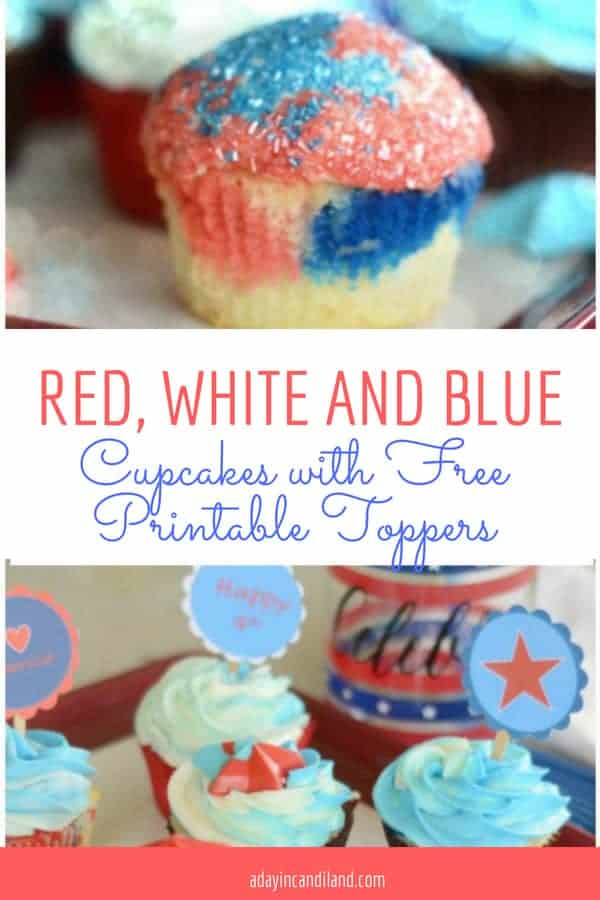 Red White and Blue Cupcakes with Cupcake Toppers
I have made these several times before but I don't think I ever got decent pictures. I made them in a few different ways to top them off, and I love how the colors look when you cut them in half or take a bite.
I was recently listening to a baking podcast about cupcakes and cakes and they were saying that sprinkles were making a big comeback, so I decided to do some with just a sprinkle top and a star and I love the simplistic look of them.
I also made some stars out of candy melts and decorated some that way. I finally decided to make some cupcake printable toppers. I also have some fun ideas for crafts for your patriotic holiday.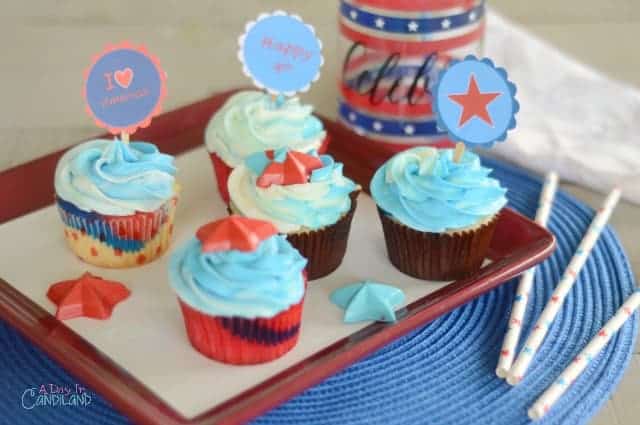 *This post may contain affiliate links. If you make a purchase, I get a small commission. Please see my disclosure policy for details
Tips for Making Cupcakes
When I made these cupcakes I made the Birthday Vanilla Cupcake batter and frosting. I used about 1/2 the batter first divided between the 12 liners. Then I took what was left in the bowl and split that into 3 bowls. I added a little Wilton blue coloring into one and no taste red coloring in the 2nd bowl and left the 3rd bowl alone.
I put a spoonful of blue on top of the batter in each liner, then I put the red on top and then finished it off with the last of the vanilla as shown in the image below.
I baked for 18 minutes and let cool. Then I made the frosting and took out a small amount and used the blue coloring again and put the white and blue in a liner trying to keep them on their own side and then made a swirl with the 1 M tip.
With the sprinkles, I just used an offset spatula and put a dollop of frosting on top. Then I added sprinkles in my hand and lightly dipped the upside down cupcake into the sprinkles. I did some Red some White and some Blue and one with red and blue mixed.
Lastly, I made these cupcake toppers for you to download and print. They are free for your personal use. Find them below. You can also try my Red, White and Blue Bundt Cake Dessert.
These are what I used to make these Red White and Blue Cupcakes and toppers.
Red Food Coloring
White Cardstock Paper
Glue Gun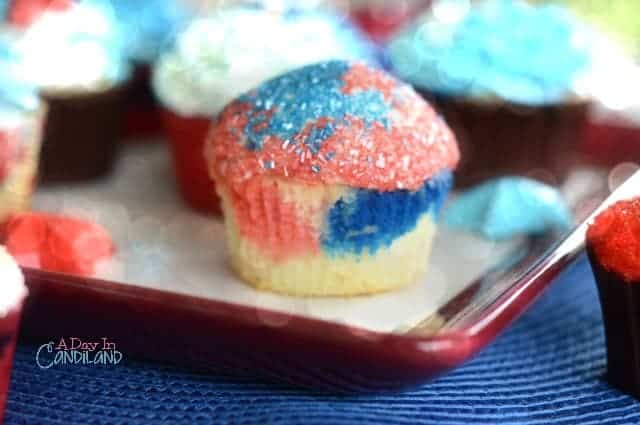 For the cupcake toppers, I just printed them out, cut them out, and glued a craft stick to the back. I love all the different looks you can get when decorating. Remember to have a safe and sane 4th of July. We also have these fun Red, White, and Blue Unicorn Cupcakes.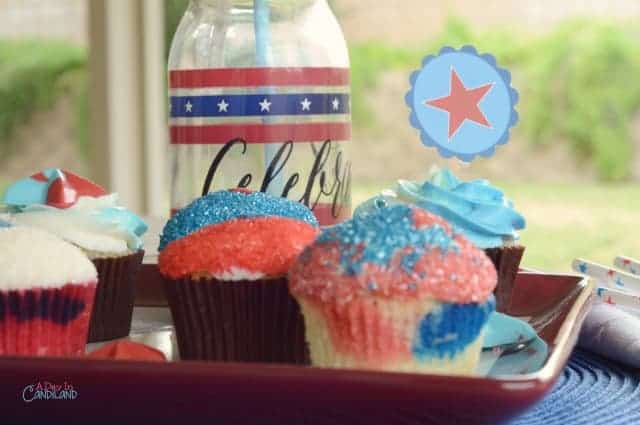 Have fun with these Red White and Blue Cupcakes with free printable cupcake toppers.