These are the best Vanilla Birthday Cupcakes that I have made. They have the perfect texture and made with butter.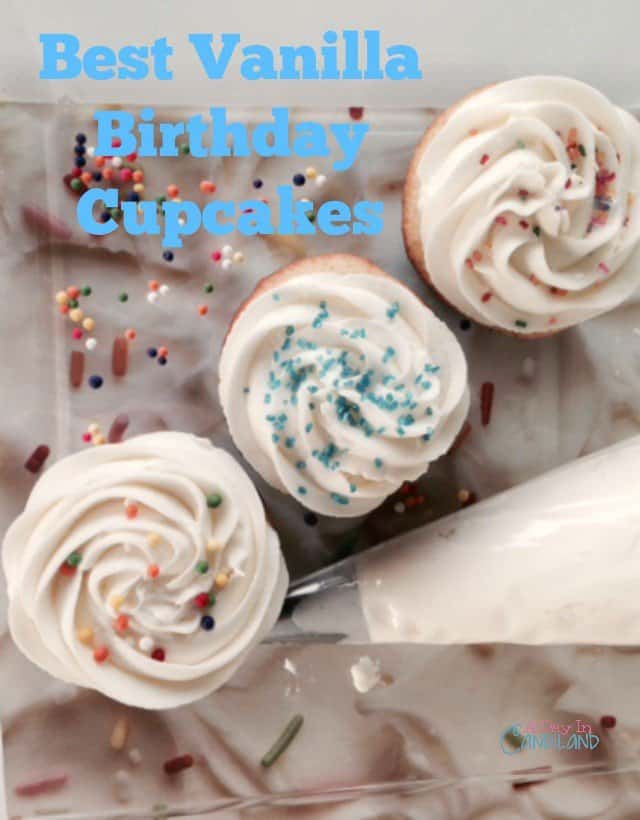 Best Vanilla Birthday Cupcakes
I make a lot of cupcakes but Vanilla is the one I make the most. Vanilla cupcakes are also a lot trickier to make than you might think.
There are a few ingredients you can't skimp on to get the best flavor.
It is really important to use the freshest ingredients in your cupcakes, and with Vanilla cupcakes there is no way to get around it. There is no other flavor to disguise less than the top quality ingredients. Also using cake flour will give it a lighter crumb texture.
You want to preheat your oven to 350 and use a good muffin pan. You will also want to set out your ingredients on the counter to get them at room temp. I like to get everything out before I begin. You never know when you are out of stock and didn't realize it until you are half way through the recipe.
I also get out a few mixing bowls and spatulas. Make sure they are clean before you start. They sometimes get sticky and gummy in a drawer and I just like to know they are clean before I start.
I always start by  creaming the mixture. The ingredients in this case would be butter,  sugar, eggs and vanilla. One at a time in that order in my stand mixer. Then I get a bowl ready and put in the flour, baking powder and salt. I take my whisk and fluff up everything and get it incorporated.
Then I add some into the creamed mixture and then add some milk and alternate. There is a scientific reason for this and I will post about it soon. So for now, take my word.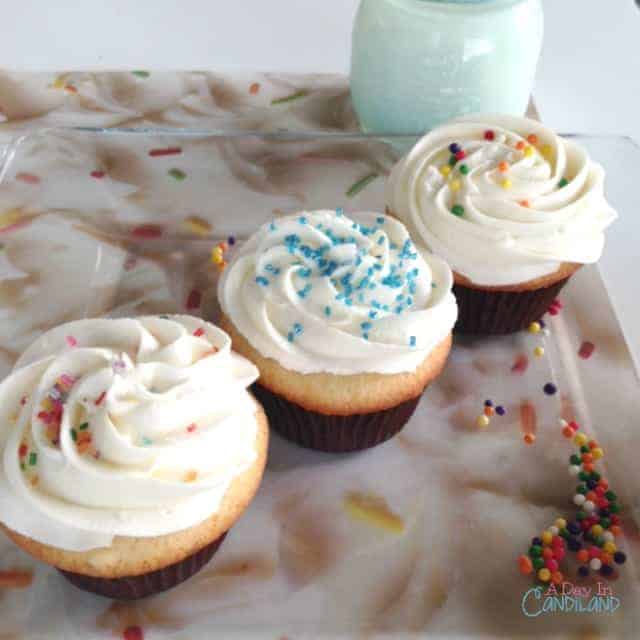 When I bake my cupcakes, I use an oven thermometer to make sure the oven isn't hotter than it says. This way, I can get some accountability. I usually leave the cupcakes in from 18 to 22 minutes. I continue to check once it gets to 18 minutes. I don't like my vanilla to cook completely because it still cooks in the pan once you take it out. So I just want to make sure its about 95% done by touching the top.
Once you take it out of the oven, make sure you take them out of the pan within 5 minutes. It is important that they do not overbake.
Now you will see how delicious they are. You can decorate them how you like. Have fun with them.
What is your favorite flavor cupcake? Leave me a comment.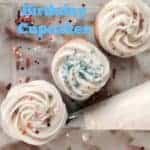 Best Vanilla Birthday Cupcakes
Ingredients
1

stick unsalted butter

1

cup

granulated sugar

2

large eggs

1

ts

Vanilla Extract

1 1/2

cup

cake flour

1

ts

baking powder

1/2

ts

salt

1/2

cup

of whole milk

FROSTING

2

sticks unsalted butter softened

3

cups

sifted powdered sugar

1/2

ts

salt

1

ts

Vanilla Extract
Instructions
Preheat oven to 350 degrees. Line cupcake pan with cupcake liners

In electric mixer, cream butter, sugar, eggs and vanilla.

In Medium bowl, sift flour, baking powder and salt.

Alternate Dry mix into butter mixture and alternate with milk.

Scrape bowl and mix again. Just until smooth. The longer you mix the tougher the cupcake.

Bake 18 - 22 minutes just until cakes bounce back when touched. Do no over bake.

Take out of oven and leave in pan 5 minutes and remove from pan.

Mix butter, sugar one cup at a time, salt and Vanilla. Beat 3 - 5 minutes.

Frost and decorate when cupcakes are cool.

I used a piping bag and Wilton 1 M tip.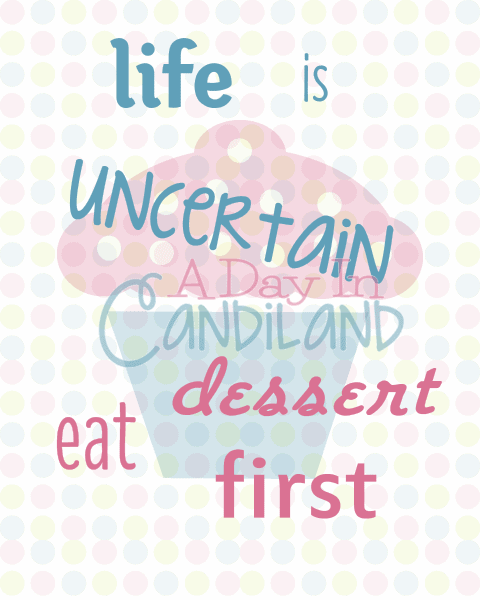 Get Your Menu Planning Workbook
Subscribe to get our latest recipes, budgeting and encouraging tips and receive our Menu plan workbook with 7 days sample recipes for Free. Yay!