Your table doesn't have to go undressed after Christmas. Get your Valentines Table setting on a budget with a little creative thought.
Valentines Table Setting on a Budget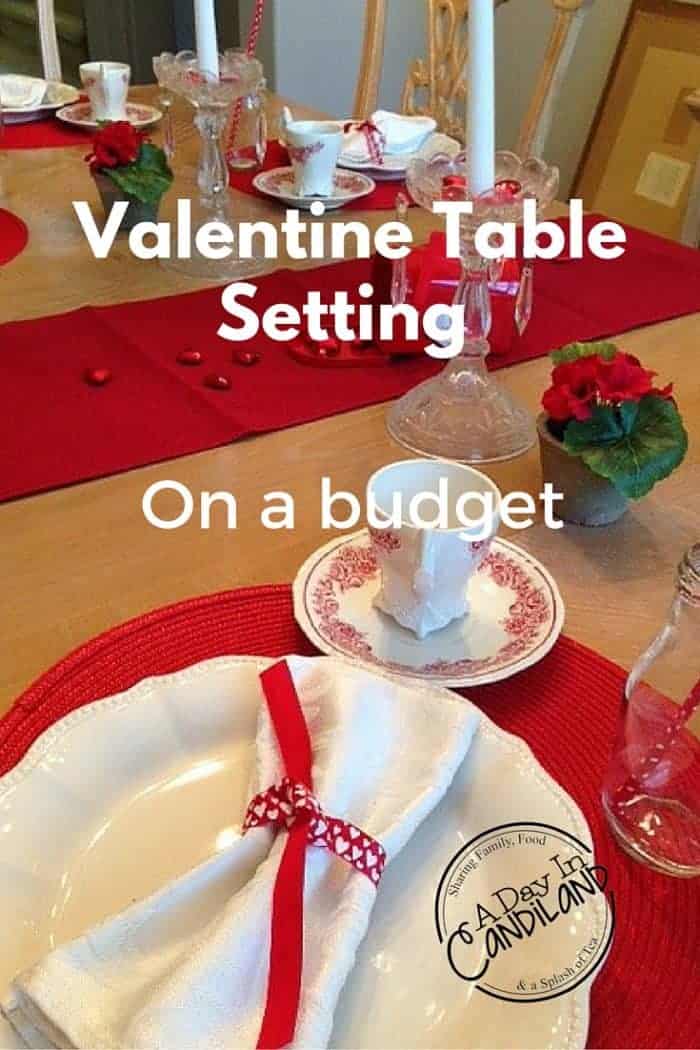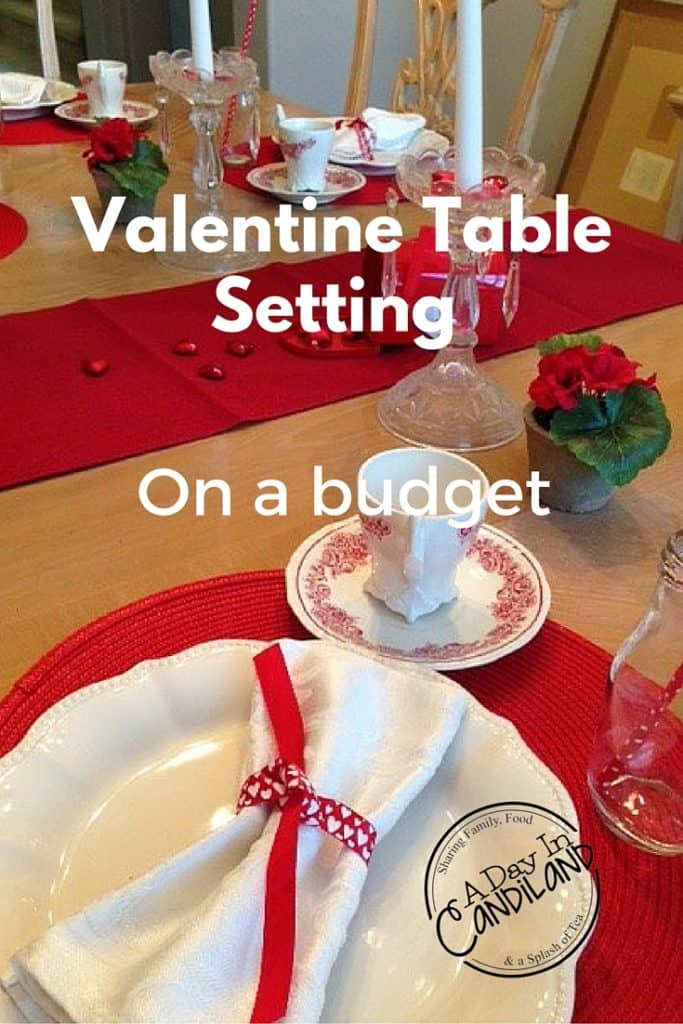 I like to keep my table set all year round since I have a formal dining room and it's right in the middle of my house. You can keep your table decorated year round and do it on a budget by mixing and matching different items from different seasons and buying after the holidays at a discount for the next year.
I like to start each new month, by wiping down the table and putting on my thinking cap as to what each month will be, decor wise. I also have a large table, but you can do the same thing if you just have a small table of two. You will even save more money that way.
I recently bought some white plates which are perfect for any place setting and you can just change up the accessories.
There are so many colors you can do with Valentines Day from White, Pink, Red, Silver, Black, just pick one or two colors and add a third as an accent.
For my Valentines Table, I found a red runner that was for Christmas on sale at Michaels for 80% off. Even if you buy during the season Michaels always has a 40% coupon available.
I laid my runner down the table and then added these cute floral pieces I also found at Michaels. You can even do silk petals down the runner or crystal beads which you can get at Wal Mart.
I got some Red Round Placemats and placed my white plates on top. I got these place mats at Target, they were on sale for $1.99 each. I can use these at 4th of July and also Christmas, plus I can use them in photography for my recipes.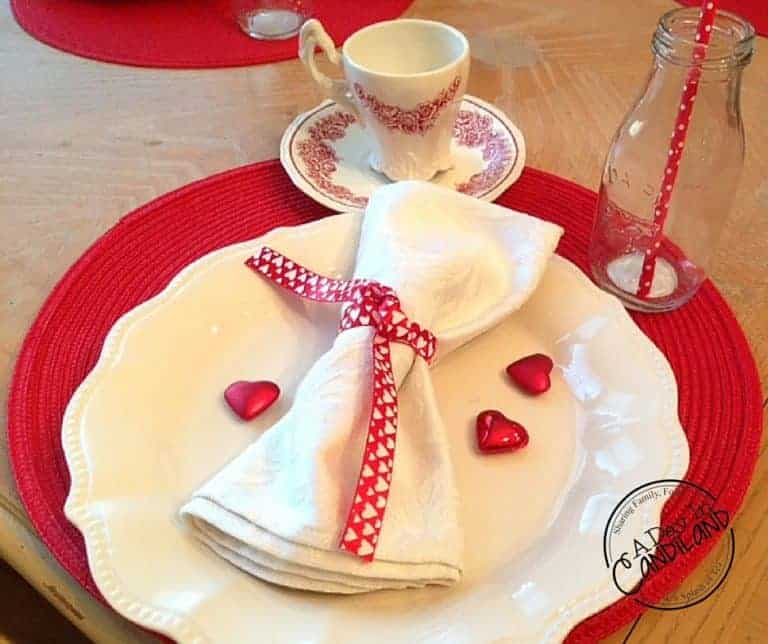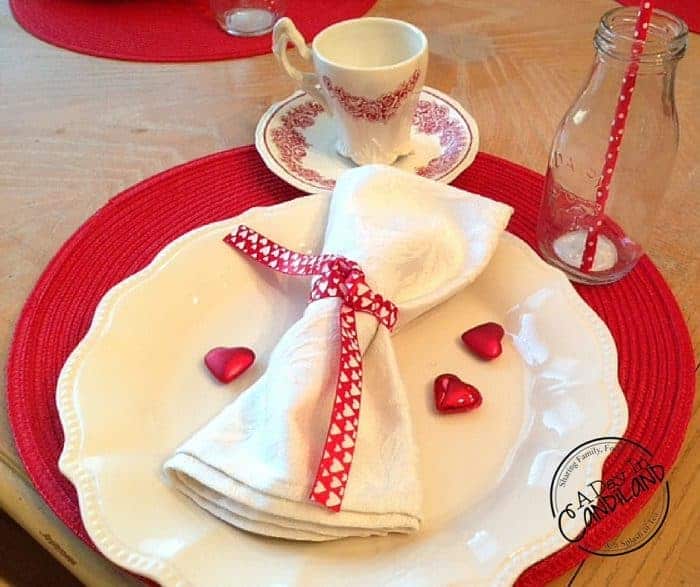 I used white napkins and just tied some Valentine ribbon around them. I got the ribbon for $1.00 at Walmart. Then I also got 2 pillar candles at Walmart for .75 each. I wanted red, but I went to 3 places looking for red and everyone was out.
I found these Valentine Scatter Beads at Hobby Lobby and used a 40% off coupon on them.
I used my own teacups because of the colors and the milk bottles are some of our favorite glasses.
TOTAL COST: $27.80
6 place mats $12.00
2 Candles $ 1.50
Ribbon $1.00
Runner $3.80
2 Florals $7.00
Scatter Beads $2.50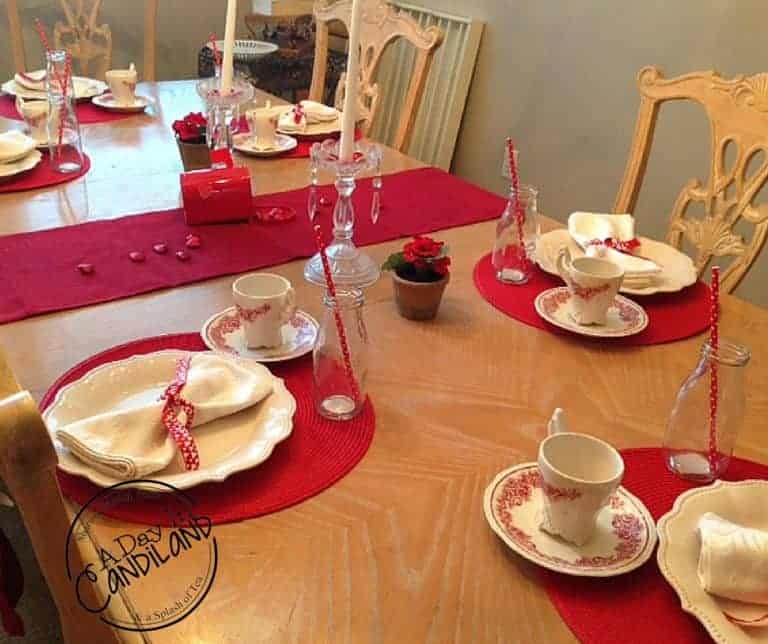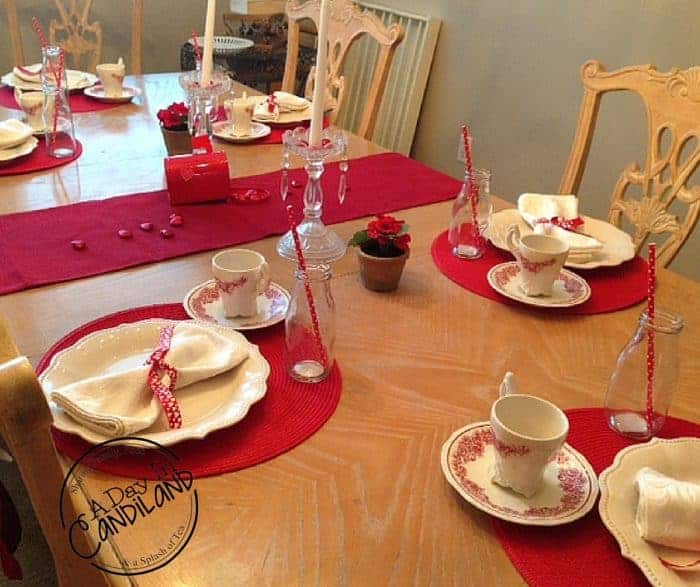 I can use the place mats and florals at different settings and also mix them up with my mantel decor.
Next year I will probably just change up the florals with something else, maybe use some different candle holders in the house and it will look completely different, plus I will save more than 75% of my budget. My goal is to do my table each month for $15.00.
You can also use scrapbook paper as a place mat or charger and save $$$$. If I had red plates I would have used them also.
Do you decorate your table for the holiday or season? What are some of your tips?
Visit a few other Valentine Posts: