This is the 2nd printable I am offering in my kitchen series and this one is a   Kitchen Measuring Chart Comparison Printable. The first one (baking substitution chart) you can get when you sign up for my email list of recipes, daily deals and kitchen tips. You can find the sign up on the Start here page.
Measuring Chart
You can print this kitchen comparison measuring chart and laminate it,  to keep handy and learn the different volumes and equivalents. Sometimes it is difficult to know the difference between volume and ounces, but this chart gives you all the options. When measuring dry ingredients, it is always best to have a kitchen scale like the one I use. It is much more accurate.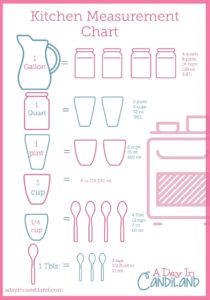 I have been working on this for a while and finally got it done. I love the colors. I hope you find this chart to be a handy tool during baking. Please share and pin this chart.
Make sure you visit some of my other recipe pages below. Also follow me on Twitter and Instagram for more interaction. Thank you for visiting my blog and leave me a comment letting me know if this chart was helpful.
More Kitchen Tips