An easy recipe for fresh homemade cranberry sauce with Orange Juice. It is made with fresh or frozen whole cranberries, this is the perfect traditional must-have for your next holiday dinner.
The fresh cranberry sauce itself is rich and delicious, but the addition of orange juice and zest just elevates the flavors and gives it a zing. When it comes to the holiday season, many of us like to prepare where possible, and this sauce is one you can make and then forget about, while you focus on the main and other side dishes.
I find that it is the perfect blend of sweet and tangy flavors and is the perfect accompaniment for Thanksgiving or a Christmas meal. This homemade version is one hundred times better than any jar of sauce you would buy at your local grocery store. And the best part? It is so simple to make and it can even be made ahead of time.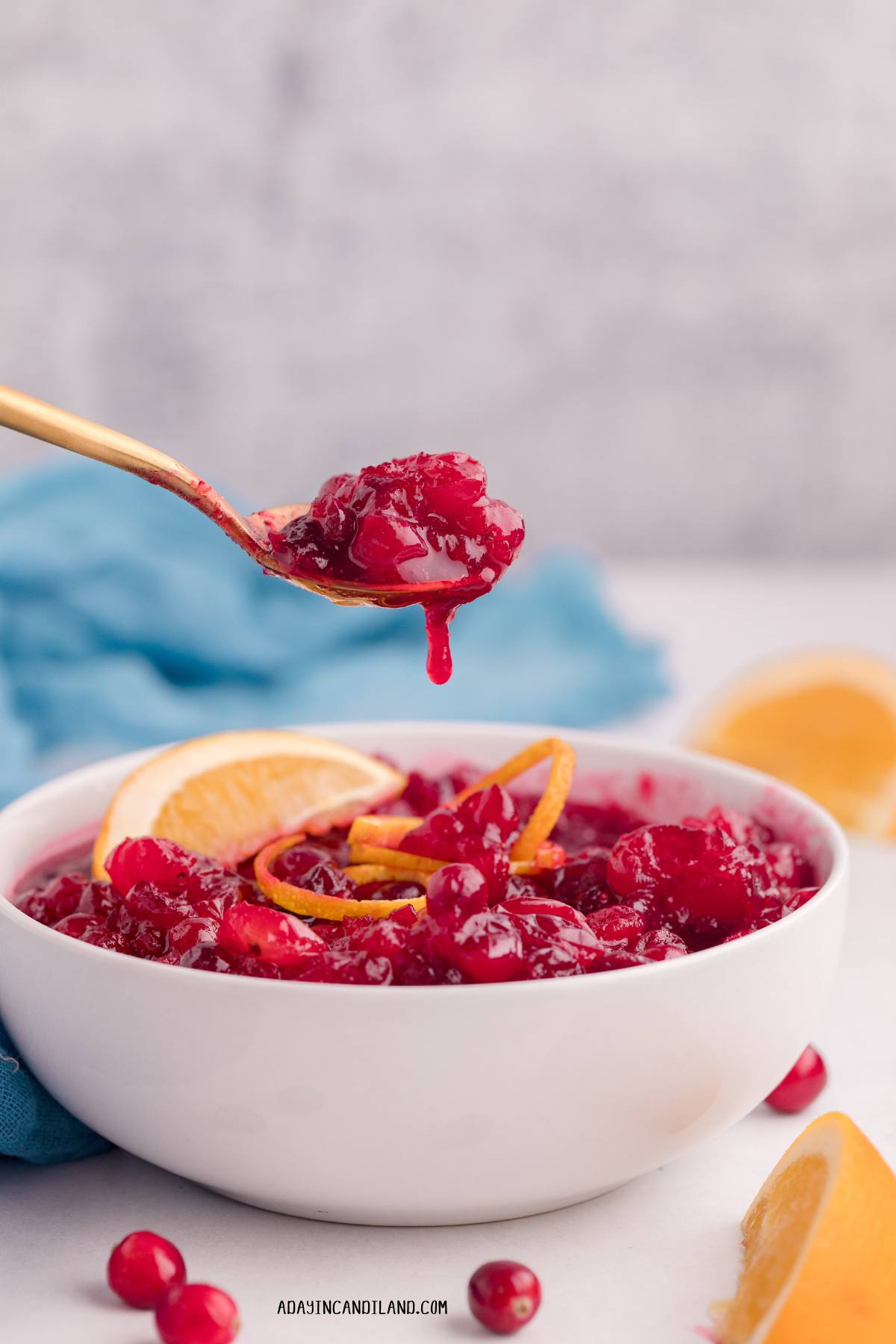 Jump to:
What You Will Love About this Recipe
Under 30 Minutes – It takes less than 30 minutes to make.
Simple ingredients – You can make this delicious cranberry sauce with just five ingredients.
Make ahead of time – No need to panic about making this sauce, you can make it ahead of time and store it ready for when you need it.
Delicious flavors – The cranberry and orange flavors work so well together. The flavor combination will tantalize those tastebuds for sure.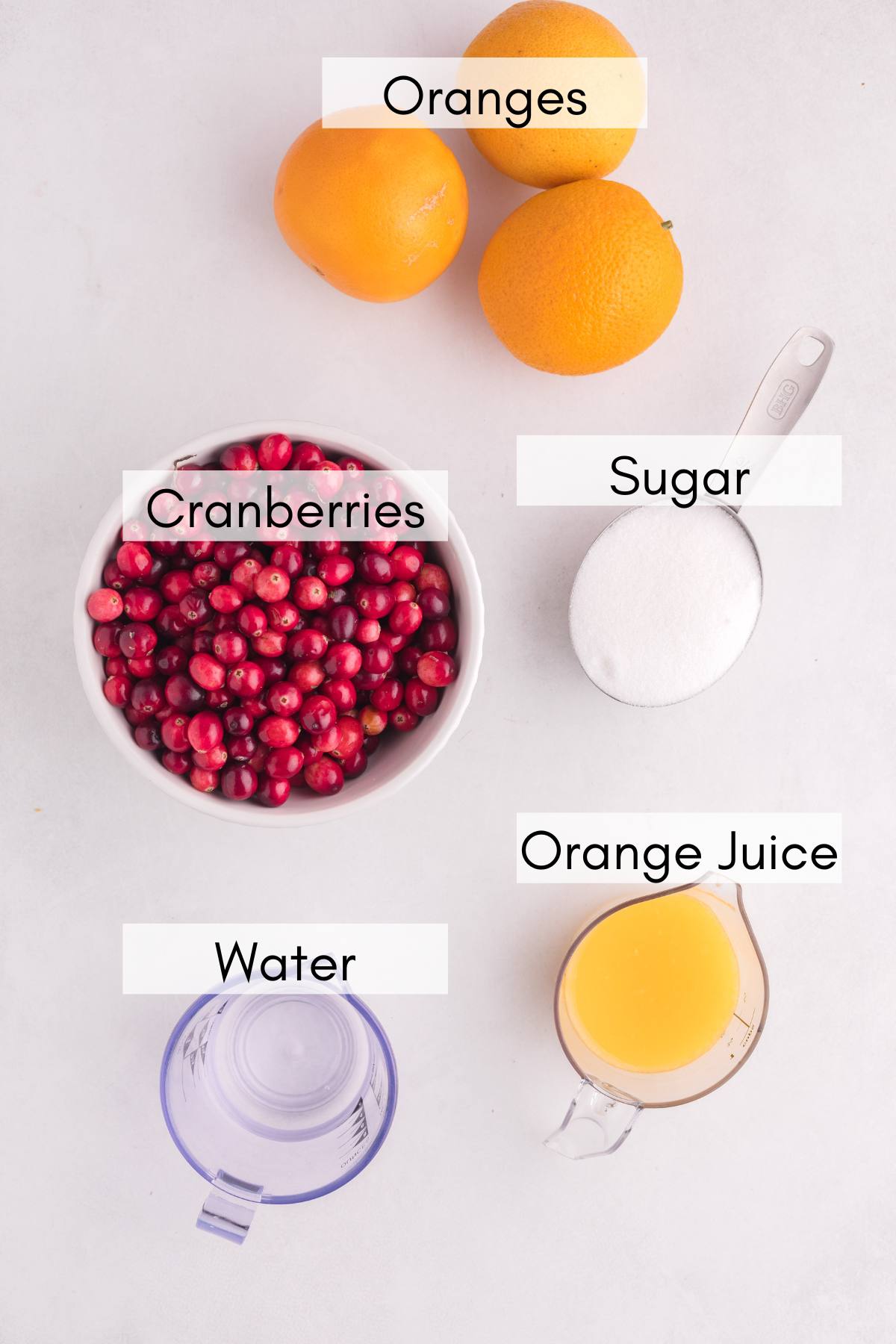 Ingredients
Cranberries – You can use fresh or frozen cranberries for this recipe.
Water – This is what will help create that sauce.
Granulated sugar – You need a little sugar to help caramelize the sauce and balance the tangy flavors.
Orange juice with pulp – This is what will add that extra zest and flavor to the sauce
Orange Zest – The zest will help add color to the sauce and identify the flavor. It also looks very festive.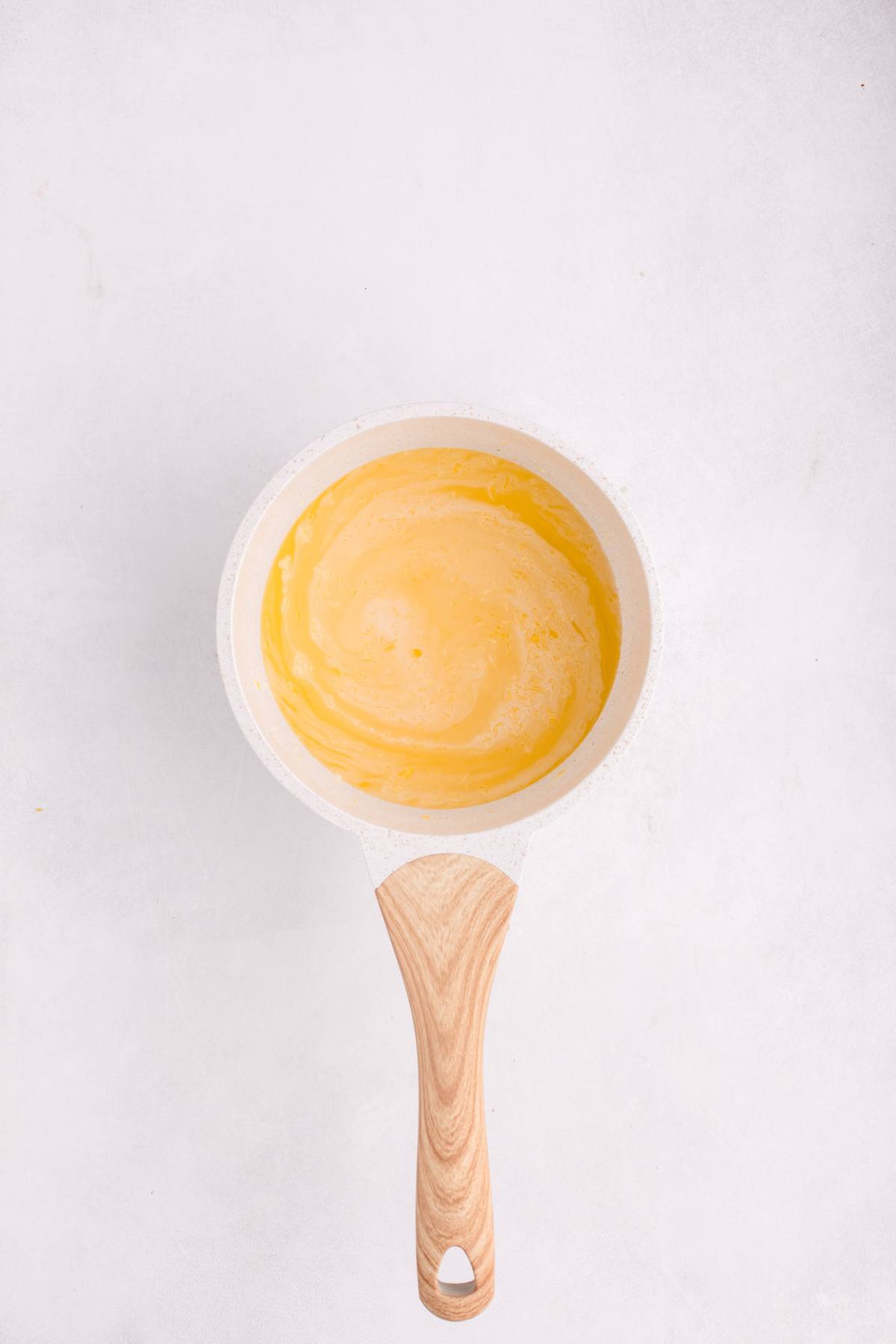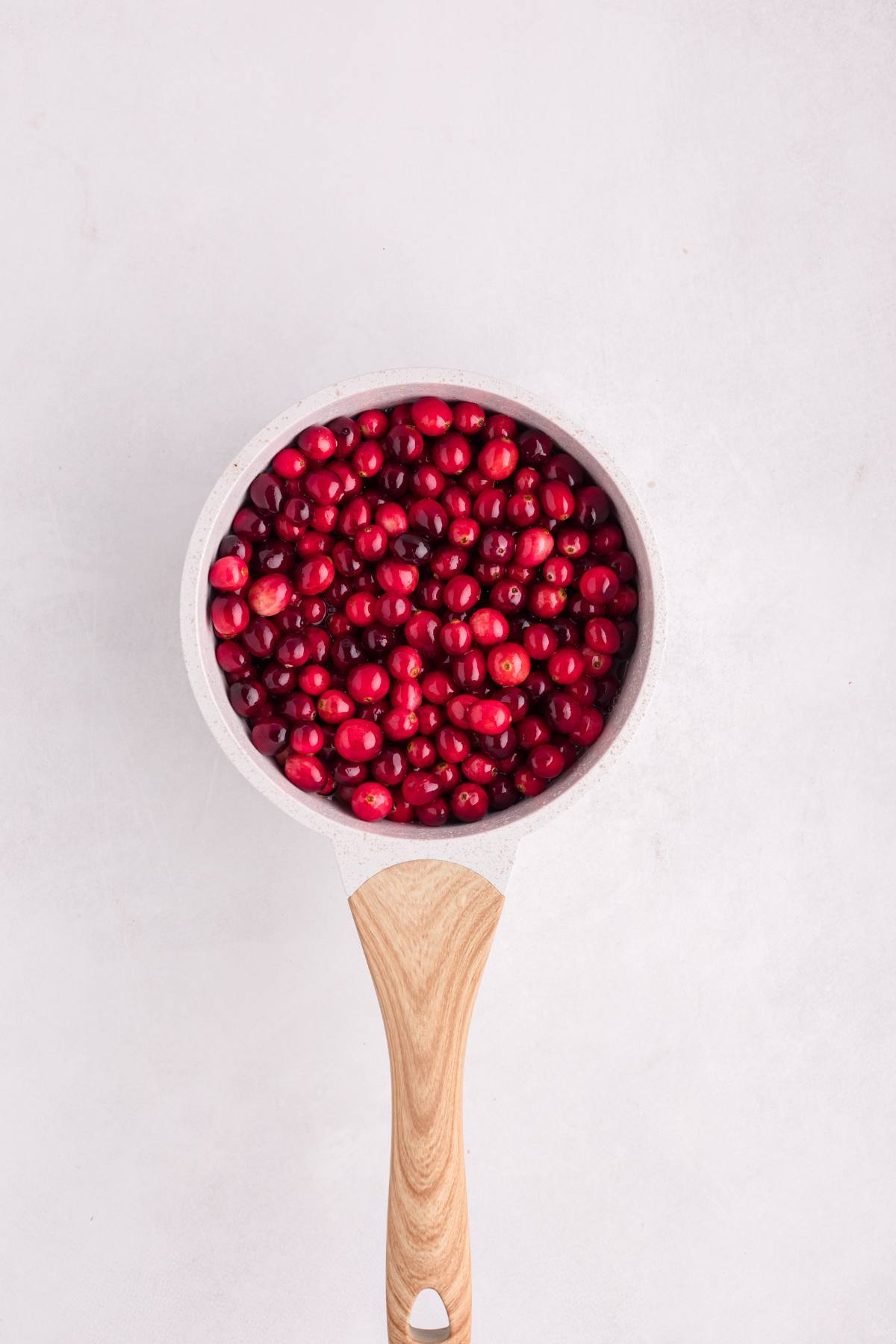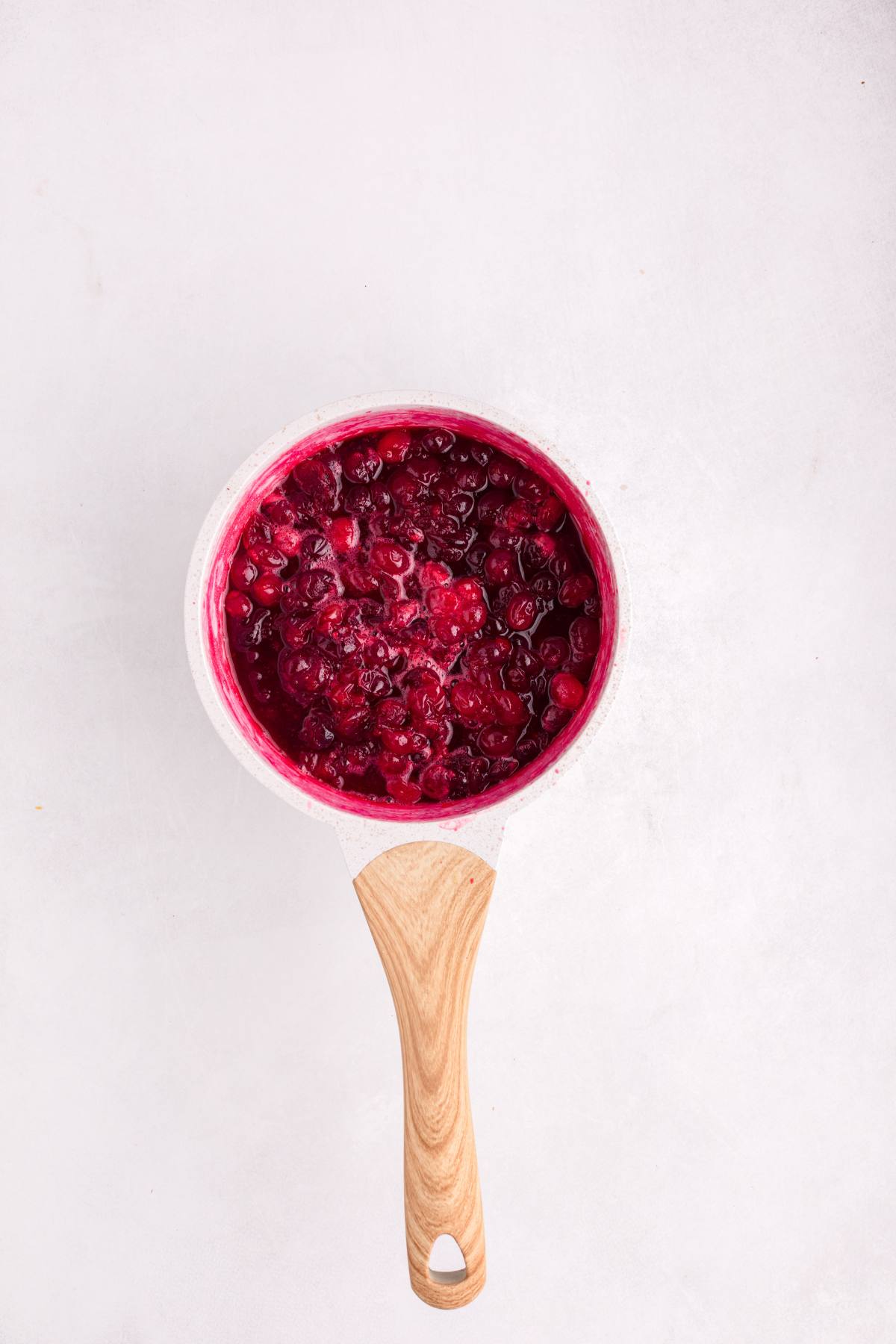 Directions
First of all, combine the water with the orange juice in a medium-sized pot and then dissolve the sugar.
Add in the rinsed cranberries and heat for 10 minutes in the boiling orange juice water.
Remove from the heat. Allow to cool and then refrigerate.
Serve with orange zest just before you serve.
Full directions listed below.
Expert Tips
This sauce is perfect to make ahead of time. You can refrigerate it for up to two weeks when stored in an airtight container. Add some cinnamon to the recipe for a delightful flavor.
You can also freeze this sauce. Allow it to cool completely then transfer to an airtight container. It will freeze for up to three months. Let it thaw thoroughly before serving.
Substitutions & Variations
Why not add some pecans or walnuts to the sauce? Chop them up and add with the orange zest just before serving.
You could add some extra fruit to this sauce. Raisins, currants, and blueberries will all make excellent additions.
Adding a little extra spice will enhance the flavor. Warm and subtle spices like allspice, cinnamon, and nutmeg will work the best.
FAQs
Can I use my Instant Pot to make this cranberry sauce?
Yes, you can! Simply add all of your ingredients to your instant pot and then switch it on. It will only take a couple of minutes to create a delicious sauce. You may want to reduce the amount of water you add initially.
What can I do with any leftover cranberry sauce?
If you have leftovers and want to use them in a different way then here are a couple of ideas:
Add to leftover turkey and make a Thanksgiving grilled cheese sandwich.
Use a spoonful in beef dishes. The added sweetness will transform meatball and beef casserole recipes.
Serve with brie or other cheeses on a savory charcuterie board.
Are cranberries good for you?
Yes, they are good for you. They are often called a superfood. High in antioxidants, they are also shown to help with gut health and help with urinary tract health. Cranberries can also help control harmful acids in your body.

Notes
This delicious orange cranberry sauce will be one of the highlights of your holiday meal. What other recipes do you feel are a must for your holiday feast? Don't forget your Thanksgiving Menu Planner and free printable here.
Did you know you can eat Raw Cranberries? Yes, you can.
The longer you reduce your sauce the thicker it will get.
You only need 3 ingredients to make Cranberry Sauce, it's the additions that make it special.
You can use cranberry sauce as a glaze for poultry, as a side dish, and as a condiment on sandwiches.
You can freeze Cranberry Sauce.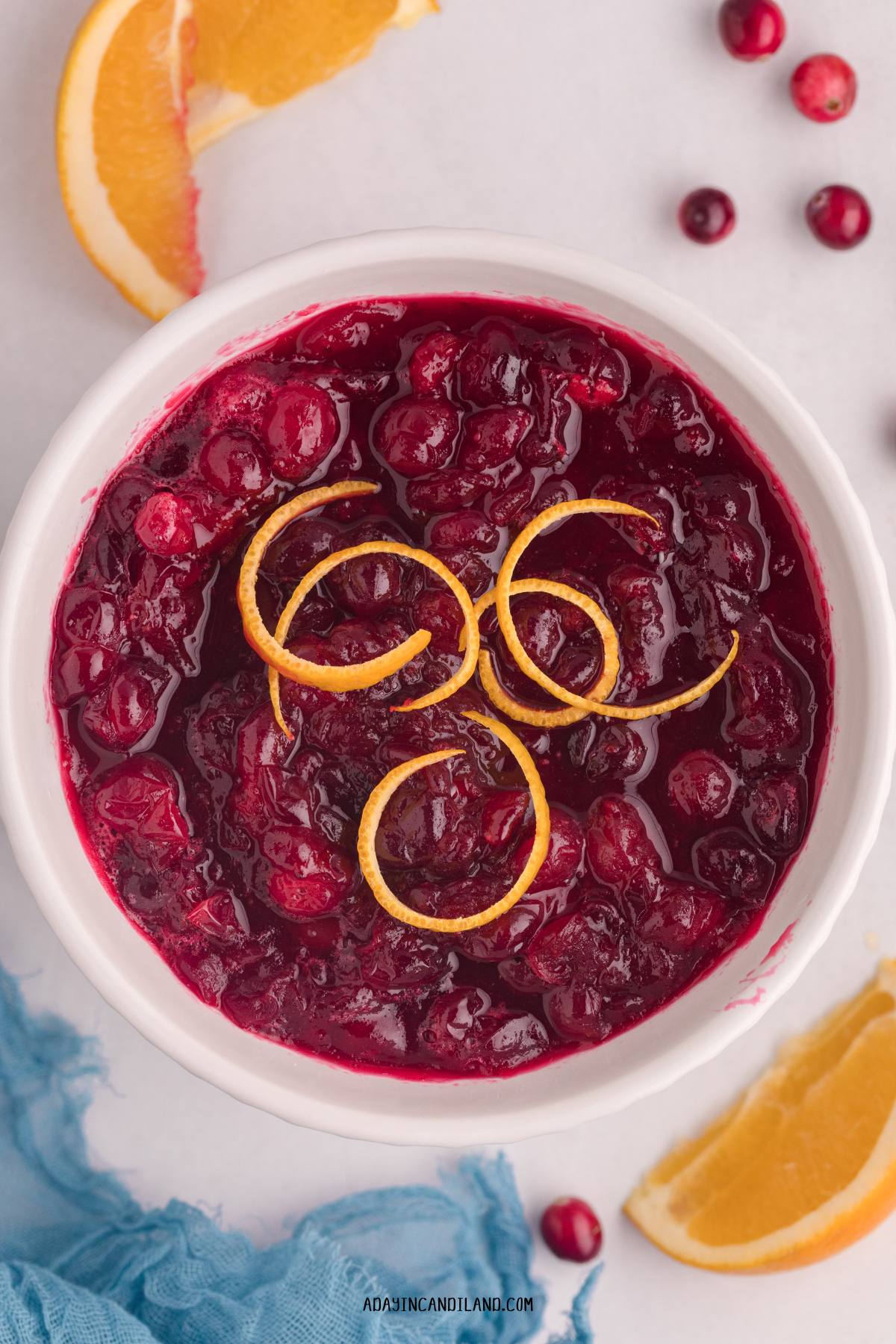 Related Recipes
If you loved this recipe and made it please give it a 5-star review! That will help it be seen more. You can also pin it to Pinterest or share it on Facebook.
Easy Homemade Cranberry Sauce with Orange Juice
This easy homemade cranberry sauce with orange juice can be made a few days before your Thanksgiving or Christmas meal and it is pretty AND delicious, in addition to adding rich color to your table. The addition of Orange Juice and Orange Zest give it just the right zing.
Ingredients
3

cups

of Frozen or fresh Cranberries

or 12 oz bag

1/2

cup

Water

3/4

cup

granulated sugar

1/2

cup

orange juice with pulp

Orange Zest for Color and Appeal.
Instructions
Dissolve sugar in water and orange juice in a medium size pot

Add in cranberries and heat for 10 minutes in boiling water.

Remove for heat and refrigerate.

Serve with orange zest just before you serve.
Notes
Optional Ingredients that make your Cranberry Sauce Special: Pecans, raisins, currants, blueberries, cinnamon, nutmeg, allspice.
Nutrition
Calories:
129
kcal
|
Carbohydrates:
33
g
|
Protein:
1
g
|
Fat:
1
g
|
Saturated Fat:
1
g
|
Polyunsaturated Fat:
1
g
|
Monounsaturated Fat:
1
g
|
Sodium:
2
mg
|
Potassium:
82
mg
|
Fiber:
2
g
|
Sugar:
29
g
|
Vitamin A:
71
IU
|
Vitamin C:
17
mg
|
Calcium:
7
mg
|
Iron:
1
mg