Food Network Chefs Cookbooks that will be treasured in your collection of Recipe Cookbooks.
If you are an avid fan of the Food Network Chefs' tv shows and also HGTV, you have seen their cookbooks and bios stories on Amazon and Barnes and Nobel.
You watch and dream of cooking those fabulous meals, decorating your homes, and having dinner parties with Ina Garten.
Thankfully these chefs and stars have laid it all out for you. Now you can have all their tips and recipes in your kitchen and share them with your friends and family.
Here are some of the top-selling books and cookbooks from your favorites on HGTV, The Cooking Channel, and Food Network.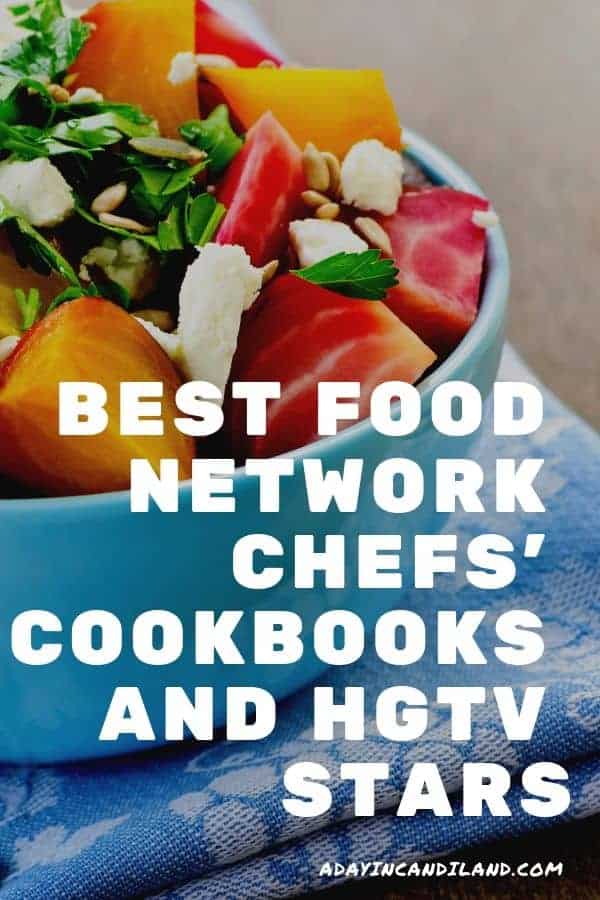 *This post may contain affiliate links. If you make a purchase, I get a small commission. Please see my disclosure policy for details
Best Cookbooks from Food Network Chefs
In Duff Bakes, he truly gives home bakers the down-to-earth essentials they need for creating mouthwatering favorites. Inside you'll find the perfect muffin recipe to eat straight while waiting for your morning bus, an easy pizza dough recipe for a quick weeknight dinner, and cookie recipes for every occasion.
Filled with Duff's engaging earthiness and hilarious personality, Duff Bakes includes chapters on different types of pastry dough, a variety of cookies, brownies, muffins, bread, biscuits, pies, cakes, and cake decorating, gluten-free and vegan desserts, and much more.
For families juggling school, work, and a host of other time-consuming daily obligations, the idea of making dinner from scratch can be daunting. Ree Drummond makes it easy for families to make simple, scrumptious, homemade meals with minimum fuss and maximum enjoyment.
The Pioneer Woman Cooks: Dinnertime includes delicious, easy-to-make recipes for comfort classics, 16-minute meals, freezer-friendly food, as well as soups, main dish salads, and a favorite of her own family: breakfast for dinner.
Trisha invites you into her kitchen for a feast of flavorful meals and heartwarming personal anecdotes. She shares a trove of recipes from a lifetime of colorful gatherings.
In her newest cookbook, she invites fans and home cooks to get to know the flavors and stories that have inspired her life's work.
Here, she shares recipes for authentic Italian dishes as her family has prepared them for years while infusing them with her signature fresh flavors to make them her own, like in her Grilled Swordfish with Candied Lemon Salad; Spaghetti with Chianti and Fava Beans; Asparagus with Grilled Melon Salad; Bruschetta with Burrata and Kale Salsa Verde; and Fennel Upside Down Cake.
For Ina, cooking like a pro also means hosting like a pro, and along with know-how like how to tell when a filet of beef is perfectly cooked, you'll find dozens of other great ideas to boost your cooking and entertaining skills.
From how to set up an elegant home bar and how to make an impressive Raspberry Baked Alaska that can be completely prepared ahead of time so all you need to do is finish it for your guests before serving.
With helpful notes on essential pantry staples and a list of the kitchen equipment you really need, Tyler Florence's Real Kitchen is a fresh, creative exploration of just how fun (and delicious) your cooking can be.
Paula has converted 150 of her delicious recipes for the air fryer. portions, instructions, and cook times have been adjusted to create perfect meals made in an air fryer.
Chapters include appetizers, sides, poultry, seafood, meats, and sweets. Paula's favorite chapter the ode to the potato is a full chapter dedicated to one of Paula's favorite vegetables. Paula loves the appetizers, chock-full of little bites of party pleasure, including Air-Fried Mac and Cheese Squares, Buffalo Chicken Pinwheels, Caprese Stuffed Portabellas, and Bacon-Wrapped Sausage-Stuffed Jalapenos.
Poultry, meat, and seafood dishes including BBQ Pork Roast and Salmon Burgers.Perfect sides, such as Air-Fried Gluten-Free Green Beans and Air-Fried Asparagus with Herbed Lemon Aioli.
Cook, eat and be fit with 200 recipes from Bobby Flay, whose approach to healthy eating is all about flavor—not eliminating anything from your diet.
HGTV Stars Look into their world
Magnolia Table is infused with Joanna Gaines' warmth and passion for all things family, prepared and served straight from the heart of her home, with recipes inspired by dozens of Gaines family favorites and classic comfort selections from the couple's new Waco restaurant, Magnolia Table.
Dream Home is a comprehensive source, covering the ins and outs of buying, selling, and renovating a house, with hundreds of full-color photos throughout. The brothers cover numerous topics including the hidden costs of moving, savvy negotiating tactics, and determining your home must-haves.
Other handy features include a calendar of key dates for finding the best deals on home products and a cheat sheet of worth-it fix-its. Look inside for a wealth of information on attaining what you want—on time and on budget. Dream Home also includes all the tips and tricks you won't see on TV, making it a must-have resource not just for fans but for any current or aspiring homeowner.
These books will be a great addition to anyone's book collection. You will also get an inside look into the food network chefs' celebrity's life and how they live.

If you are a cookbook junkie, try some of my other favorite collections.
All-Time Favorite Cookbooks
Cookbooks for College Students
Food Network Chefs Cookbooks that will be treasured in your collection of Recipe Cookbooks.