Create a Movie Night Gift Basket with this DIY Romantic gift basket tutorial filled with all their favorite items for a special date night.
Do you find it hard to find time to have a Romantic evening or date night when you have been married for a while? Maybe you have small kids and there just isn't time.
It is important to carve out some quiet quality time with your partner or spouse and get creative.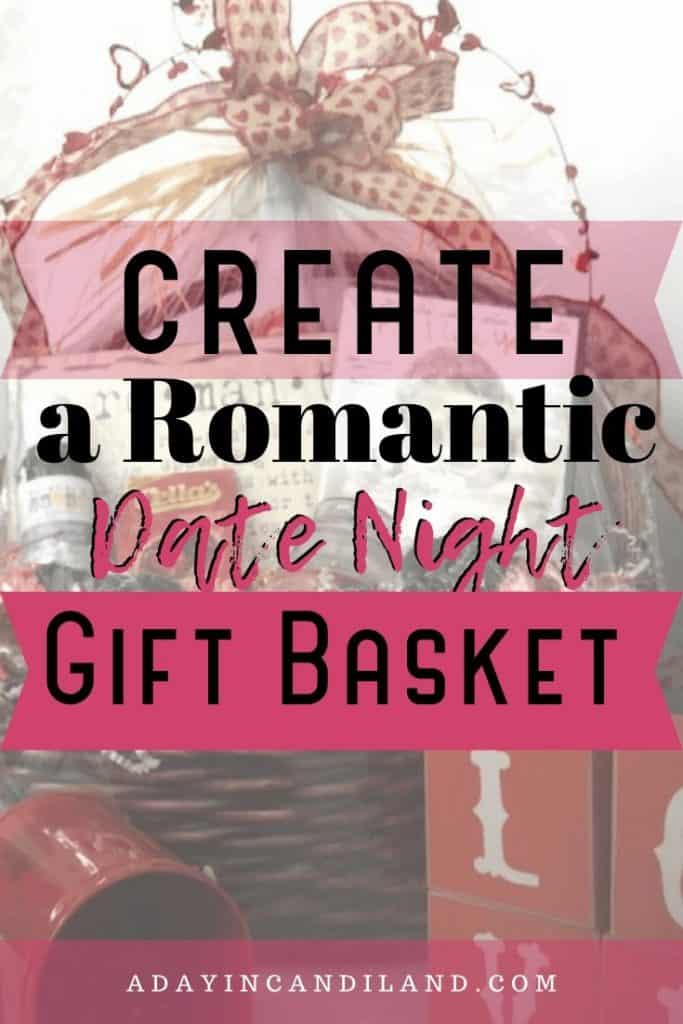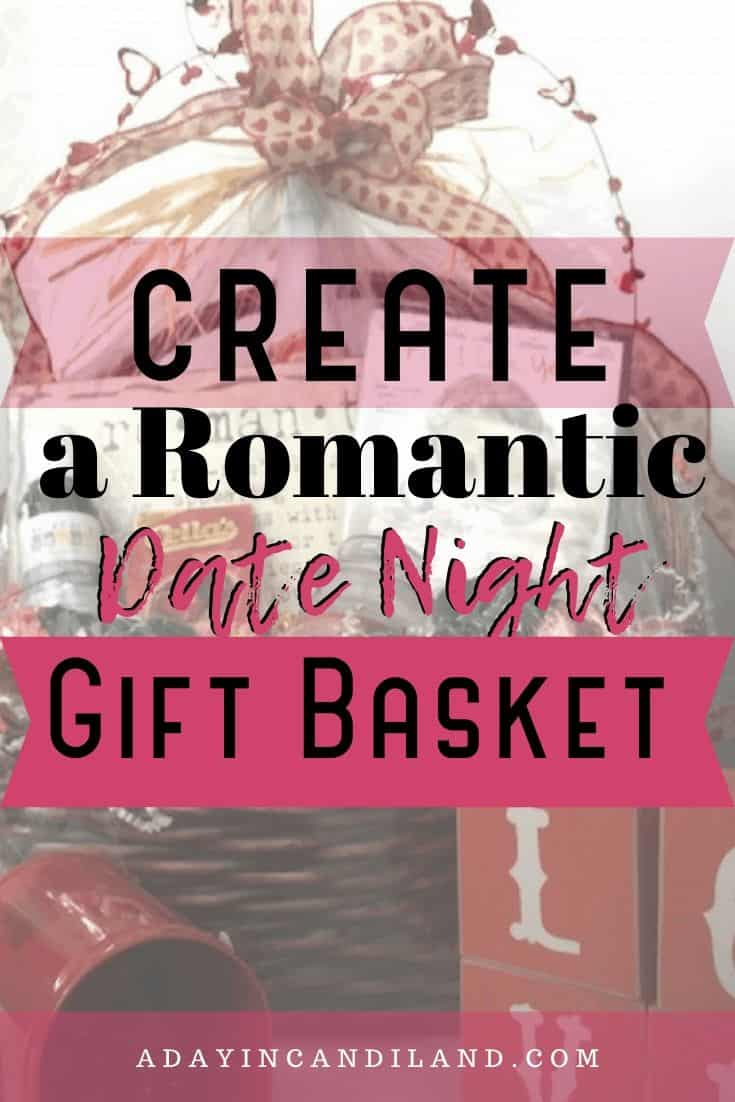 Date Night Basket Idea
This Valentine's Day will be my 32nd anniversary. We dated for 7 years before we got married and this day has always been special.
3 wonderful teen and adult children later and trying to find intimacy or a date night together is always a challenge along with our family's busy activities.
Then, add on running a business and the stress that comes with it and let's just say, this basket is going to create the perfect atmosphere.
We always try to plan this holiday alone and I try to come up with something creative, fun and passionate for our day or night while staying on a budget.
*This post may contain affiliate links. If you make a purchase, I get a small commission. Please see my disclosure policy for details
How To Create A Date Night Gift Basket
This year I am creating an intimate gift basket with everything you need to create a romantic mood. It is easy to create a movie night gift basket and the fun part is opening it up and seeing everything inside.
You can leave the items unwrapped or wrap them up to keep the surprise going. I shopped for several things at my Dollar Tree and had fun putting this together, thinking about the special time we will have and setting the mood.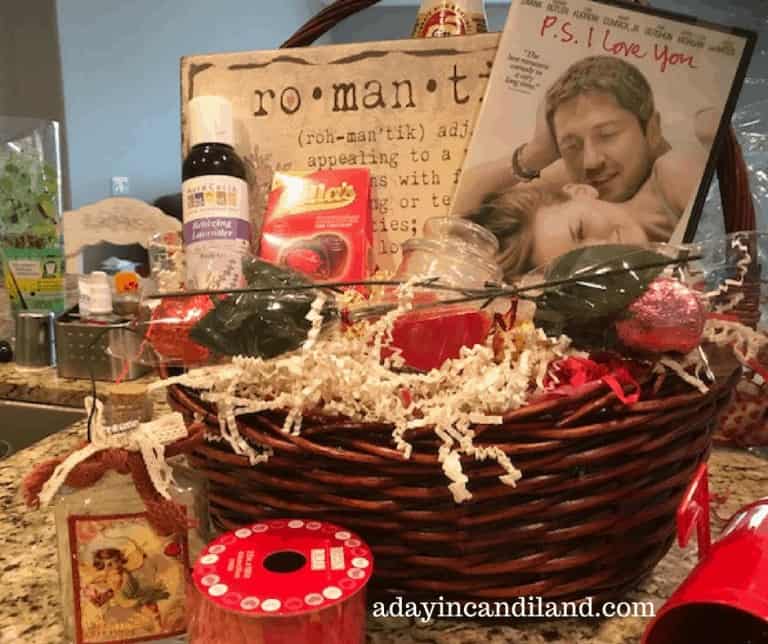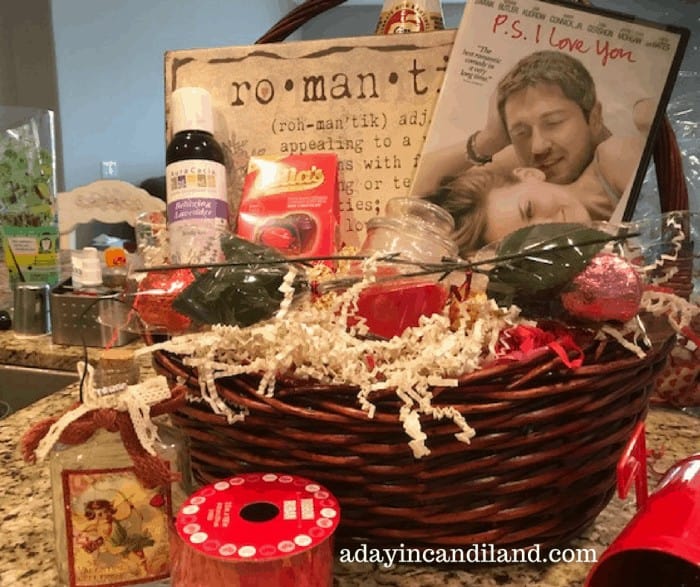 How to Make a Romantic Movie Night Gift Basket
Here's how to make your very own romantic movie night gift basket. Just follow these steps.
1. Pick Your Container
I like to pick something with a handle for the base to hold all the items together.
2. Add Some Stuffing
Choose some crinkle paper shred to put in the bottom. It's important to use enough so things don't get lost and you can see the items in the basket. I've used some red, pink and white colors. But use your favorites.
3. Place The Tallest Item in First
Find a tall item that you can anchor to the top handle with tape or ribbon, such as a bottle or tall box. We drink cider, so that's what I used.
4. Use Double-Sided Tape
Start putting the items around your taller item and use double-sided tape to hold everything together, or tape inconspicuously to keep it secure.
5. Place Your Favorite Item In Front
Put the item you want most right in front. Then sprinkle some candy around the basket for filler, remember to put some fun and romantic ideas in the basket, like candles, movies, music, games, and food items. I am going to leave a little to your imagination here.
6. Wrap It In Cellophane
Pick some cellophane paper and cut a rectangle piece that will wrap around the basket and come up about 12-inches higher than the basket.
I also take a second piece of cellophane about 12 to 15-inches wide the length of the cellophane and then fold it up into a fan by pinching in the middle. Tie it in front of the basket and fan it out.
7. Tie It With A Bow
Place the bow around the top. Then I add some silks or wired garland that I hot glue or tape to sides of the basket.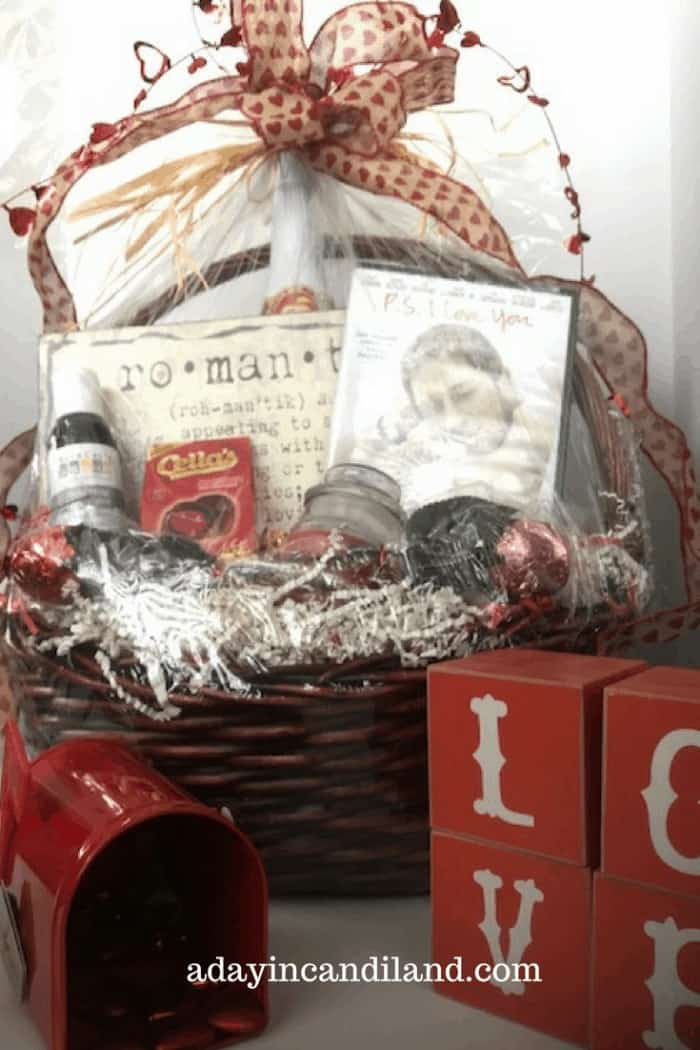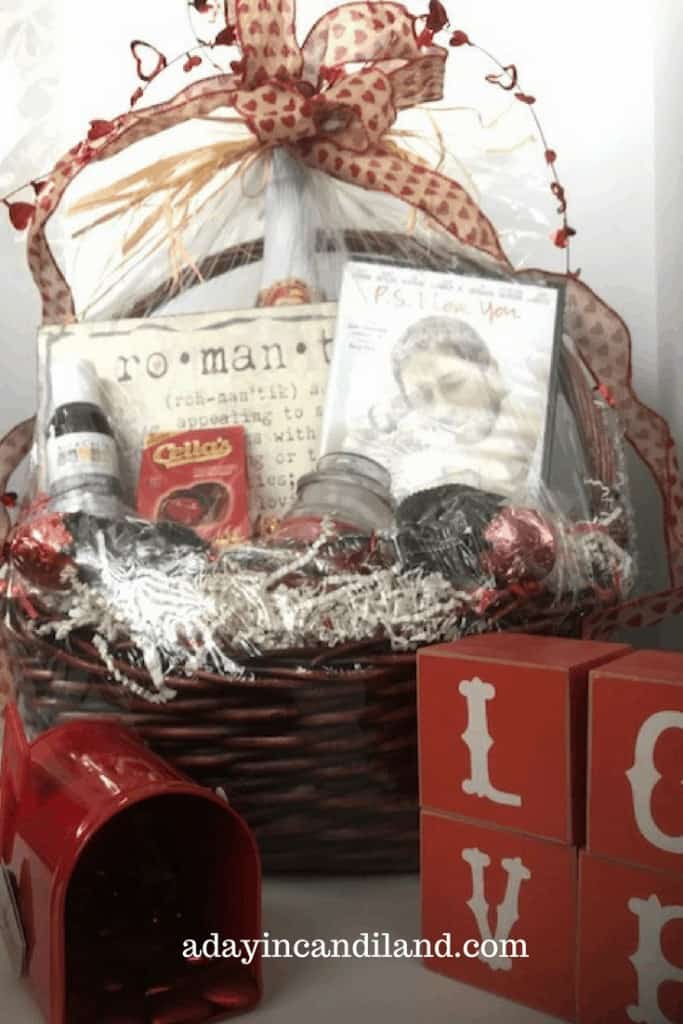 Move Night Gift Basket Printable Card
Here's a free printable craft card with all the supplies and instructions in one place. Please pin this post so you can find it later!
DIY Movie Night Gift Basket
Create a Movie Night Gift Basket with this DIY Romantic gift basket tutorial filled with all their favorite items for a special date night.
Ingredients
Gift Basket with Handle

Colored Crinkle Shred

Ribbon

Anchor Item to tie to handle

Assorted theme items

Candies to drizzle around items

Cellophane or Shrink Wrap

Tissue Paper
Instructions
Take your basket and fill with shredded newspaper or tissue paper. Add colored crinkle shred on top.

Take your tall item and tie it to the handle. Wine, sparkling cider, box of candy, etc.

Tape the other themed items next to it, but make sure you can see any pretty labels or items.

Add assorted candies to the items in front.

Take your cellophane and wrap it up on the front and back of the basket and tie it just above the handle. Take the sides and carefully tape so it is closed. If using shrink wrap, place the basket inside the bag and hold the top of it above the handle. Use the heat gun to remove all extra air and get a smooth finish.

Make a bow out of wired ribbon and tie at the base of the handle. Drape the ends and glue to sides of basket.
Notes
Download the Gift Basket Item Sheet that is provided.
This article has been updated since it's original date of Jan 2015.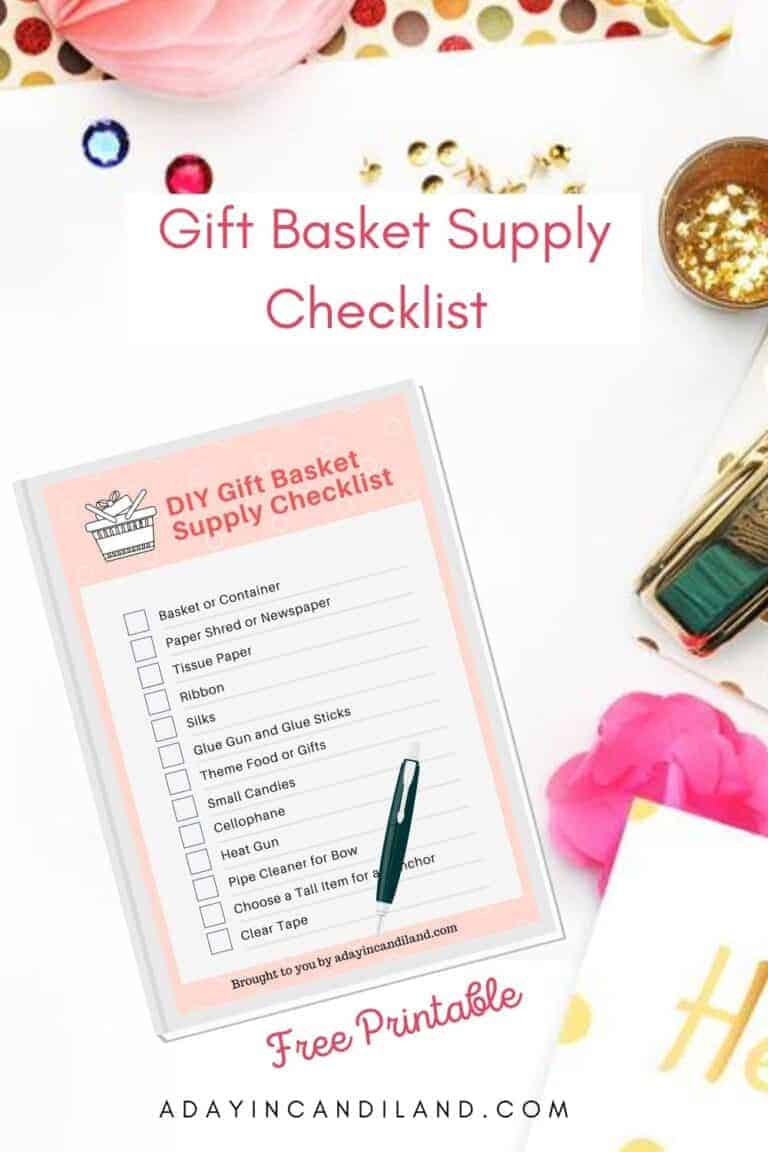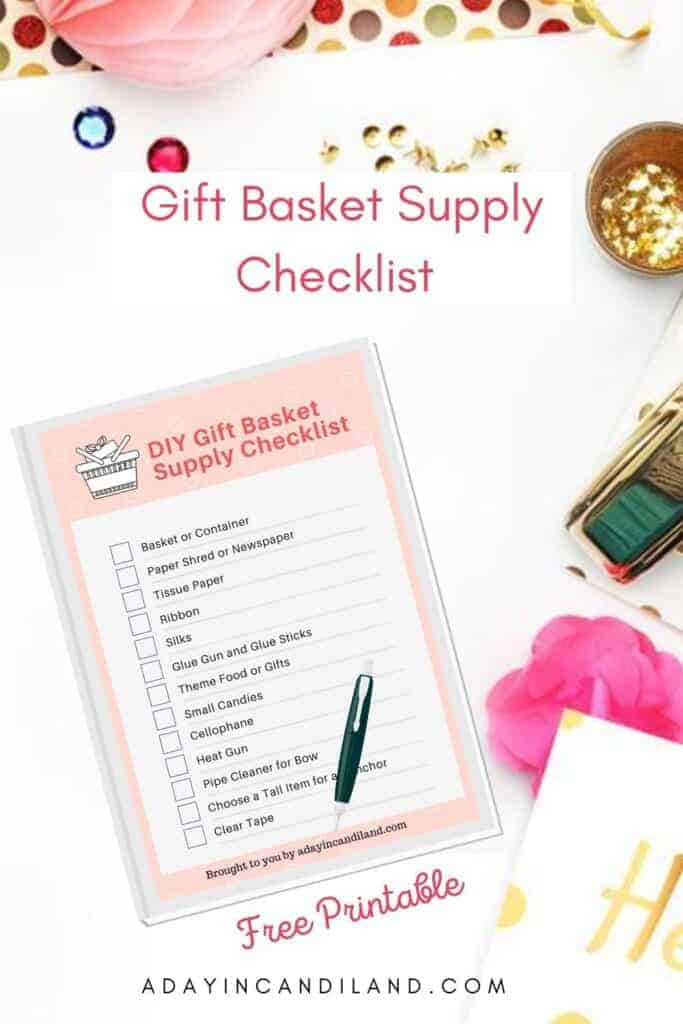 Read Here For More Valentine's Day Ideas and Recipes
These baskets are fun to make for any occasion. I made a tea basket here, and you can make a holiday, or food baskets or any gift occasion you want. The ideas are endless.
Movie Date Night Ideas for Gift Basket
Here are a few more fun finds for your Romantic Movie Night with items I used to make this basket.
I hope you have fun creating your own gift basket idea. Leave a comment or ask a question below.