Pumpkin Creme Brulee is a smooth creamy dessert with a lot of flavors and toasted with your kitchen torch.
Like I said before, I love anything pumpkin. Did you know this pumpkin recipe was gluten-free? I have two great recipe books for creme brulee, which happens to be my favorite dessert. So I was looking in the book and found the recipe for Pumpkin Creme Brulee. You can find some of my other desserts on my easy recipes page.
I had my husband order me a professional torch, because the cheapie one I had, stopped working.
So I made the Pumpkin Brulee and after it cooled and refrigerated for several hours, he brought home the torch and I went to work on it.
Pumpkin Creme Brulee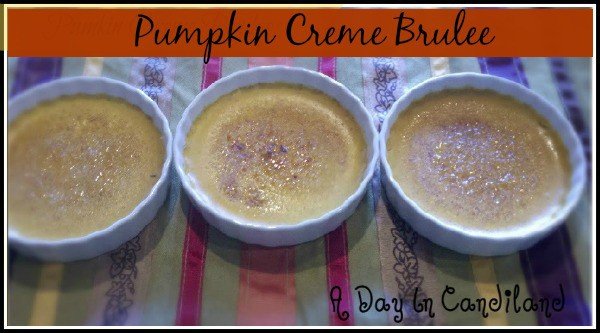 Pumpkin Creme Brulee
Pumpkin Creme Brulee is a smooth creamy dessert with a lot of flavors and toasted with your kitchen torch.
Ingredients
2

cups

heavy cream

2

teaspoons

Vanilla Extract

8

egg yolks

1/3

cup

granulated white sugar

(or xylitol)

1

cup

pureed pumpkin

1/4

teaspoon

cinnamon

1/8

teaspoon

nutmeg

1/4

teaspoon

ginger

1/4

cup

white sugar or xylitol for caramelizing
Instructions
Preheat over to 300 degrees F

In a large bowl, whisk together the cream, vanilla, yolks, sugar, pumpkin, cinnamon, nutmeg, and ginger. Blend well. Strain into a large bowl, skimming off any foam or bubbles.

Divide mixture among 6 - 8 ramekins or custard cups. Place in a water bath and bake until set around the edges, but still loose in the center, about 30 or 40 minutes. Remove from oven and leave in the water bath until cooled.

Remove cups from water bath and chill for at least 2 hours, or up to 2 days.

When ready to serve, sprinkle about 2 teaspoons of sugar over each custard. Take your torch and caramelize the top for a few seconds. If you don't have a torch you can put under the broiler for 1 to 2 minutes. Use an inverted pan if needed to get it to 5 inches from flame.
Notes
This is the perfect dessert for fall gatherings. It can chill in the fridge for up to 2 days in advance, making it easy to make ahead so you can enjoy the event.
Nutrition
Calories:
528
kcal
|
Carbohydrates:
31
g
|
Protein:
8
g
|
Fat:
42
g
|
Saturated Fat:
25
g
|
Polyunsaturated Fat:
3
g
|
Monounsaturated Fat:
12
g
|
Cholesterol:
419
mg
|
Sodium:
42
mg
|
Potassium:
228
mg
|
Fiber:
2
g
|
Sugar:
28
g
|
Vitamin A:
9441
IU
|
Vitamin C:
3
mg
|
Calcium:
114
mg
|
Iron:
2
mg
This is so smooth and creamy, everyone at my home loved it.
Have you made pumpkin creme brulee before? What other flavors do you like? If you liked this recipe, share it on Pinterest and give it a 5-star review in the comments.
Share these recipes on Pinterest.