Easy Stuffed Shells Recipe
Try this easy stuffed shells recipe next time you want to make a hearty dinner and the secret is they will think it took hours, but it doesn't. Then serve it up with some beautiful asparagus for a delicious meal.
Easy Stuffed Shells Recipe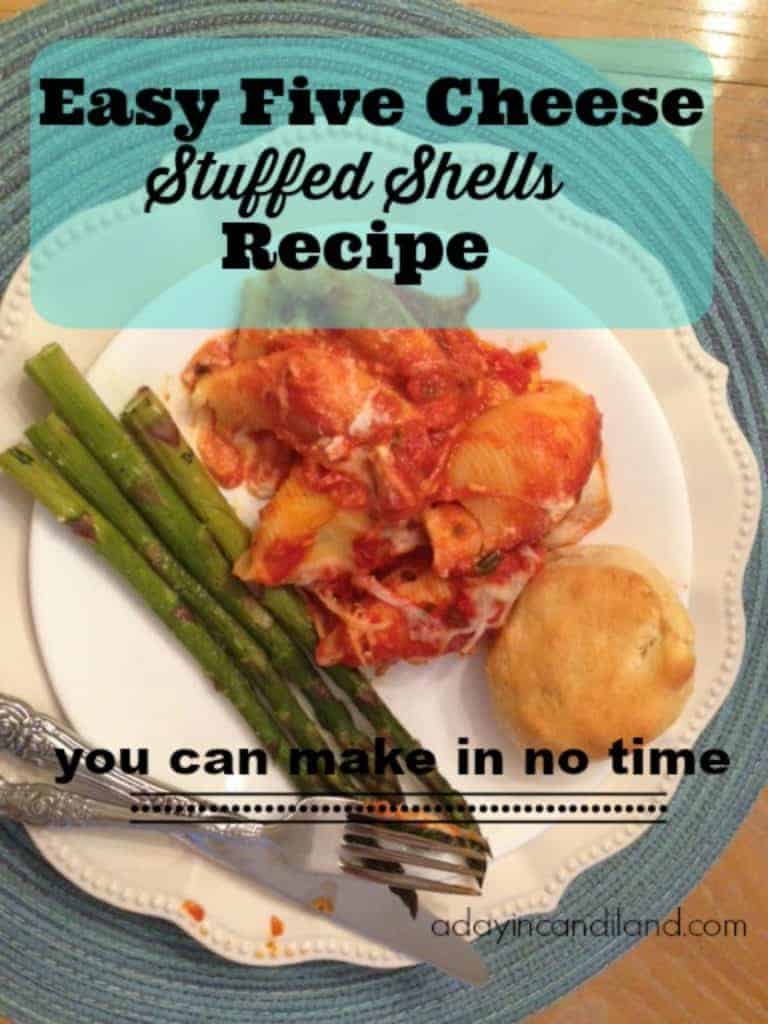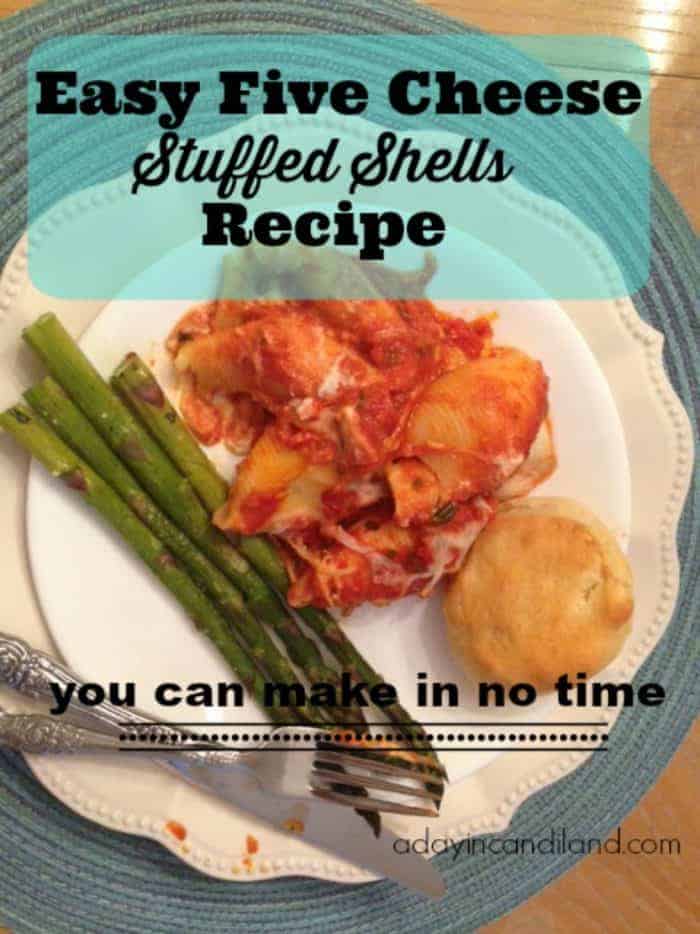 This weekend I needed to make dinner for family coming to town. I needed something that would fill them up and taste great. I decided to make an easy five cheese jumbo stuffed shells recipe with roasted asparagus. I knew my husband would be thrilled, and I was right.
This Italian inspired pasta meal comes together so easy and most of the time is in the baking, but we had it on the table in just a short time.
I started with two jars of Bertolli® Five Cheese sauce. In addition to the cheese I add in the shells, I get cheese in the sauce too. So much more flavor than regular marinara. Find the rest of the recipe below.
For the Asparagus, I lined a cookie sheet with aluminum foil and placed the cleaned and trimmed asparagus on it. Then I drizzled olive oil, salt, pepper, garlic powder and Parmesan cheese on top. I baked it for 13 minutes at 425 °.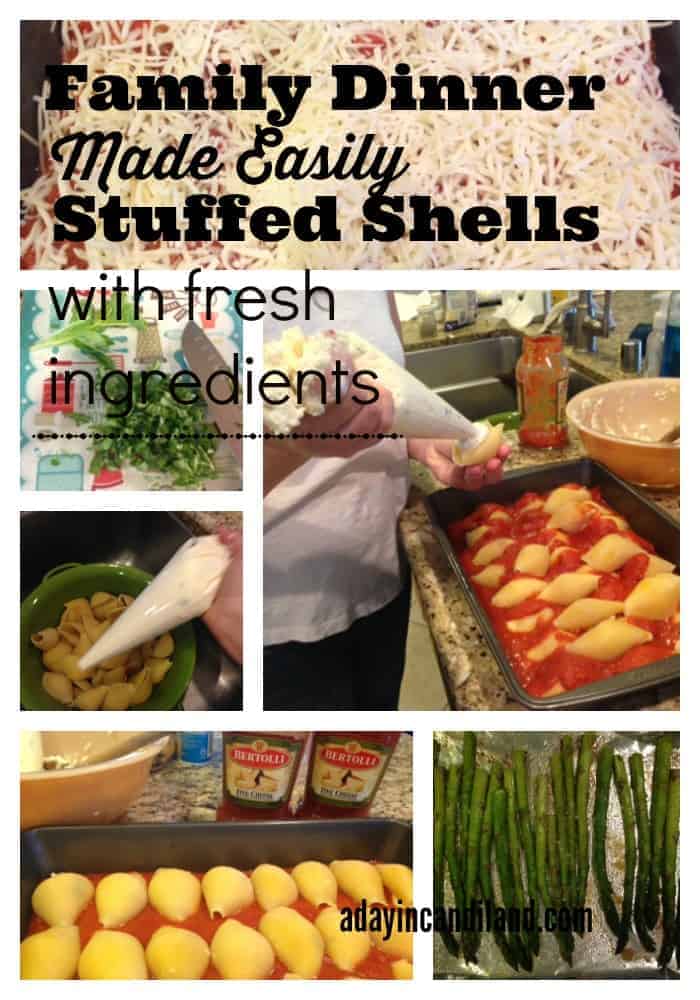 Easy Stuffed Shells Recipe
Easy Five Cheese Stuffed Shells Recipe
Ingredients
2

Jars of Five Cheese Sauce

1 8

oz

Box of Jumbo shells

30

oz

of Ricotta Cheese

1

egg

1/2

cup

of Grated Romano Cheese

8

oz

of grated Parmesan Cheese

8

oz

of Shredded Mozzarella Cheese

Fresh Basil Chopped

Salt

Pepper
Instructions
Preheat the oven to 350 degrees.

Place shells in salted boiling water in a large pot for 1/2 the time listed on the box. Drain and rinse in cool water.

In a large bowl, mix the Ricotta, salt, pepper, basil, egg, Romano and 1/2 of the Parmesan.

In a 9 X 13 pan place 1/2 of one jar of sauce in bottom of pan.

Fill the shells with cheese mixture and place face down lined up in pan.

Add remaining sauce from first jar on top. Continue to add shells and use 2nd jar of sauce on top and sprinkle Mozzarella cheese and remaining Parmesan Cheese.

Bake in oven for 25 minutes.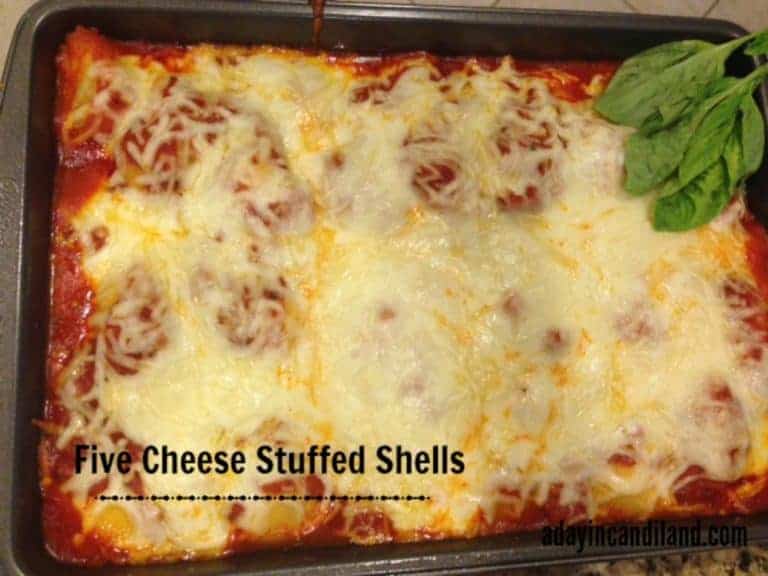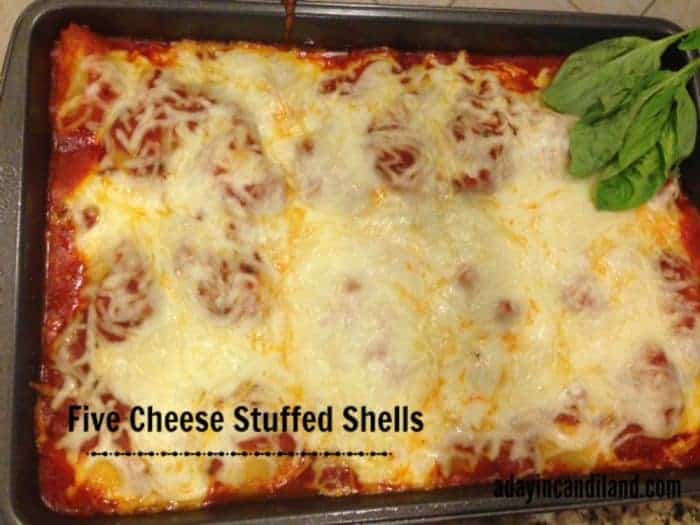 Tips for filling the Cheese stuffed shells
Quick Tip: After mixing cheeses in a bowl, fill a pastry bag with mixture. Then fill each shell. This will cut your time in half. If you don't have pastry bags, you can use a large baggie and cut a hole in the bottom corner.
I served this 5 cheese stuffed shells with roasted asparagus and some dinner rolls. We were able to eat off of it for two meals and that is always a good thing.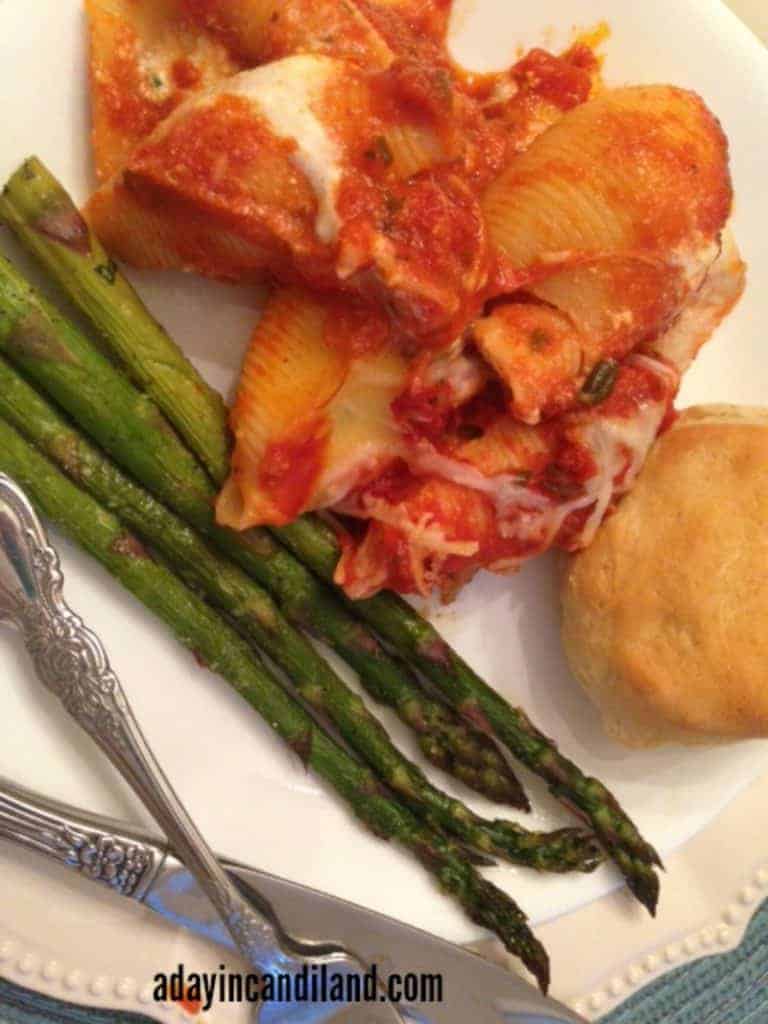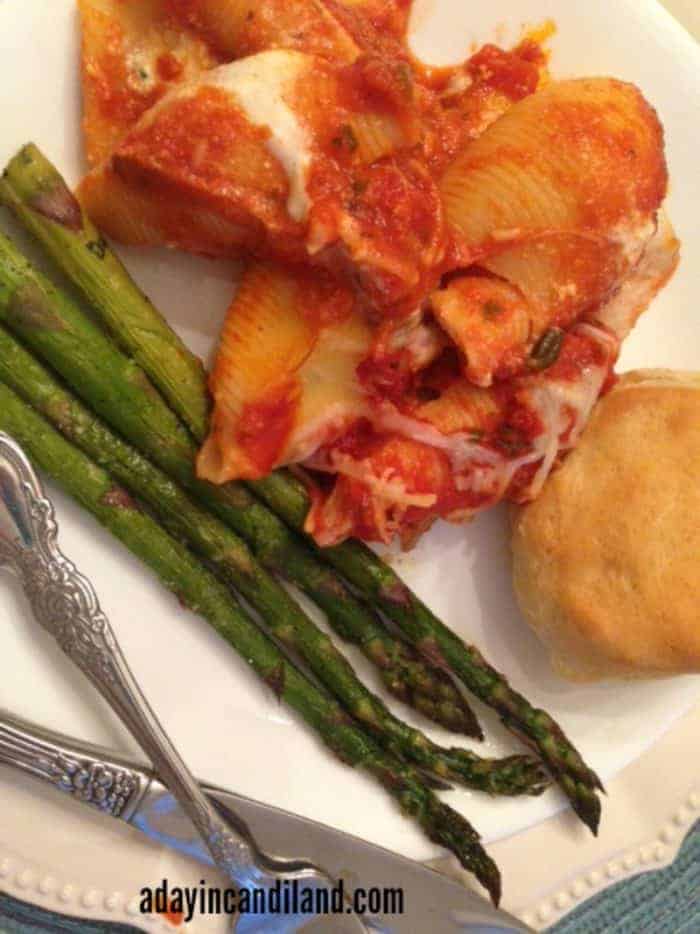 Stop by my facebook page and share your favorite family dinner.
If you enjoyed this easy stuffed shells recipe visit some of my other popular recipes.
Family Favorite Spaghetti Recipe
Beefy Skillet Mac and Cheese
Smoked Gouda Mac and Cheese