Make your very own Cheesecake Factory Salted Caramel Cheesecake at home! It tastes just like the real thing.
This weekend I made the new easy Salted Caramel Cheesecake from The Cheesecake Factory at Home Cheesecake Mixes and I'm thrilled to share the recipe with you.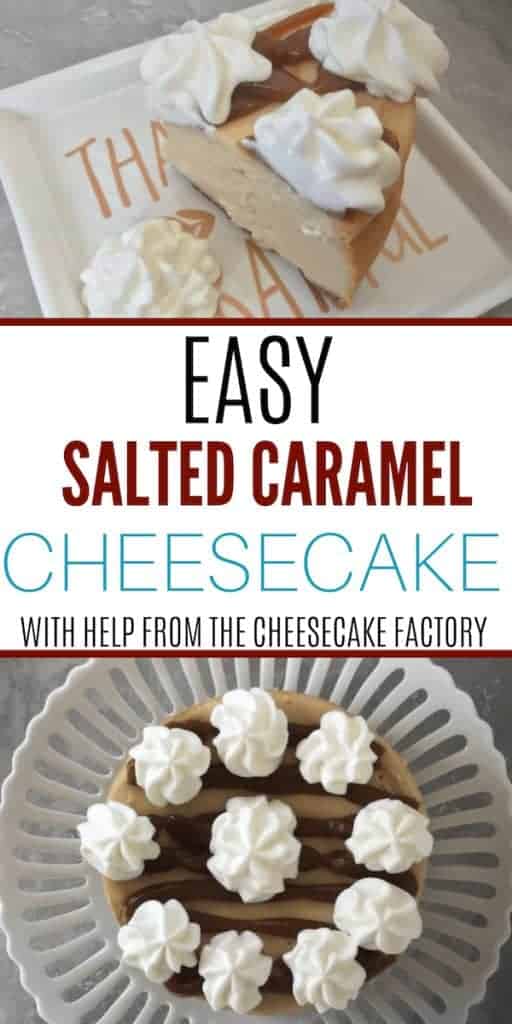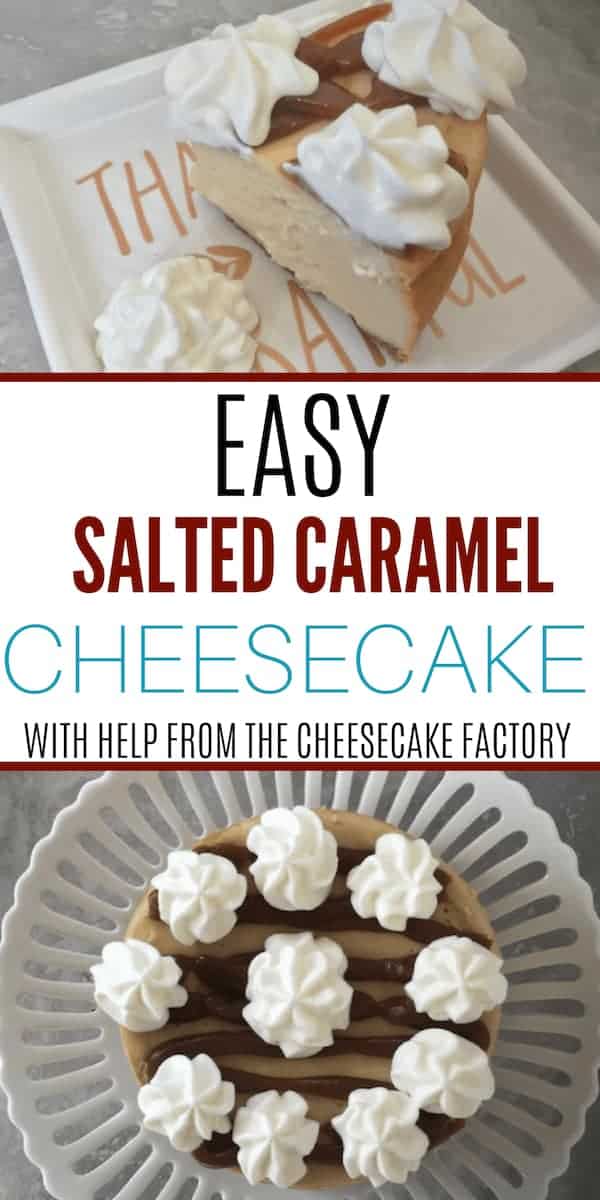 Cheesecake Factory Makes Boxed Mixes
One of our favorite restaurants in The Cheesecake Factory. It doesn't matter what they have on the menu, it's all good. We like to go there for our family birthdays. The problem is after I eat my delicious meal, I am not hungry for the dessert that I originally went in for.
Can you imagine my delight when I found out they now make boxed Cheesecake mixes to make at home?
They come in 3 flavors, Classic, Strawberry and Salted Caramel.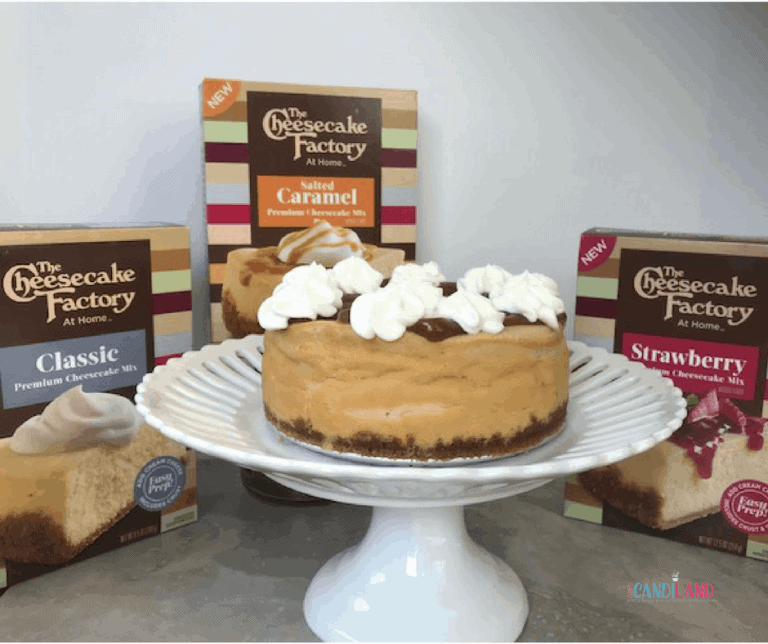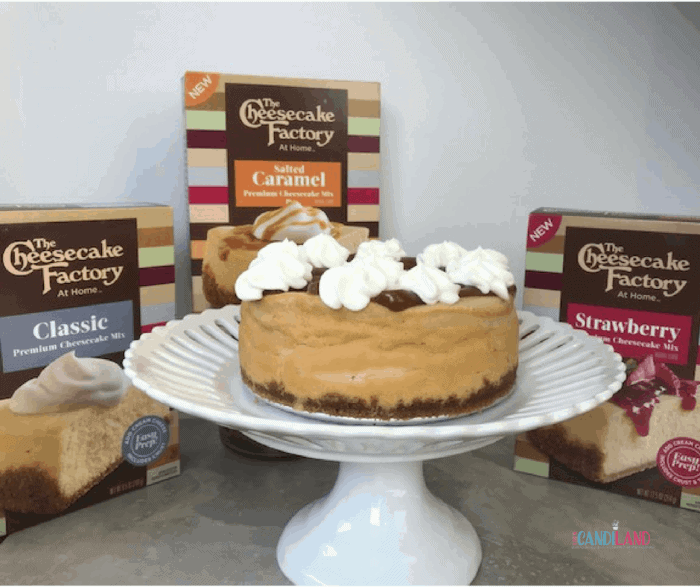 Easy Salted Caramel Cheesecake
I enjoy making desserts and my daughter was so excited that for a week she asked me daily when I was going to make the Cheesecake.
My only conflict was which one I was going to make first. So I decided to make all three but starting with the Salted Caramel Cheesecake and then moving on to the Strawberry and finally ending up with the Classic.
Ingredients Needed
Before you make your boxed cheesecake mix, here's what you'll need from the store.
Eggs
Heavy Cream
Sour Cream
Cream Cheese
Melted Butter
Heavy Whipping Cream
Powdered Sugar
The box says to use milk with the mix. I substituted heavy cream and sour cream for the milk. I think it gives it a richer flavor.
Tools You Need
Before you begin baking, I recommend you have these kitchen tools. They will make the entire process so much easier (and more enjoyable).
Electric Mixer
Springform Pan
Plastic Spatula
If you loved this recipe and made it please give it a 5-star review! That will help it be seen more. You can also pin it to Pinterest or share it on Facebook.
Easy Salted Caramel Cheesecake
Make your very own Cheesecake Factory Salted Caramel Cheesecake at home! It tastes just like the real thing.
Ingredients
1

Box

Salted Caramel Cheesecake

The Cheesecake Factory at Home Box Mix

3

large

Eggs

2

Tablespoon

Heavy Cream

3

Tablespoon

Sour Cream

2

8 oz

Cream Cheese

Softened

4

Tablespoon

Melted Butter

6

oz

Heavy Whipping Cream
Instructions
Heat oven to 275 degrees and grease your cake pan.

Combine the crust mix and melted butter until it is fully blended. Gently press the mixture into your cake pan. Make sure it covers the entire bottom and halfway up the sides of the pan.

Mix the cream cheese and filling mix until cream cheese is fluffy. Scrap the bowl and then add the heavy cream and sour cream. Beat on high until fluffy.

Scrape the sides of the bowl and add the eggs. Mix on low until they are fully incorporated.

Pour this mixture onto the prepared crust.

Bake for 45-49 minutes or until the center has a slight jiggle to it. Do not overbake. The cheesecake filling will firm up after you let it cool.

Cool in refrigerator and add caramel when cooled

Mix up 6 oz of Whipping Cream with 2 TB powdered sugar. Pipe on Cheesecake.
Notes
I made my cheesecake in a 6″ Springform Pan instead of an 8″ pan on Box
I used the Chef notes on box and substituted Heavy Cream and Sour Cream for Milk.
I added 15 -20 minutes time by using a 6″ Pan and a taller cheesecake
Nutrition
Serving:
1
slice
|
Calories:
227
kcal
|
Carbohydrates:
1
g
|
Protein:
4
g
|
Fat:
23
g
|
Saturated Fat:
14
g
|
Cholesterol:
151
mg
|
Sodium:
117
mg
|
Potassium:
60
mg
|
Sugar:
1
g
|
Vitamin A:
880
IU
|
Vitamin C:
1
mg
|
Calcium:
43
mg
|
Iron:
1
mg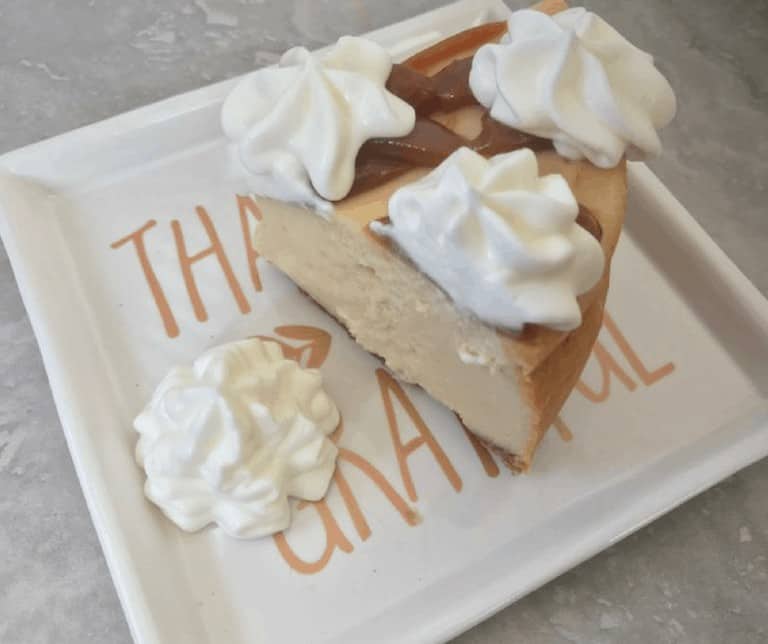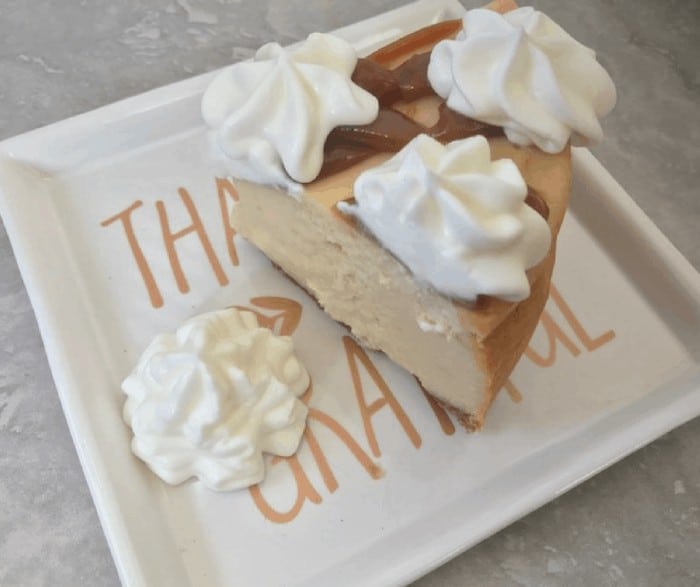 Top With Homemade Whipped Cream
I mixed together powdered sugar and heavy whipping cream and made my own whipped topping. Then, I just piped it right onto my cheesecake. It's so pretty and delicious!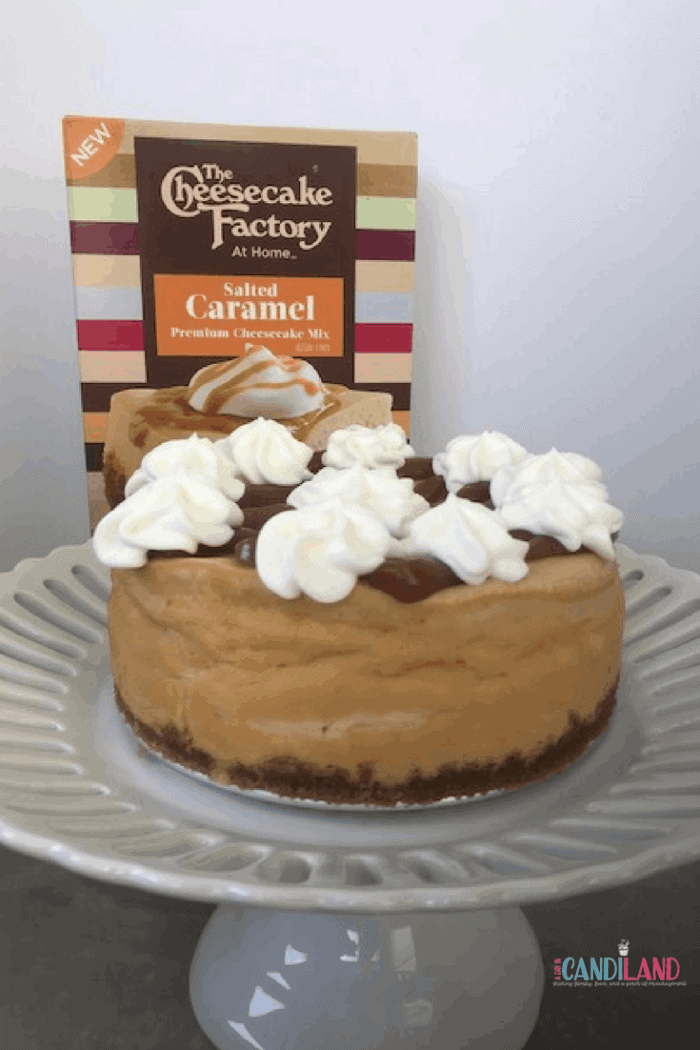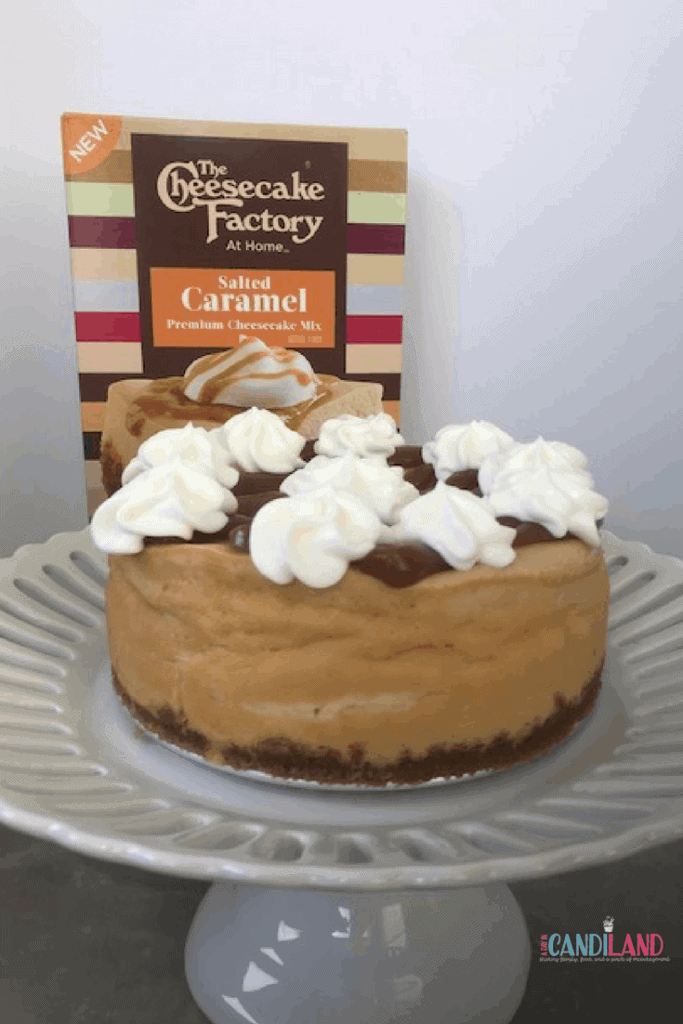 How To Spread Caramel on Cheesecake
Heat up the caramel with hot water for 5 minutes to soften it up before spreading on cheesecake. The fun thing about these new box mixes is that you can add your own touch to them to make them your own.
Sprinkle Sea Salt On Top
For a little extra delight, sprinkle a dash of sea salt on top of the cheesecake. This will give it the authentic salted caramel taste and texture!
I didn't add the sea salt, but I've heard lots of people say they have and they loved it. So give it a try.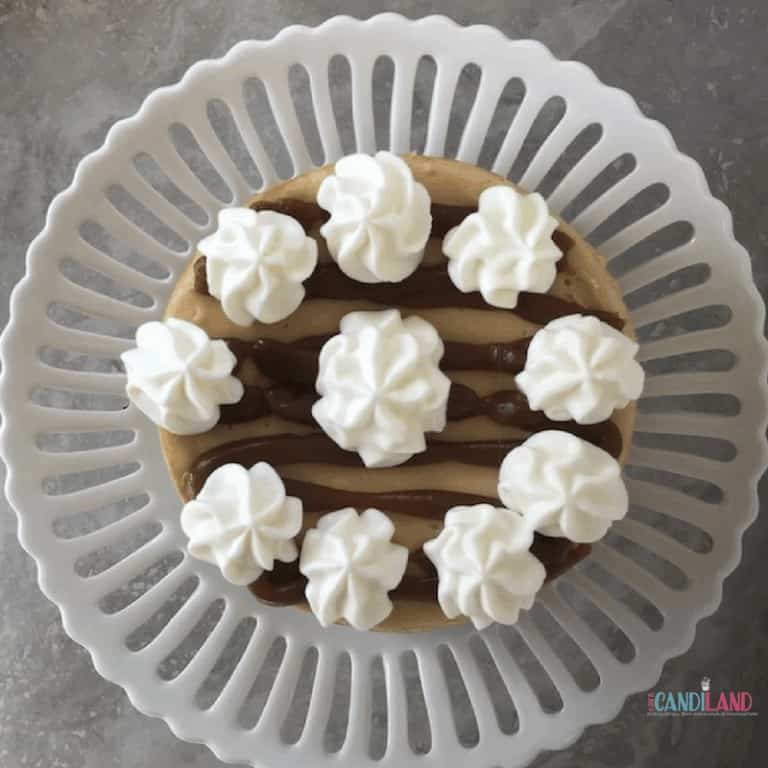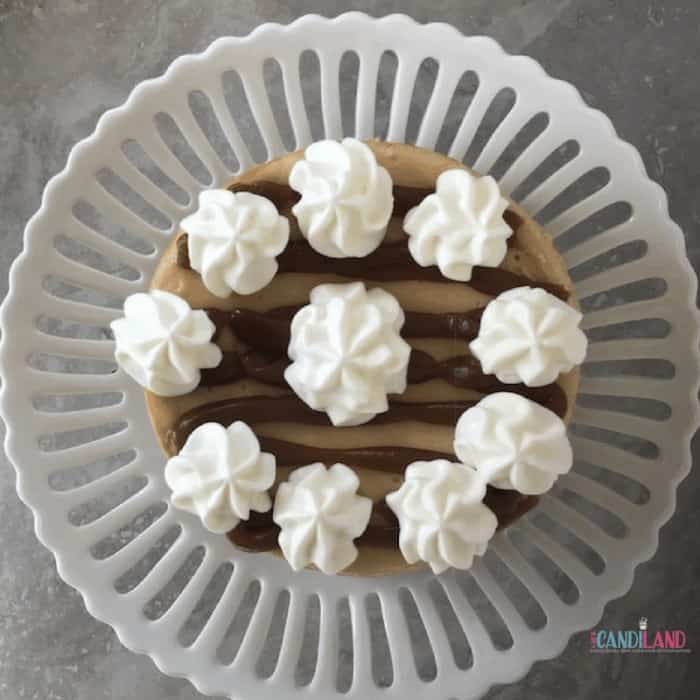 This easy salted caramel cheesecake can be made at home with The Cheesecake Factory At Home's new boxed cheesecake mixes.
Does The Boxed Mix Really Taste Like Cheesecake Factory?
I discovered that when I used sour cream and heavy cream instead of milk, it made all the difference! Yes, the box mix tastes almost exactly like real Cheesecake Factory desserts.
More Cheesecake Recipes
If you love this Easy Salted Caramel Cheesecake try these other recipes.