4 Layer Tiramisu Cake Recipe
Create this 4 Layer Tiramisu Cake Recipe in just a few steps. The sponge cake layers are soaked with Espresso and rum (optional) and filled with Mascarpone, topped with Espresso frosting and a dusting of cocoa.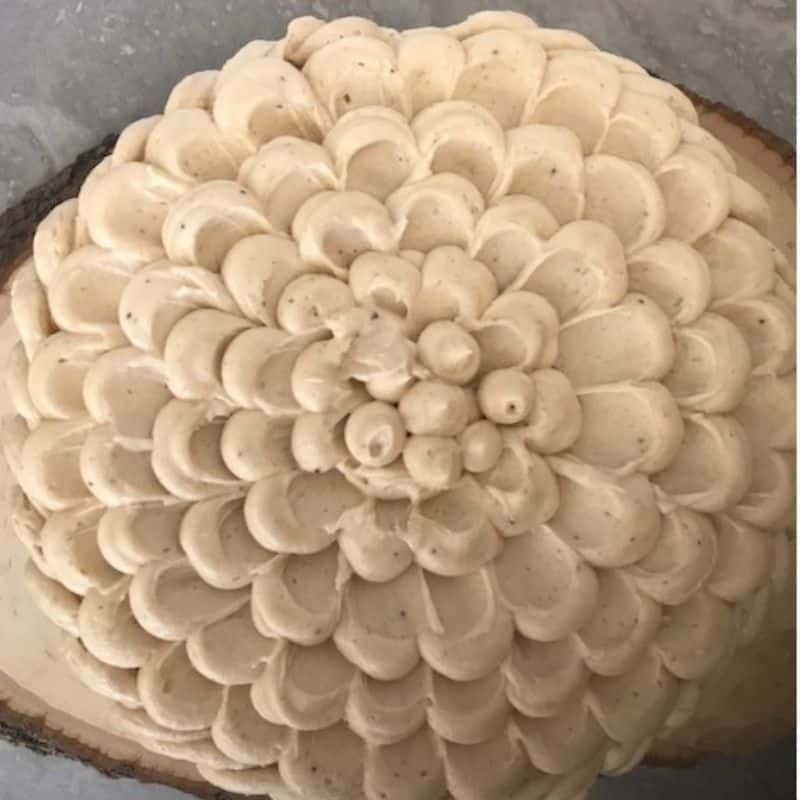 I created this cake last week for a Wedding Cutting Cake. It was the bride and grooms favorite flavors. Since I love Tiramisu myself, I couldn't wait to make it and have a few test tastings in between.
This Tiramisu cake starts with Sponge layers that can be a little tricky and I want to share tips to help it come out light and fluffy. First, let's get to this Tiramisu Cake Recipe.
Cake Recipe
4 Layer Tiramisu Cake Recipe
Create this Easy 4 Layer Tiramisu Cake Recipe in just a few steps. The sponge cake layers are soaked with Espresso and rum (optional) and filled with Mascarpone, topped with Espresso frosting and a dusting of cocoa.
Ingredients
Sponge Cake

1

cup

Fine Granulated Sugar

1

cup

cake flour

sifted twice

1/2

ts

baking powder

6

large

eggs

room temp

Coffee Syrup

1/4

cup

brewed espresso

1/3

cup

sugar

1/3

cup

water

1-2

oz

rum

optional

Mascarpone Cream Cheese

8

oz

Mascarpone cheese

8

oz

Heavy whipping cream

cold

1/2

cup

powdered sugar

Espresso Buttercream

2

sticks

unsalted butter

1

cup

Crisco Shortening

4

cups

powdered sugar

sifted twice

2

oz

Whipping Cream

2

ts

espresso powder
Instructions
Sponge Cake

In the bowl of an electric stand mixer fitted with the whisk attachment beat 6 large eggs for 1 minute on high speed. With the mixer on, gradually add 1 cup sugar and continue beating 8-10 minutes until thick and fluffy.

Whisk together 1 cup flour and ½ tsp baking powder then sift this mixture into fluffy egg mixture one third at a time. Fold with a spatula with each addition just until incorporated.

Scrape spatula from the bottom to catch any pockets of flour and stop mixing when no streaks of flour remain. Do not over-mix or you will deflate the batter.

Divide evenly between prepared 6 or 8″ cake pans (it helps if you have a kitchen scale to weigh the pans). I made four 6″ cake layers. You can use 2 8″ cake pages and split layers. Add parchment paper and spray with cooking and flour spray.

Bake at 350˚F for 23-28 minutes, or until top is golden brown. Remove from pan by sliding a thin spatula around the edges then transfer to a wire rack and remove parchment backing. Cool cakes to room temperature then slice layers equally in half with a serrated knife.

Coffee Syrup

Stir Espresso, water, and sugar in a saucepan over a low heat until sugar has completely dissolved. Bring coffee syrup to a boil over medium heat, stirring frequently. Remove from heat and allow to cool completely before using. You can add rum while it's cooling down.

Mascarpone Cream

In the bowl of a stand mixer fitted with a whisk attachment or using a hand whisk, whip mascarpone cheese, whipping cream and powdered sugar, until soft peaks form.

Espresso Buttercream

In a bowl of a stand mixer, cream butter and shortening until light and creamy about 5 minutes. Sift in powdered sugar and espresso powder. Beat well until combined. As frosting thickens add whipping cream. Beat until light and fluffy.

Assemble Cake

Split 2 8″ cakes or use 4 6″ cakes. Spread a thin layer of buttercream on cake board. Place the first layer of cake on the cake board and brush the cake with coffee syrup using a pastry brush. Continue to brush both sides of layers with coffee syrup.

Start adding mascarpone filling approximately 1/2″ thick in between cake layers with an offset spatula until all four layers are filled. Then refrigerate for 15 minutes

Spread a thin layer of coffee frosting on the sides and top of the cake on a turntable to crumb coat your cake. Use a scraper to get it even and smooth.

Refrigerate for 30 minutes.

If using the smooth cake design add another layer of frosting and add some design to the bottom and top and sprinkle with cocoa.

Directions for spoon design decorating see below. You will need double the frosting for this method.
Nutrition
Serving:
1
Slice
|
Calories:
793
kcal
|
Carbohydrates:
76
g
|
Protein:
6
g
|
Fat:
52
g
|
Saturated Fat:
25
g
|
Cholesterol:
184
mg
|
Sodium:
59
mg
|
Potassium:
94
mg
|
Sugar:
66
g
|
Vitamin A:
1220
IU
|
Vitamin C:
0.1
mg
|
Calcium:
71
mg
|
Iron:
0.6
mg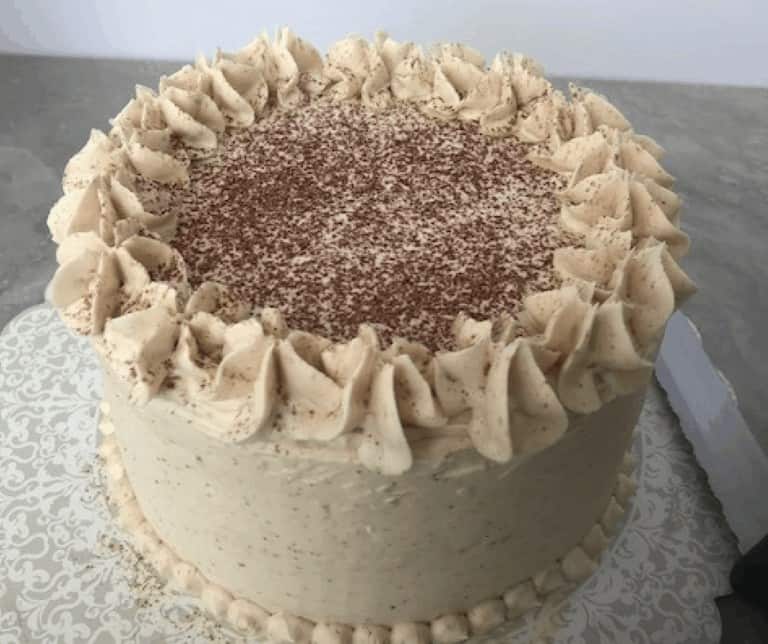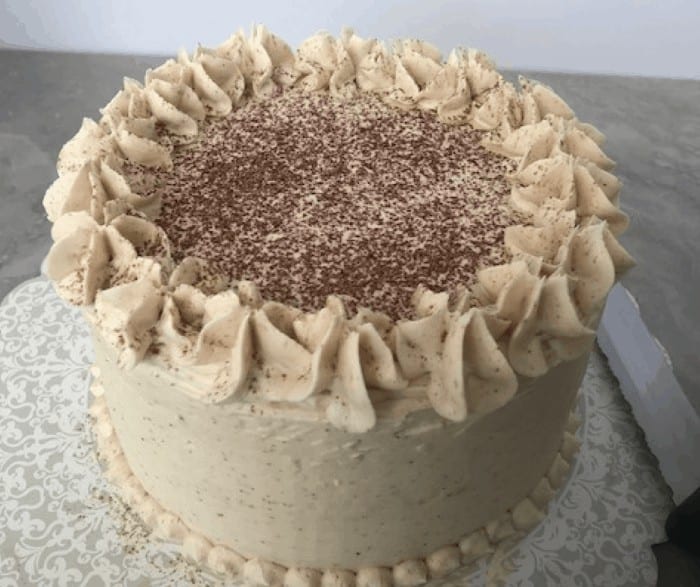 This was the original design I did, but the bride liked the frosting design of the top image better. This would be great for a dinner or party. It uses only half the frosting as the above.
Tips for making the best Tiramisu Cake Recipe
Make sure oven is fully heated before placing pans in.
Do not open oven door during baking.
Do not use a convection oven.
Take out of pans 10 minutes after removing from oven.
The trick to this cake is to fully beat eggs in the beginning and not let the cake deflate when adding flour.
Using an electric hand mixer will take a few minutes longer.
When making the spoon design cake you will need double the frosting.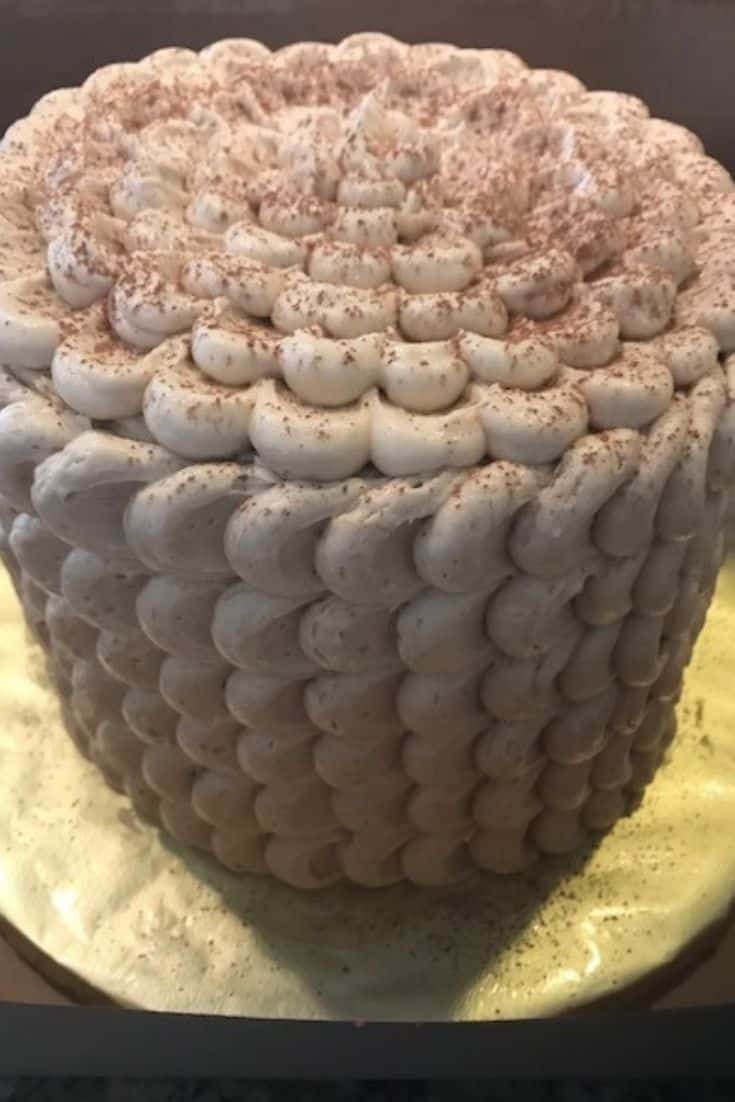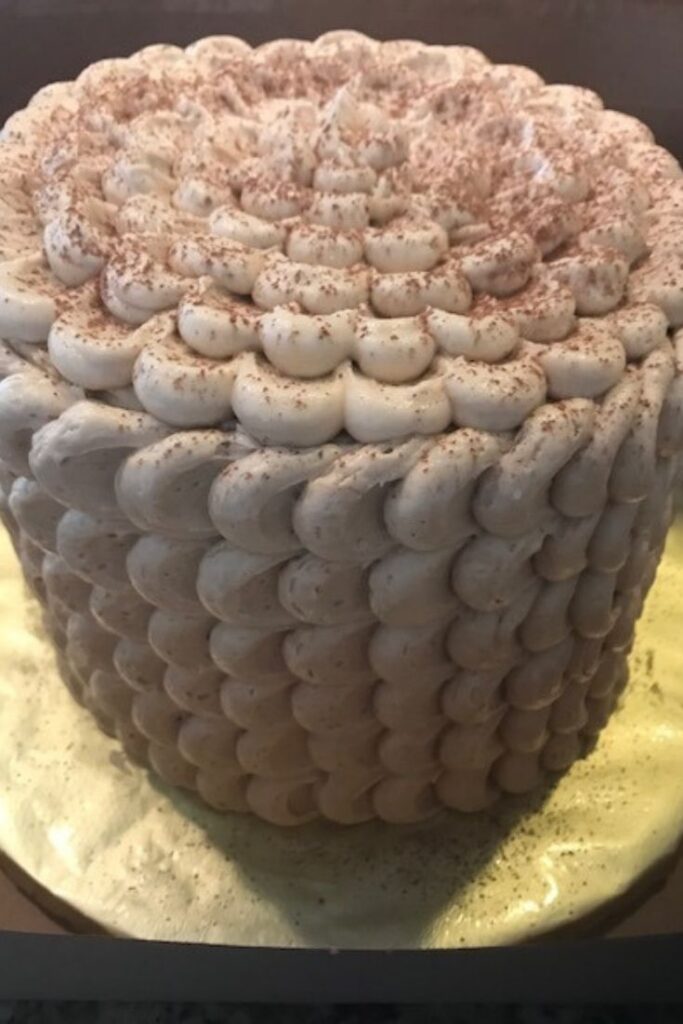 Here is the backdrop of the cake at the beach on the head table.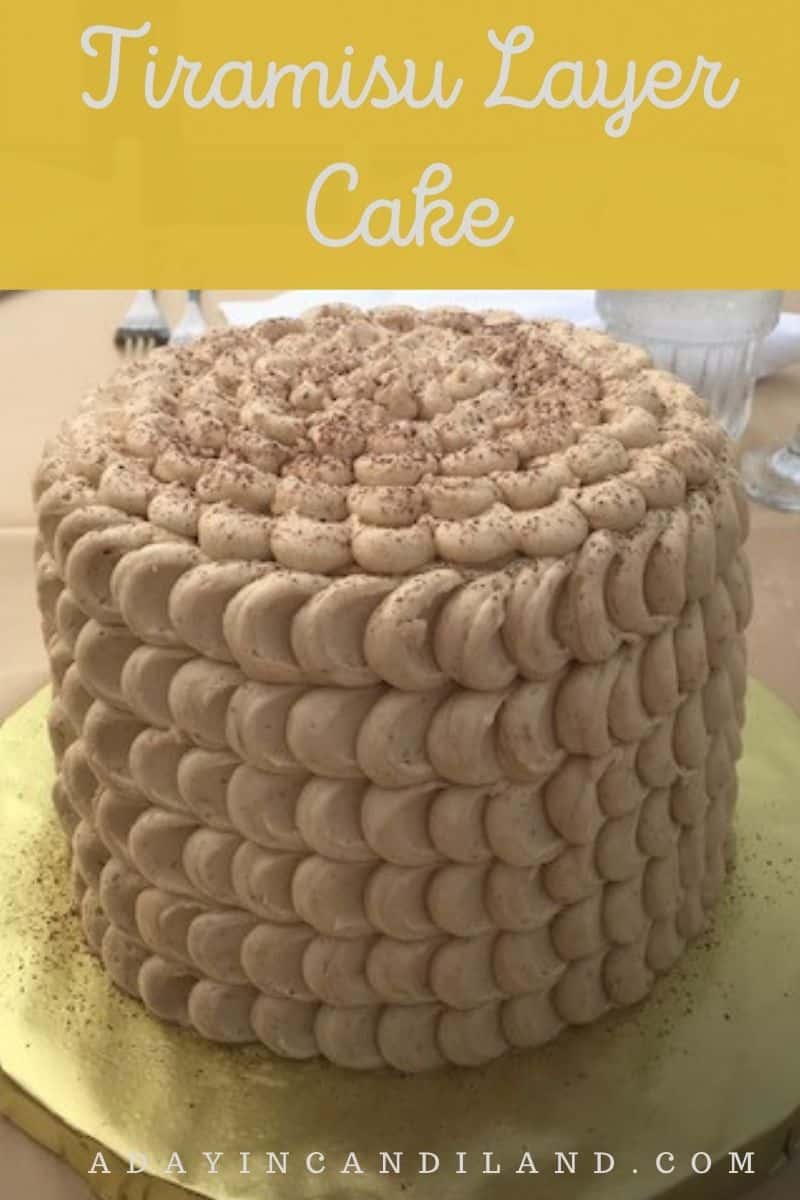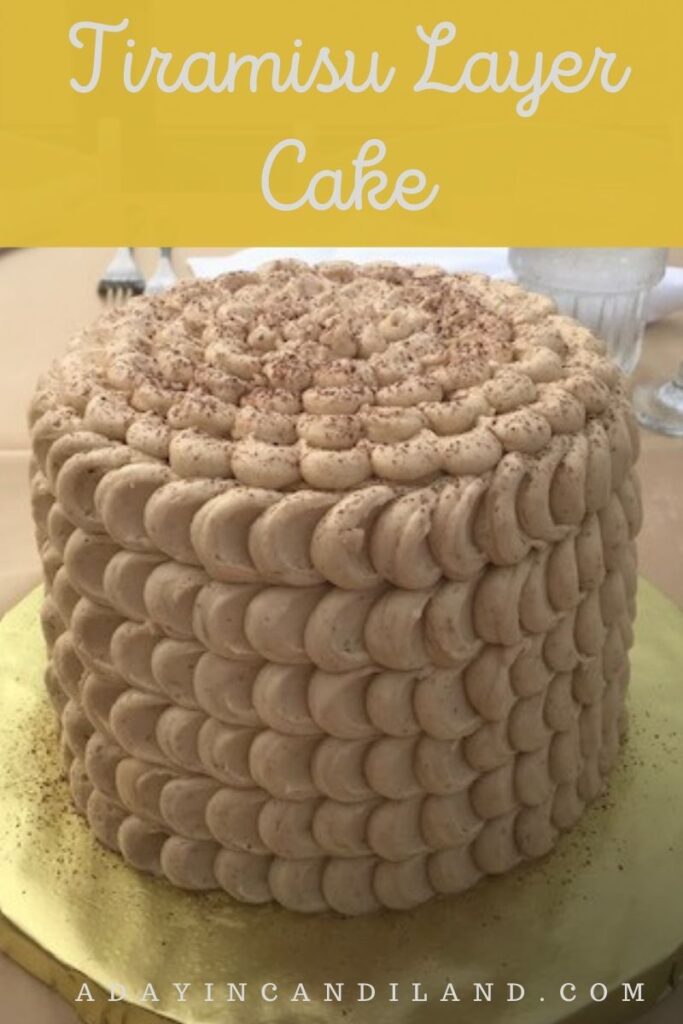 This post may contain affiliate links. If you make a purchase, I get a small commission. Please see my disclosure policy for details
Items I used in making this cake:
For more cake ideas like these try: