Are you having a Tea Party and need a quick dessert? Do you need a make ahead Cheesecake Brownie  that tastes good out of the freezer? These brownies can be made the day before and tastes great cold or room temperature. Plus you get the bonus of them being so pretty.
I found the recipe here and now they are my go to snack for around the house or when I need to bring a homemade dessert that is NOT completely 100% made from scratch. By adding extra ingredients along with the box mix it gives it a whole new taste.  Plus, who can go wrong with cheesecake in the mix.  After they are cooled, you place them individually wrapped in the freezer and take them out AS NEEDED.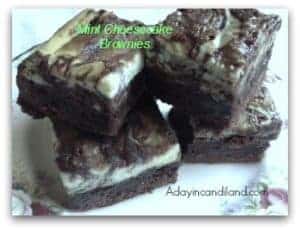 How to use them.
Get a pretty pedestal cake plate out and put a few out with some tea cups and saucers along with a pot of tea. When your friends come over, they think you have slaved for hours. You don't have to tell them you just took them out of the freezer. Unless they read your blog after you posted about it. hee hee. They will never know. Another great trick is to add some homemade whipped cream on top.
Make sure you leave a comment here on the blog or on my facebook page if you try them. What do you like at your tea parties?
Quick Freezer Mint Cheesecake Brownies for Tea Parties
Ingredients
2 boxes Brownie Mix
Eggs, oil and water as listed on box directions
2 (8 oz) blocks cream cheese, room temperature
2 large eggs
1 TBS peppermint or mint extract
½ cup granulated sugar
Few drops green food coloring
Instructions
Preheat oven to 350. Line a 9x13 pan with foil and spray the bottom with nonstick spray.
In a large bowl, mix both brownie mixes, water, oil, and eggs with a wooden spoon until combined. Spread about ¾ mix in prepared pan.
In the bowl of your mixer, beat the cream cheese with your whisk attachment until smooth. Add eggs, sugar, extract and food coloring and continue beating until well mixed.
Spoon cream cheese mixture over the brownies.
Spoon remaining brownie batter randomly over the cream cheese.
With a small knife, swirl the batter so the cream cheese and brownie batter become marbled.
Bake for about 35 minutes, until edges are brown and a toothpick inserted in the center comes out clean. Do not overbake. Cool completely, then refrigerate until chilled. Peel off foil, cut, wrap, and store in freezer.
If you like this Quick Freezer Mint Cheesecake Brownies recipe try these: