The best thing you can do for yourself and your family is to practice self-care. Apply these 10 activities for self-care on a budget to create balance and well being in your body and soul.
What do you think of when you hear Self-Care? For me, I used to hear the word selfish. I am by nature an encourager, so if I am doing self-care, I am thinking about myself. RIGHT?
WRONG!
First, you can't encourage others and be a support to others when you are weak, tired and overwhelmed. What if I told you to take time every day for yourself and fill your tank back up.
Would you say, I can't do that? My kids need me! My spouse needs me! My work needs me!
I have been there. I know. After many years, I had my first experience of total depression. I had so much overwhelm in my life and I felt like a failure because I couldn't keep up the facade of doing everything and being the one to hold it together, including dealing with the loss of my Mother in law.
After a few months of doing the things listed below, I came to the realization that I was not supposed to do all the heavy lifting. I started feeling like myself again. If you enjoy writing see my Spring Daily Gratitude List for journaling.
In Matthew 11:28 in the NIV it says: "Come to me, all you who are weary and burdened, and I will give you rest.
My mission is to encourage others to live a debt-free lifestyle, teaching busy women and moms how to change their mindset about money. When you are in debt, money controls you. When you live financially independent, you have choices and freedom to change lives. Not just your own but others as well.
If I didn't learn how to practice self-care, how can I help others do the same? In addition, I am teaching my community to stay on a budget, how can they afford self-care?
Websters Definition of Self Care care for oneself
stroke victims capable of daily

self-care

the necessity of busy working parents to take time for

self-care

; specifically: health care provided by oneself often without the consultation of a medical professional
Since I work from home and I teach others how to do the same, you can imagine being in your home trying to work and seeing everything that needs to be done aside from work.
You really need to come up with a work/home schedule. That can lead to overwhelm and anxiety. If you do work from home, I suggest you take some time to write out what you will do during work hours and family hours.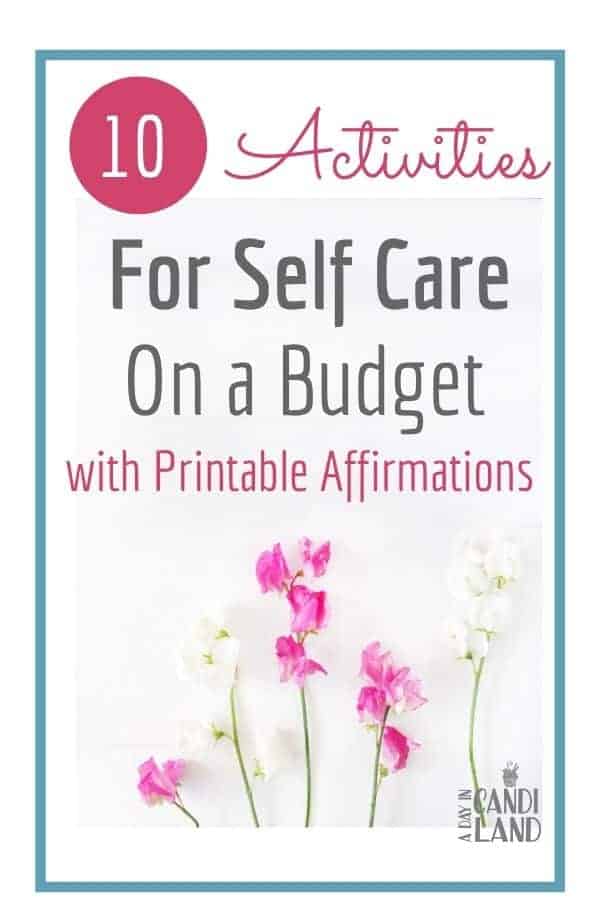 Let's get on to the Self Care List
*This post may contain affiliate links. If you make a purchase, I get a small commission. Please see my disclosure policy for details
10 Activities For Self Care on a Budget
1. Breathing Exercises

When you can't do anything else, it's ok to stop and breath.
2. Daily Affirmations Checklist
Get daily affirmations below to have with you. Hang in your bathroom, bring to work, put in your journal. Self Talk is great for your brain. Say them out loud daily or even a few times a day.
3. Take 5 minutes and write a love letter.
Sounds crazy right? Who I am going to write a love letter too. I am overwhelmed, stressed, full of anxiety and just plain old tired.
You can keep a journal near bye to write in and write a letter to yourself. You can talk to yourself and get out your feelings, but it has to end up as a love letter sharing your special qualities and mostly letting yourself know you are loved.
You can also write a letter to someone in your family or a special friend or mentor in your life. This little exercise can be a life changer.
4. Watch a comedy or funny movie
It is o.k. to take a timeout. You deserve it. Set a time limit of 30 minutes up to 2 hours. I would only watch a movie once a week, or you can do it at night when your commitments are done. I actually do this every evening right before bed. I watch a comedy show. It sets the mood for a good sleep.
5. Use Essential Oils
I have been using essential oils for years. I keep many oils in my bathroom, but I also keep a few by the bed. For Christmas last year, my husband bought me a diffuser. At night I set it up with a calming oil blend and I put it on the timer for an hour. This way, it has a little white noise and I am getting the benefits of the oils. I also keep Eucalyptus nearby in case I get a little stuffed up after sleeping with my face in the pillow.
6. Create a Dream Board or Vision Board
I have been working on this for years. I am also in the process of creating a course for this so stay tuned. I recommend you get a poster board and a few magazines or just start printing off images from the computer of things you love and want in your life. Another idea is to make a secret board on Pinterest. Although I think having a physical board to look at is more inspirational.
7. Get outside and move
Getting outside and getting some vitamin D and breathing some fresh air may make all the difference. You can take a short walk or do some gardening. One thing I really like to do is get my camera out and start taking pictures. You can try to capture nature with birds, flora and fauna and enjoy living things.
This app lets you rent audiobooks from your public library. I love to read but don't have enough time in the day to sit and it hurts my eyes after a while. I love to listen to things on audio, like podcasts, and audiobooks. Since this article is about doing self care on a budget, why not save money on your audiobooks. You will need to make sure your library is listed on the app. Then do a search of the audiobooks you want. You will add your library card to the app so they can find and rent the book to your card.
9. Do a Body Detox
When your body is full of toxins, it doesn't operate at it's best capacity. The best thing you can do is on occasion do a detox. There are many ways you can do this, from drinking detox smoothies, buying products online for detoxes. I also like to drink water with a teaspoon or two of apple cider vinegar every day. It gets your body in an alkaline state which is healthier than the acidic state from our poor food choices and toxins in the air. If you don't like apple cider vinegar you can add lemon juice or grapefruit essential oil.
10. Do a Digital or Electronic Detox
We are so used to having our phones in our hands, laptops, and IPads open and available that we don't even realize how much time we are spending there. Decide to take a 7-day break from it. If your business is run online, then limit any personal use from it. You will feel better in no time.
There you have 10 activities for self-care on a budget!