Are you wanting to try a new pie but need one that is gluten-free? We made this Gluten Free S'mores Brownie Pie for Pi day. I love to bake sweet and delicious desserts and I try to make some that are gluten-free for our friends that have allergies. For more pie recipes try these.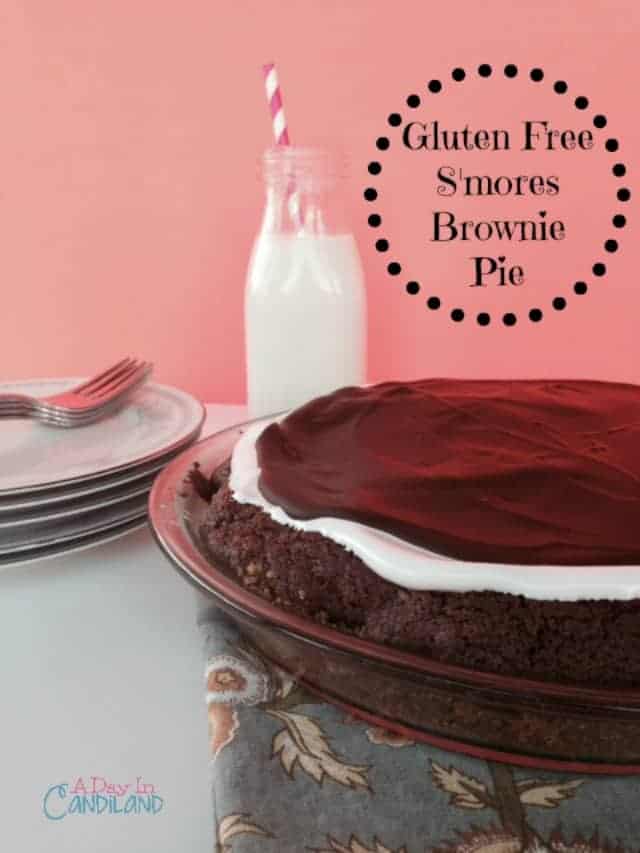 Gluten-Free S'mores Brownie Pie
This pie is part brownie and part pie. It starts with a gluten-free graham cracker crust and filled with a brownie batter and top it off with marshmallow meringue and a bittersweet chocolate layer. What's not to like?
I can't wait for you to try it.
Gluten Free S'mores Pie
Gluten Free S'mores Brownie Pie is a combination of a brownie and a pie. It is rich and delicious and has a Marshmallow and chocolate topping.
Ingredients
Crust
1 1/2

cups

of gluten free graham cracker crumbs

5

Tablespoon

melted butter

1/4

cup

sugar

1/2

teaspoon

salt
Brownie
1/2

cup

all purpose gluten free flour

add additional 2 TB

2

Tablespoon

Gluten Free Flour

1/8

teaspoon

xanthan gum

(if your flour doesn't have it)

1/2

teaspoon

baking powder

1/4

teaspoon

baking soda

1/2

teaspoon

salt

1/3

cup

dutch processed unsweetened cocoa powder

1

cup

sugar

8

Tablespoon

unsalted butter

, melted and cooled

1

egg

1

egg yolk

1/2

teaspoon

vanilla extract
Marshmallow Layer
1

packet

unflavored powdered gelatin

1 scant Tablespoon

1/2

cup

cool water

4 oz

1

cup

sugar

1/8

teaspoon

cream of tartar

1/2

teaspoon

pure vanilla extract

1/8

teaspoon

salt
Chocolate Layer
3

oz

bittersweet chocolate chopped
Instructions
Preheat the oven to 350 degrees. Mix the first 4 ingredients in a bowl and then mold into pie pan and up the sides. Bake for 15 minutes.

Start mixing the brownie ingredients. My gluten free mix is in the link above. Or use your favorite mix. add all dry ingredients and then add butter, eggs and vanilla extract. Bake for 20 minutes.

When done, refrigerate or freeze until cool.

Start marshmallow layer. Take 2 oz of water and put in a bowl and sprinkle gelatin on top, let thicken. In heavy saucepan mix remaining water, sugar and cream of tartar. Use a candy thermometer and cook and stir until heat reaches 238 degrees. Add gelatin to stand mixer.

Remove the pan from the heat and pour along the side into the stand mixer with a whisk attachment. Add salt and vanilla. This takes about 5 minutes and you will need to mix until it is thick and sticks to the whisk when lifted not runny. It should be shiny also.

Spread on the brownie layer. Place in refrigerator 2 - 3 hours until firm. Then heat the chocolate in the microwave at 30 second intervals at 70 percent. Spread a thin layer on top of marshmallow. My suggestion is a THIN layer. This is a very rich dessert.
Notes
If you aren't gluten-free then just make this with all your usual ingredients.
Nutrition
Calories:
484
kcal
|
Carbohydrates:
77
g
|
Protein:
4
g
|
Fat:
21
g
|
Saturated Fat:
12
g
|
Polyunsaturated Fat:
1
g
|
Monounsaturated Fat:
6
g
|
Trans Fat:
1
g
|
Cholesterol:
75
mg
|
Sodium:
495
mg
|
Potassium:
181
mg
|
Fiber:
3
g
|
Sugar:
62
g
|
Vitamin A:
509
IU
|
Calcium:
56
mg
|
Iron:
5
mg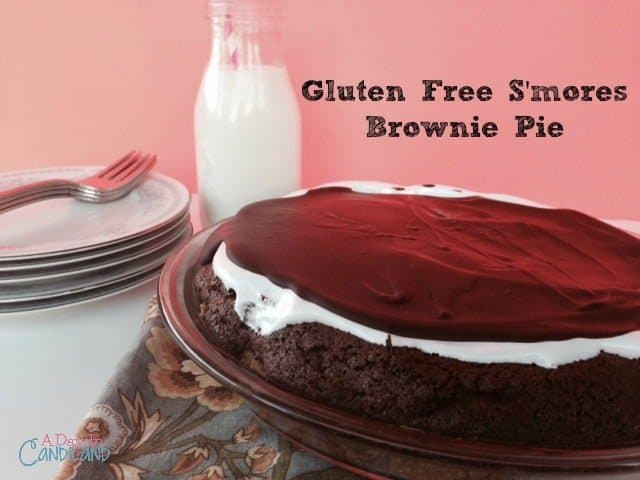 March 14 is Pi day. So we make pies for my daughter's math class to celebrate. Can you imagine what a classroom with 25 pies looks like? Heaven! So I offered to make a gluten free one since I know a lot of the kids have allergies and I like to try new pies.
What is Pi day you ask? I took this straight from the website: Pi Day is celebrated on March 14th (3/14) around the world. Pi (Greek letter "π") is the symbol used in mathematics to represent a constant — the ratio of the circumference of a circle to its diameter — which is approximately 3.14159.
And don't we just need a reason to celebrate and eat pie? Of course, we do.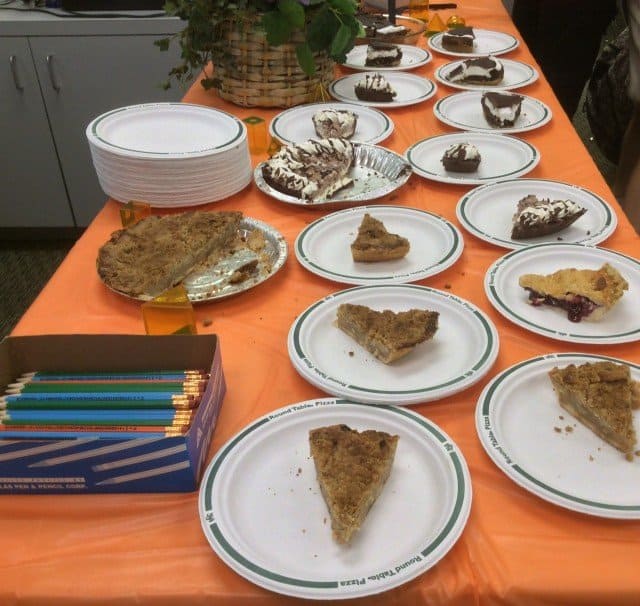 I was looking forward to trying it when my daughter got home today, but it was all gone. I thought with 25 pies there would be some leftovers. So I guess it was a hit.
What is your favorite gluten-free pie? Make sure to pin this Gluten Free Smore's Brownie recipe on your favorite Gluten Free or Pie Board.