This post was sponsored by P&G as part of an Influencer Activation for Influence Central. I received complimentary products to facilitate my review.
Makeover your car each month with these tips. On my home schedule to-do list, I have things I do weekly, monthly, and then so on. I have a weekly and monthly cleaning and organizing list. I try to do it in 15-minute blocks every day and I usually have 1 or two tasks that I try to accomplish.
Makeover your Car each Month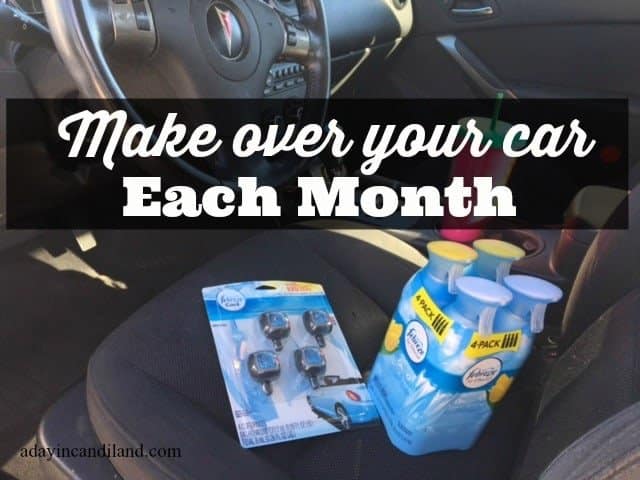 I don't attempt to clean the house in one day, that just doesn't work for me. Between family, home, work, and errands, there is just too much going on every day. So I break it down into small chunks, that way I never feel overwhelmed.
One of the tasks that I need to do monthly is clean out the car. With three kids, backpacks, groceries, and sports equipment, my poor car, gets the brunt of it all. I ask my kids to clean out the car daily with their stuff, but that doesn't always happen. Then the odors start piling up with their socks and shoes, and empty food wrappers.
Once a month, I do a thorough cleaning. I empty out the car, wash it really well, shine up those tires, and vacuum really well with our shop vac.
Then I clean the windows and wipe them dry with Bounty Advanced paper towels. I also dust the dash with paper towels.
Next, I head to the trunk and really clean it out. If you are doing this every month, it shouldn't take long. I usually keep a plastic box in the trunk, with a few things I might need. I also keep a chair for sports games and an umbrella for when it's really hot or when it rains, along with a sweater for just-in-case days.
More Tips to Makeover Your Car Each Month and looking its best
Then I head to my glove box, where I keep my car registration and insurance and also any coupons I like to have on hand. Usually, I just need to go through the coupons and throw the old ones out.
By this time my car looks so shiny and almost new again.
Now I really like the new car smell and when you get into a car that is clean and has a nice fragrance, you just feel good. Don't you?
When your car is clean, you feel good. You are happier, you feel like you got a lot accomplished.
Now that it's clean I put a Febreze Car in the air vent. That way it smells good for a month until it's time to start again. I also use a bottle of Febreze Air Effects to spray in the air of the car. I usually do this and then close up the car so the clean fresh scent permeates everything. I purchased my P&G household need products at Costco because they have everything that I need there while I am doing my monthly shopping.

I have shared some cleaning and organizing tips to makeover your car each month, and if you keep up with this every month, it gets easier and doesn't take as long and you will be feeling better every time you get into the car. If you have any additional car cleaning tips, share them in the comments.