Amish Cinnamon Bread is a quick and easy bread that can be enjoyed as a breakfast bread or afternoon snack. It is also commonly known as Amish Friendship Bread.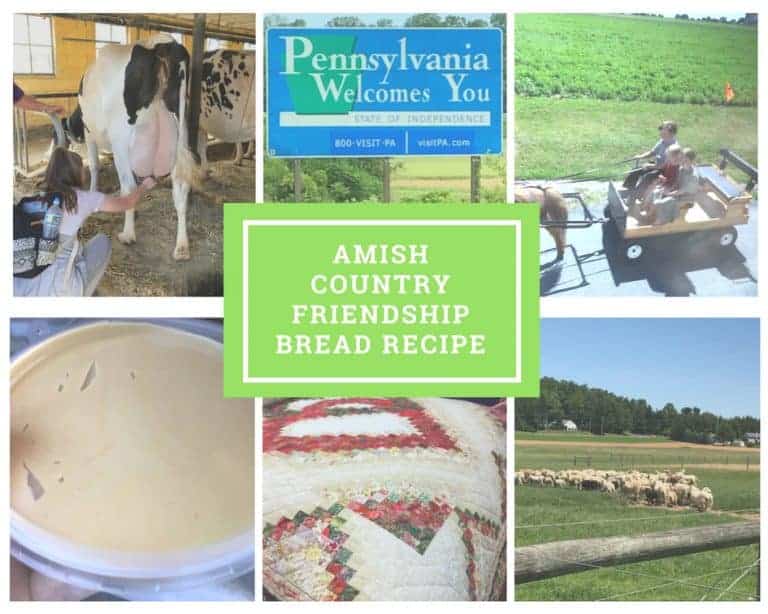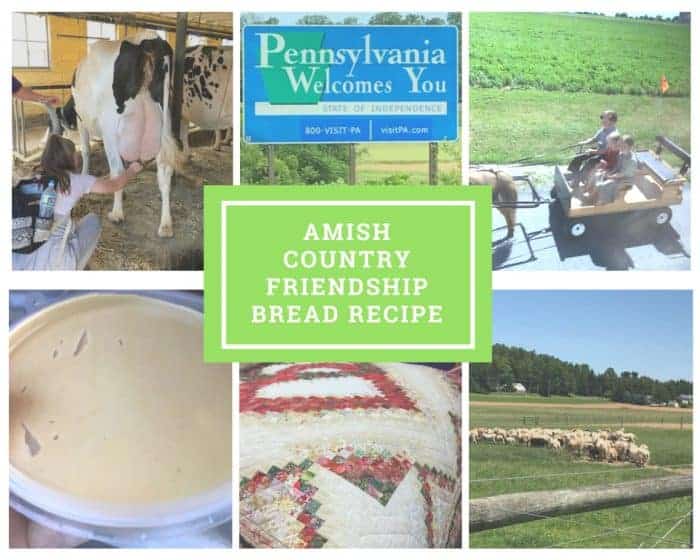 A Visit to Amish Country
My daughter and I recently took a trip to Lancaster PA, on our way to New York. We were on a tour bus with her friends from school, so we really got to see and hear a lot about the culture, the scenery, the history and learn more about the Amish and Mennonite people.
It was really fascinating to hear of their beliefs and just their simple way of life. We had lunch in one family's home downstairs where the mother's business was creating a feast for her guests and sharing stories.
I have never had so much food in my life. We were able to buy homemade peanut butter which actually made it home on the plane. I had heard horror stories of it not traveling too well. The funny thing is I bagged and triple bagged it for safety measures and when we go off the plane, I checked my bag and TSA had gone through it and took the peanut butter out of the bags and just left it together with my clothes.
Fortunately, it did not leak and the rest of my family really got to experience some Amish peanut butter for the first time.
Another great thing we saw, was even though their homes are sparse, they are landscaped so beautifully. Remember, I live in the desert. They have lots of land, animals, and flowers. We went to a quilt shop and saw the most beautiful quilts. The craftsmanship and time it takes to put into one quilt is inspiring.
They sell things on the side of the roads in little shacks (not sure if that is the correct word or not, forgive me or leave me a comment). At night they leave it there out in the open without locking it up. This is a very foreign concept to me. I even saw a furniture store where they leave all the furniture outside at night. It made me really sad to see how different California is.
One of my favorite things to see was the horse and buggies with children riding by. When they build their houses, everyone comes alongside and they can complete a house in a weekend. That is amazing to hear of people coming together to help one another out.
Now let's get into the recipe.
Amish Cinnamon Bread Recipe
Amish Cinnamon Bread
Amish Cinnamon Bread is a quick and easy bread that can be enjoyed as a breakfast bread or afternoon snack. It is also commonly known as Amish Friendship Bread.
Ingredients
Starter
3/4

cup

white granulated sugar

3/4

cup

all purpose flour

3/4

cup

milk

or Vegan alternative
Bread
1

cup

vegetable oil

3

Large

Eggs

1/2

cup

milk

or Vegan Alternative

1

ts

Vanilla Extract

2

cups

All purpose flour

1

cup

white granulated sugar

2

ts

ground cinnamon

1 1/2

ts

baking powder

1/2

ts

baking soda

1/2

ts

salt

1

5 1/8 oz box

Instant Vanilla Pudding Mix

Or any flavor
Mix Topping
1/4

cup

white granular sugar

2

tb

ground cinnamon
Instructions
Preheat oven to 325 degrees. Grease 2 9 X 5 loaf pans.

Mix the Starter ingredients together.

Add the oil, milk, vanilla, and eggs to the starter and mix.

In a large bowl, mix in flour, sugar, soda, pudding, baking powder, cinnamon, and salt.

Add liquid mixture into dry mixture.

Pour into 2 greased loaf pans

Sprinkle with a cinnamon sugar topping.

Bake for 60 minutes or until done.
Nutrition
Serving:
1
1/2 inch slice
|
Calories:
115
kcal
|
Carbohydrates:
23
g
|
Protein:
2
g
|
Fat:
1
g
|
Cholesterol:
19
mg
|
Sodium:
72
mg
|
Potassium:
60
mg
|
Sugar:
13
g
|
Vitamin A:
45
IU
|
Calcium:
34
mg
|
Iron:
0.7
mg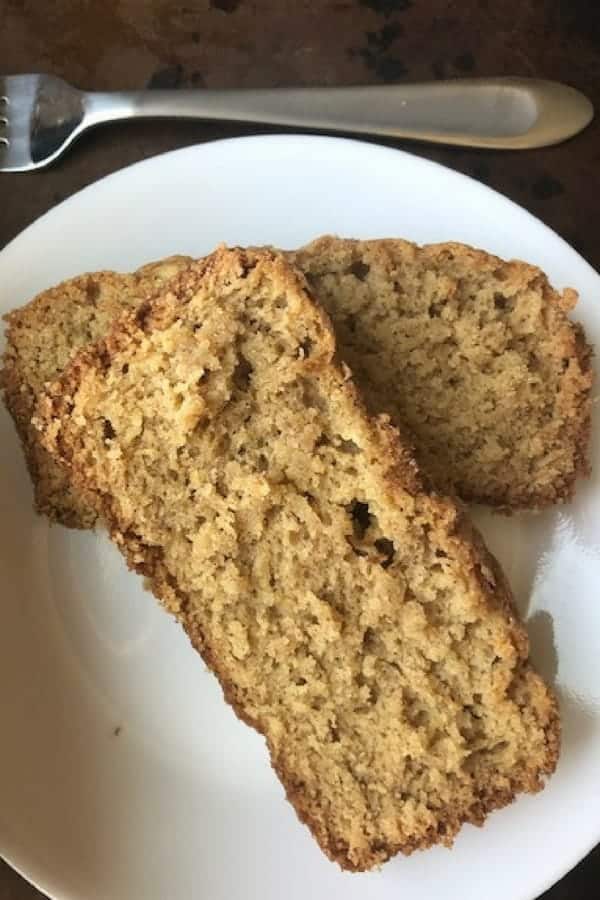 Story Behind Amish Friendship Bread
Perhaps you've heard of Amish Friendship Bread before. Perhaps you've even tasted some or had someone given you a starter for it. It became very popular in the 1980's. If so, then you're familiar with the ritual of adding ingredients, stirring the mix, and then making bread every 10 days. If not, now's the time to learn how easy it is to start your own Amish Friendship Bread so you can make fresh bread for yourself and share a loaf with your friends.
There is a similar German tradition called Hermann cake that uses a starter. Since the Amish are of a German heritage, perhaps that's where the claim, and the name, comes from.
Substitution Ideas for Amish Bread
Chocolate Amish Cinnamon Bread: add to the ingredients 1 box of chocolate instant pudding instead of vanilla, 1 ts of cocoa powder, and 1/2 cup of chocolate chips.
Banana Amish Cinnamon Bread: Substitute Banana instant pudding, 1 mashed banana and 1/2 cup of chopped walnuts.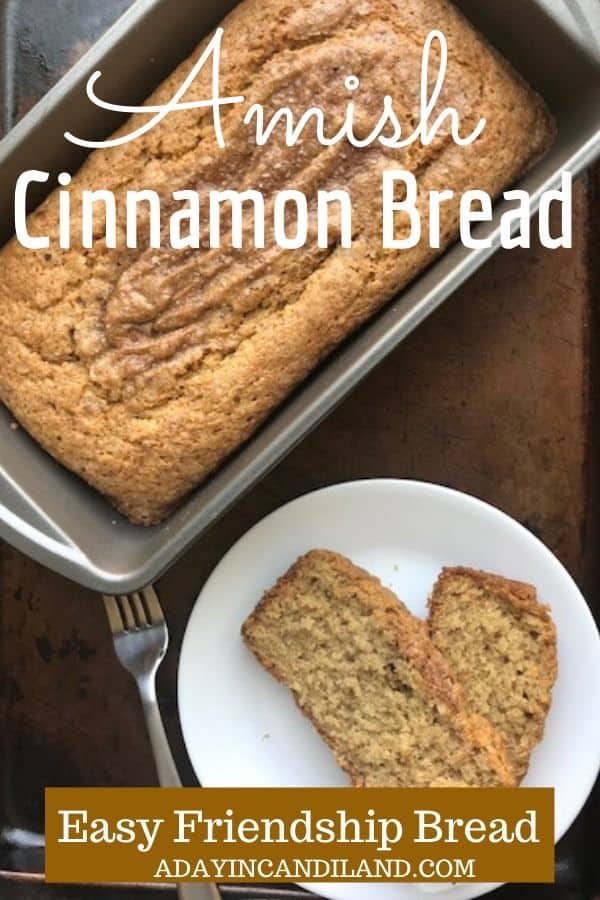 Here are a few other Cinnamon Snacks you may enjoy:
I hope you enjoy this Amish Cinnamon Bread Recipe and make an extra loaf for a friend.

Leave me a comment on what your favorite flavor is and give it 5 stars if you enjoyed it.

Don't forget to share this recipe on social media.