This past week I made some Leopard Fondant Heart Cupcakes. They were a lot of fun to make. They were for a baby shower for a friend of mine. I decided to share how easy they were to create. It took me a few days to make them after work so I broke it up into doing different things each evening. I would do this at a minimum of two days to get the fondant set up.
For more creative cupcake ideas try these.
The first thing I did was order this cute Candy Bow Mold. It took two days to receive it. I also ordered Black and Copper food coloring gel, plus clear vanilla extract to paint with and Gold and Copper Luster dust. You will also need some Wilton Pink Candy Melts and fondant.
Leopard Fondant Heart Cupcakes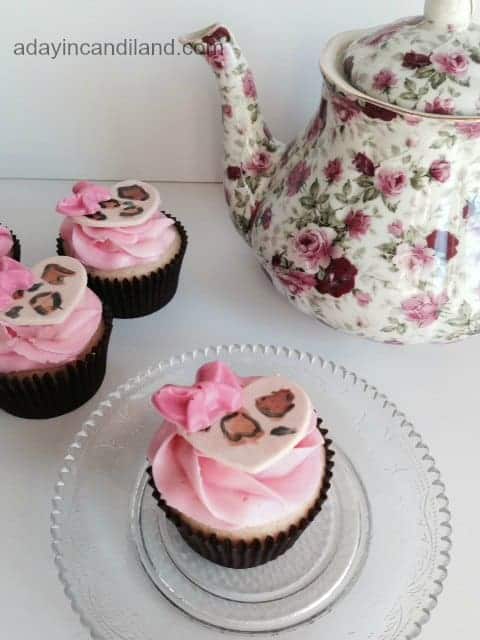 DIY Fondant Heart Cupcake Tips
I started by making the bows. I heated up the pink candy melts into a bottle in 30-second increments. It took several times to get it melted. Then I filled the mold and you have to tap it onto the counter to get out any air bubbles. Then refrigerate and take out of mold. I placed them in a plastic container until I used them.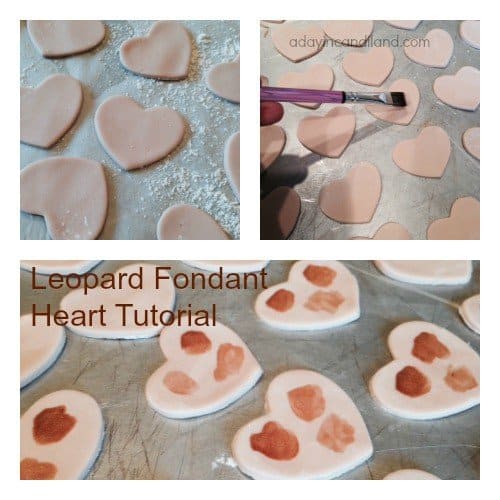 Then I started on the fondant. I took some white fondant and added a few drops of copper and folded it in. Until it looked flesh color. Then I cut out the hearts with a cookie cutter.
Next, I let them harden overnight on a cookie tray covered with paper towels. The next day, I took some clear vanilla extract and a paint brush and wiped them off. That gets the powdered sugar or cornstarch off and you have a clean surface.
Then get some gold and copper luster dust and place some in a small cup with a little clear vanilla extract and add some copper food gel. Then take your paint brush and paint spots on the hearts in random places.
Once this is dry you can go over with black food gel and clear vanilla extract just make sure it's not too runny. Use a smaller brush and paint on the edges making sure not to do a complete circle.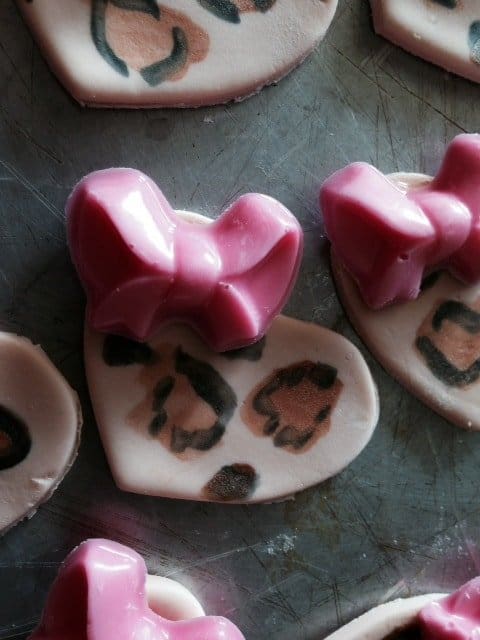 Next, take your bows if you want to use them and use some clear vanilla and paint a little dab on the back of the bow to the fondant. Now just let it dry.
Do not put your cupcakes with fondant into the refrigerator. Don't frost until ready to use so the fondant will stick to the frosting. You can try this recipe here for cupcakes or use your favorite go-to recipe or boxed mix.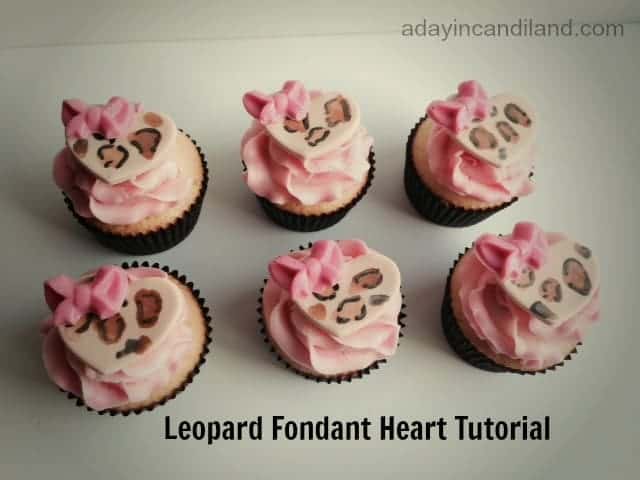 These did not take very long to make and they looked so cute. Try them and see.
For More Cupcake Designs and Recipes follow here: