Today on the blog, Jen is back and she has shared some great book ideas in the past. This week she is sharing part of the cleaning series we have been doing.
Hello everyone! This is Jennifer from Trekking and Tasting and I am so excited to be back here on A Day in Candiland. Today I am sharing about Spring cleaning your purse. Candi and I have been collaborating about Spring cleaning and we are so excited to be sharing these posts with you.
When discussing Spring cleaning, we spend so much of our focus on Spring cleaning the rooms. But what about some of the items that reside in those rooms? Us ladies spend lots of waking hours with our purses, but have we ever given it much thought? By Spring cleaning your purse, you will be able to find what you need, when you need it. Less time wasted, and less stress and/or panic.
For More Declutter Tips Read About it Here.
Spring Cleaning Your Purse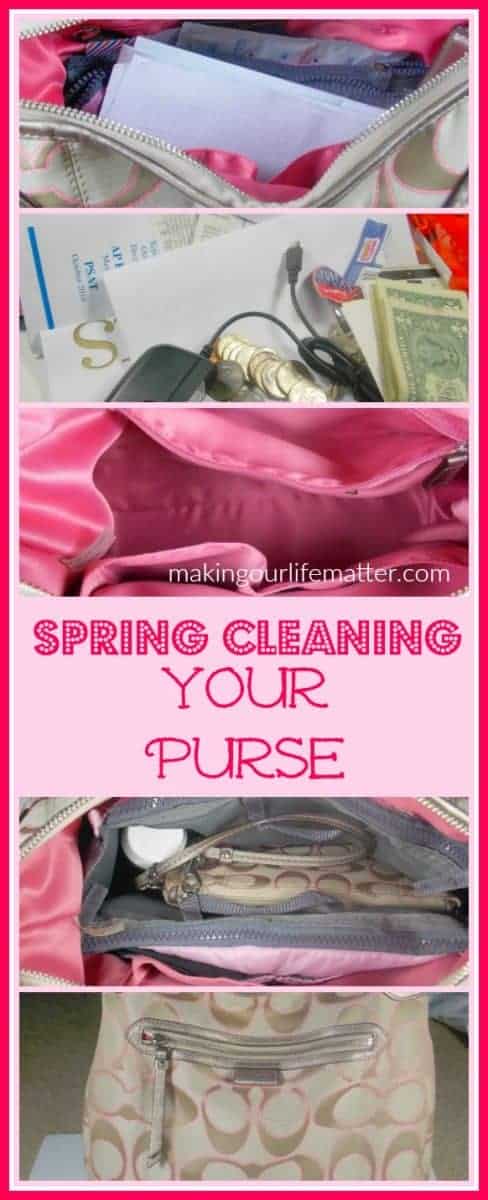 I have to say, I have to thank Candi so much for this collaboration. I wanted to do something new and fresh, and I was inspired by a sheer moment of panic when I opened my purse and couldn't find my debit card. And why was that? Because my purse looked like this: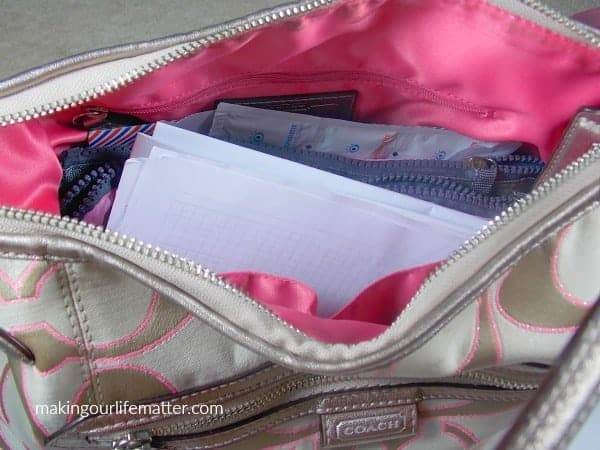 Yeah, it was that bad. And I don't want to go through that moment of utter nauseousness again. So here are the steps I took to turn that mess into a clean and organized purse.
Steps For Spring Cleaning Your Purse:
Completely empty out your purse

. And I mean everything. Take a moment to go through and purge old receipts(I recommend shredding them). Toss out wrappers or forgotten post-it notes. Gather loose change and put it in a safe place(We are saving ours for a future trip to Disney World).


Turn your purse inside out

. Shake all the crumbs out of it. Open up zippers and clean them out as well. You want to start with a clean slate.





Clean the inside and outside of your purse with an approved cleanser

. I got this purse at the Coach outlet 3 years ago when we went on a trip to Wisconsin. I normally don't purchase cleaners, but it was worth it. My purse still looks almost brand new. Let it dry completely before turning it back the right way.

Invest in a purse liner organizer

. I won this on a blog last year, and it was definitely a great addition to my favorite purse. I love that it keeps my spare phone charger accessible and that I can carry a few cleaning items discreetly. I also have a purse hanger tucked in for the times when you want to keep your purse off the floor.


Load your purse back up with the necessities

. Now that you have everything cleaned out while you were Spring cleaning your purse, make sure you only put back what you need. All the loose change, dollars, rewards cards, etc. are safely tucked in my wristlet.

I added a few other essentials to it, like a pack of tissues, my house key, and some band-aids. You never know when you are going to need these. And now I have a clean, organized, and functional purse once again!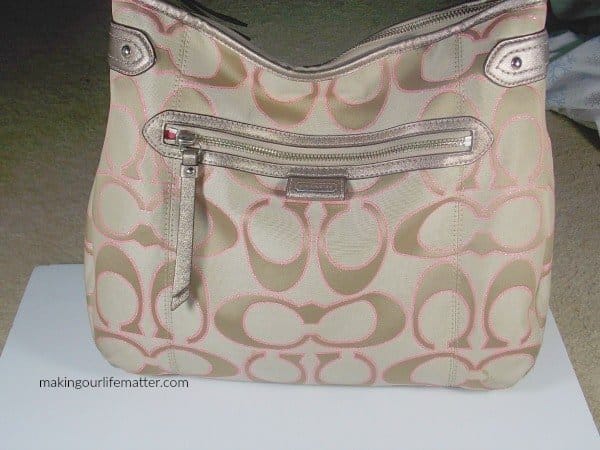 Additional Cleaning and Organizing Articles
Thank you Candi, for suggesting our collaboration and for allowing me to guest post. Now that you have seen how easy it is, when will you be Spring cleaning your purse?
Here is a video I shared a long time ago of some fun things you can have in your purse.