25 tips and tools to organize your kitchen can be a dream come true. Have you ever wanted to have a kitchen that looks like those in a magazine?
They have clean Counters and beautifully organized pantries that looks like no one uses them. Well, you can make that dream come true, a little at a time with these 25 tools to organize your kitchen.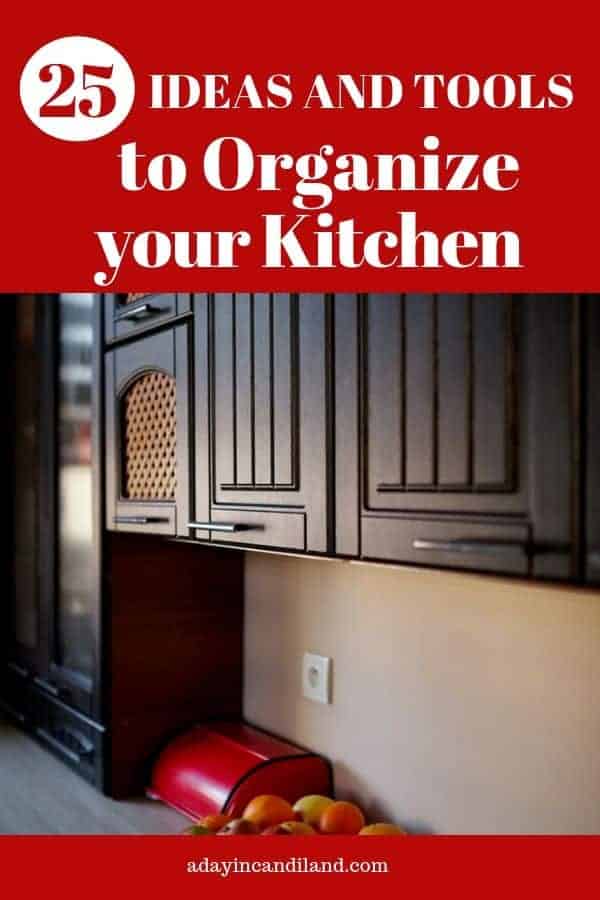 Tools to Organize Your Kitchen
I love an organized house and even have an organizer for by greeting cards. My favorite thing is to look at model homes, I get so many ideas.
2. Wall Mount Grocery Bag Dispenser
3. Slim Slide Out Storage Tower Rack
4. Spice Gripper Clip Strips for Plastic Jars
5. Over the Cabinet or Wall Mount Kitchen Storage Organizer
6. Cabinet Pull-Out Chrome 2-Tier Wire Basket
7. Organizer Bin for Pantry, Refrigerator, Freezer & Storage Cabinet,
8. Under Sink Shelf Storage Shelves Kitchen Organizer
9. Fancy Blackboard Stickers for Stylish Organization
10. Refrigerator and Freezer Storage Organizer Bins
11. Door Storage Cabinet Organizer Tray Set
12. Kitchen Sink Suction Holder for Sponges
13. 2-Pack Stackable Premium Quality Plastic Kitchen Storage Organizer Drawers
14. 10-piece Airtight Kitchen Pantry Set, Black
15. Bamboo Storage Drawer Organizer
17. Double 35 Qt. Pull-Out Black and Chrome Waste Container
18. 3-Tier Corner Shelf Organizer
19. Rubbermaid Premier Food Storage Containers
20. Coffee Condiment and Accessories Caddy
21. Wrought-Iron Oval Pot Rack
23. Under Cabinet 3 Wine Bottle Rack
24. Metal Wall Mount Wine Bottle Rack
25. Kitchen Cart
A few weeks ago I got the mop and broom holder for my laundry room. I was so excited that they had their own place that wasn't on the floor.
Search around and find a few tools you like and add one or two at a time. In no time your kitchen will be organized and looking beautiful.
See what baking tools I suggest having in your kitchen.
Leave me a comment on your favorite kitchen organizing idea you have found.
For more organizing Tips read these: