Tuscan Inspired Lasagna in Ramekins
Create this Tuscan Inspired Lasagna in Ramekins that are fun for dinner parties or just a quick meal. Get easy clean up since they are cooked in the same bowl.
Tuscan Inspired Lasagna in Ramekins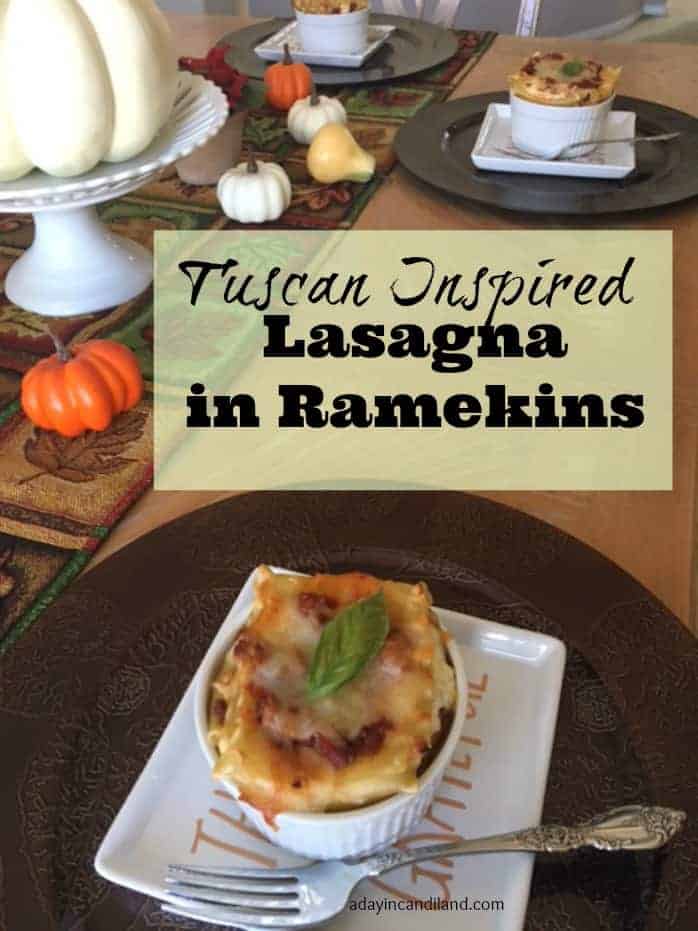 I love to make lasagna, but I don't like the large pan taking up all the space in my refrigerator if there are leftovers.
These ramekins will do double duty with baking and consuming from the same dish. Plus they are so cute, and just the right amount of lasagna, your family will enjoy how easy they are to do a quick reheat if needed and also a quick clean up.
Recently our household expanded when my Mother In Law moved in and one of our sons came home. To make dinner, it needs to be simple but tasty. I need hearty meals, but yet, don't want to do all the work of a big meal.
That's why I decided to make these individual lasagnas because I just don't have room in the refrigerator for any leftover pans or lots of ingredients.
[Tweet "See how to cook the Tuscan Way with @Bertolli "]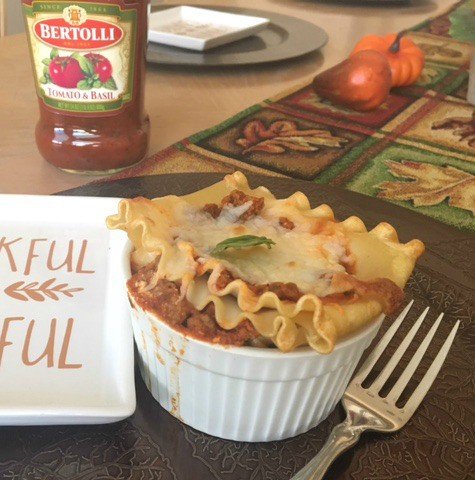 If I have one or two leftover ramekins, it is easy to find space and put some plastic wrap or aluminum foil over to keep it fresh.
When I am not making fresh tomato sauce, I like to grab a jar of Bertolli Red Sauce and I usually keep a few extra jars in the pantry. I don't need a lot of ingredients, just the noodles, sauce, cheeses, and spices.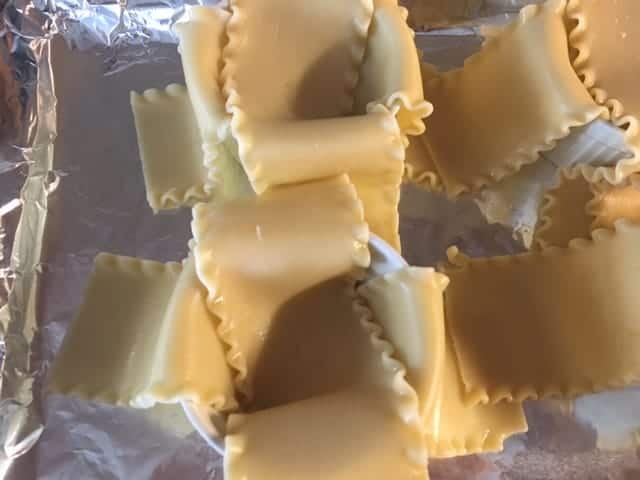 Tuscan Inspired Lasagna in Ramekins
Ingredients
Meat Sauce

8

uncooked lasagna noodles

1/4

cup

diced onions optional

2/3

lb

of ground beef

Big pinch of salt

1

TB

oregano

2

cloves

garlic

2

Cups

Bertolli tomato and basil sauce

1

pinch of sugar optional

Pinch of red pepper flakes

1 -2

TB

of fresh lemon juice optional

Cheese Filling

2

cups

Ricotta Cheese

1/4

cup

Parmesan Cheese

2

Cups

Mozzarella divided

1/2

TB

of oregano

Pinch of cayenne pepper

Pinch of nutmeg

Fresh Basil to Garnish

salt and pepper to taste
Instructions
Cook the noodles according to package directions but reduce cooking time by 1 minute, drain the noodles and put them in a bowl with cool water to stop cooking time and keep from sticking.

In a large skillet brown the ground beef with (browned onions) Drain, add oregano, garlic, and red pepper flakes

Add the tomato sauce to it. Let simmer covered on low with lid for 20 minutes.

When the sauce is finished add either lemon juice or sugar to taste. The lemon will bring out the flavor. After add any salt and pepper to taste.

In a bowl, add 1/2 of mozzarella cheese, ricotta cheese, and Parmesan cheese. Cayenne Pepper, Oregano and nutmeg.

Mix well.

Heat oven to 375 degrees.

Lightly spray ramekins with cooking spray and place on a cookie sheet covered in aluminum foil.

Lay One lasagna noodle across the dish, and place another noodle the opposite way. As shown in pictures.

Next add a spoonful of meat sauce, then cheese, cross the top noodle over sauces. Next repeat the sauce and cheese and cover with the next noodle. Add remaining sauce on top and place the remaining mozzarella cheese on top. Bake for 20 minutes. Let cool for 5 minutes Add Fresh Basil on top.
You can double this recipe to make 6 or 8 ramekins as needed. Make a loaf of garlic bread to go with this dish and you have a great meal the Tuscan Way.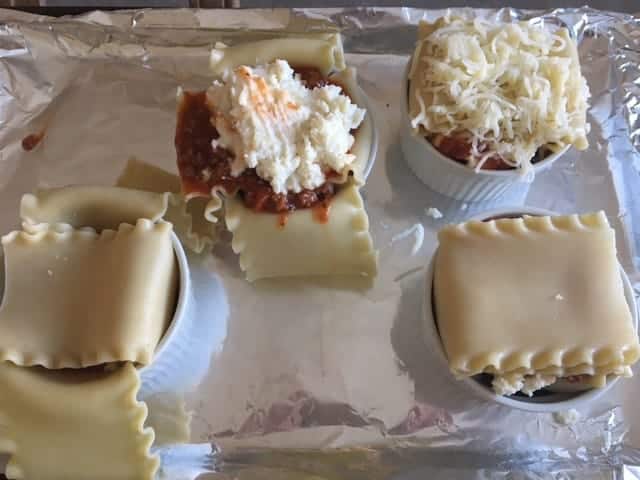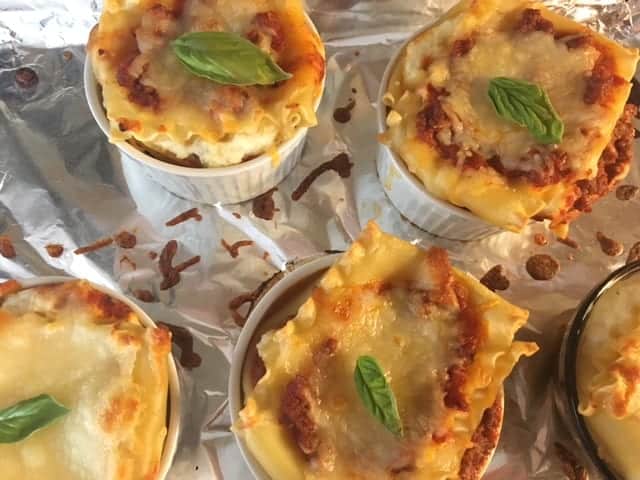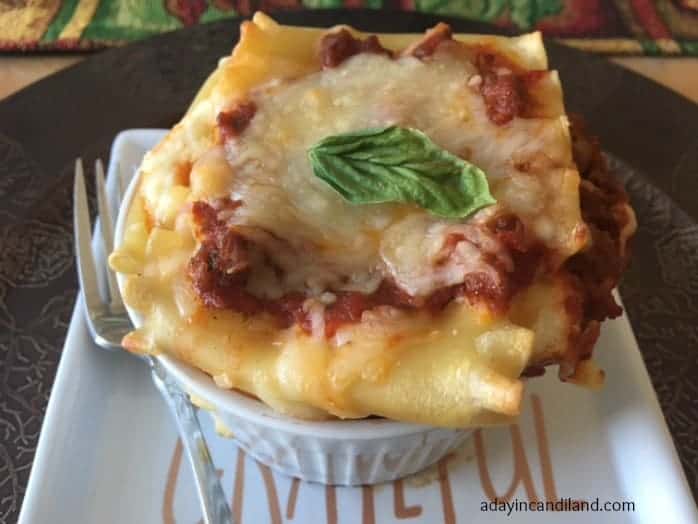 Thank you to Bertolli for sponsoring today's post and inspiring me to celebrate with these Tuscan Inspired Lasagna in Ramekins. Viva Bertolli!
If you love this easy meal try a few more of my popular recipes.