Quick and Easy Dinners that kids can help with for the busy family will be a blessing when you need to get dinner on the table in a hurry.
Do you have nights that you get home late, but you still need to feed your family? If you are familiar with my weekly meal planning made easy recipes than you know there might be some nights that you can't cook, or you just need a night off.
That's where these quick and easy family dinners come in handy. For more recipe ideas check out these.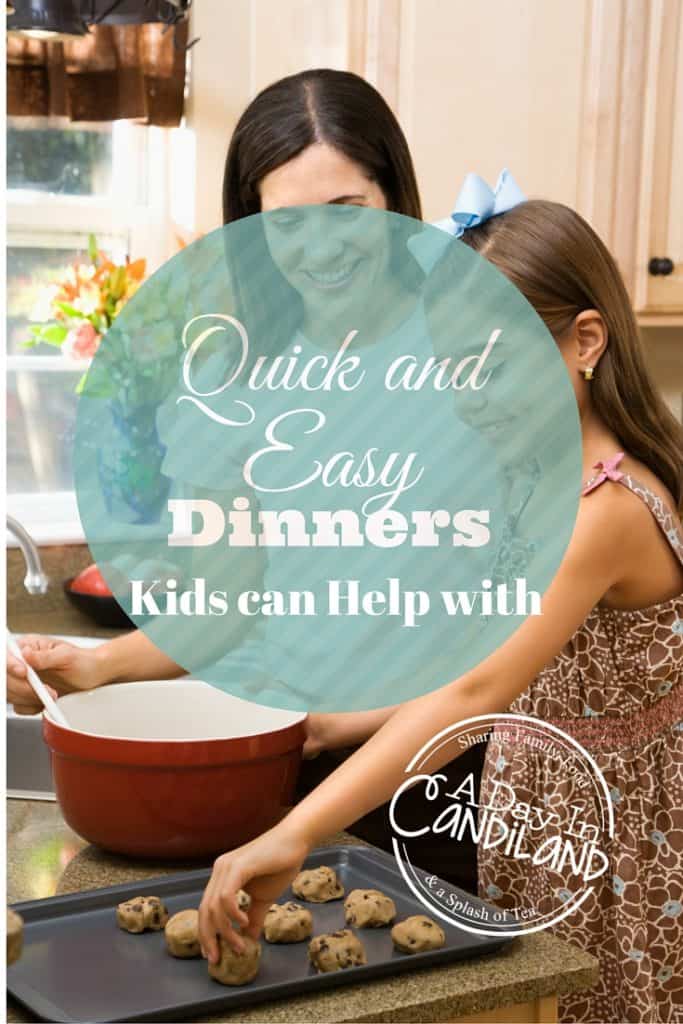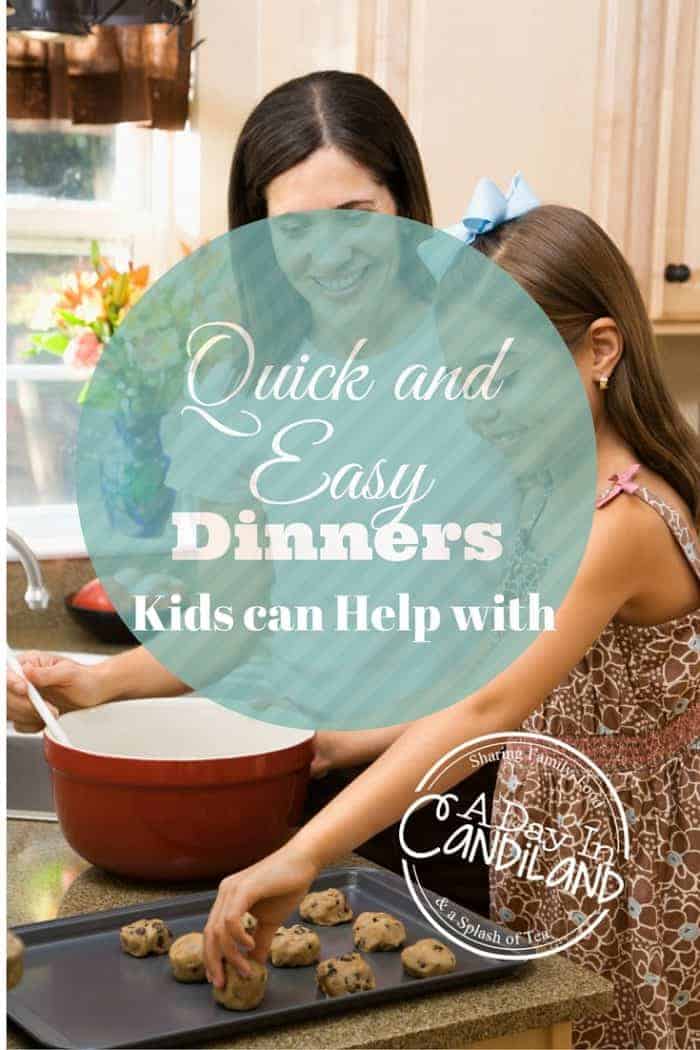 Recipes that Kids can help make
I really don't like to cook on Fridays. Sometimes we go out, sometimes hubby brings dinner home or lately my daughter has been doing a little more cooking and making some easy meals for us.
Here you will find several quick and easy recipes that won't blow your budget and still get a home-cooked meal you can make in a hurry, plus the kids can help and be involved.
Bagel Pizzas – This one is great because everyone can pick their favorite topping. All you need is your favorite bagels, pizza sauce, mozzarella cheese, (olives, pepperoni, onions, bell peppers, salami) just toast in the oven.
Chicken Quesadillas – Another easy meal, with flour tortillas, jack cheese, onions, frozen chicken strips, sour cream, and avocado. Heat the chicken in the microwave, spray a frying pan with cooking spray, place a tortilla in the pan on medium heat, assemble the quesadilla and flip. Add salsa, sour cream and avocado.
Quick Chicken Wraps – You can use the same frozen chicken strips as above and make this quick dinner.
Easy Cheesy Ham Scramble – How easy is it to make scrambled eggs for dinner. Just add in some of the ingredients in the pan and you have a delicious quick dinner.
Quick and Easy Enchiladas – I love this recipe, using frozen burritos and adding a few ingredients to the pan and bake.
Easy Chicken Stir Fry – This meal may take a few more minutes, but if you get the ingredients prepared a few days ahead it's a quick ready to go meal.
Grilled Cheese – My kids love grilled cheese and I don't always think of it for dinner, but add some fruit or a pickle and they are in love. You can even add some ham or turkey to it to give it more protein.
Pillsbury wrapped Hot dogs – I only buy 100% all-beef hot dogs with no nitrates and these are fun and easy. You can cut the hot dogs in half or make them full size and wrap in crescent wraps. Add some cheese and some veggies on the side and you have a simple dinner.
Taco Salad – Just brown some hamburger, ground turkey or heat up the frozen chicken strips and put on some shredded lettuce or tortilla strips and add your favorite taco ingredients.
Black Bean Enchiladas you can leave out the ground beef and it is a snap to make.
Salad in a Jar Create your own masterpiece that each person will love. Keep them fresh in Mason Jars.
10 Easy Meals that busy Moms can make.
These have been great for my daughter to learn how to start cooking and as long as I have these ingredients she can always make herself or the family a meal. It is never too early to teach your kids in the kitchen as long as you go over safety rules first.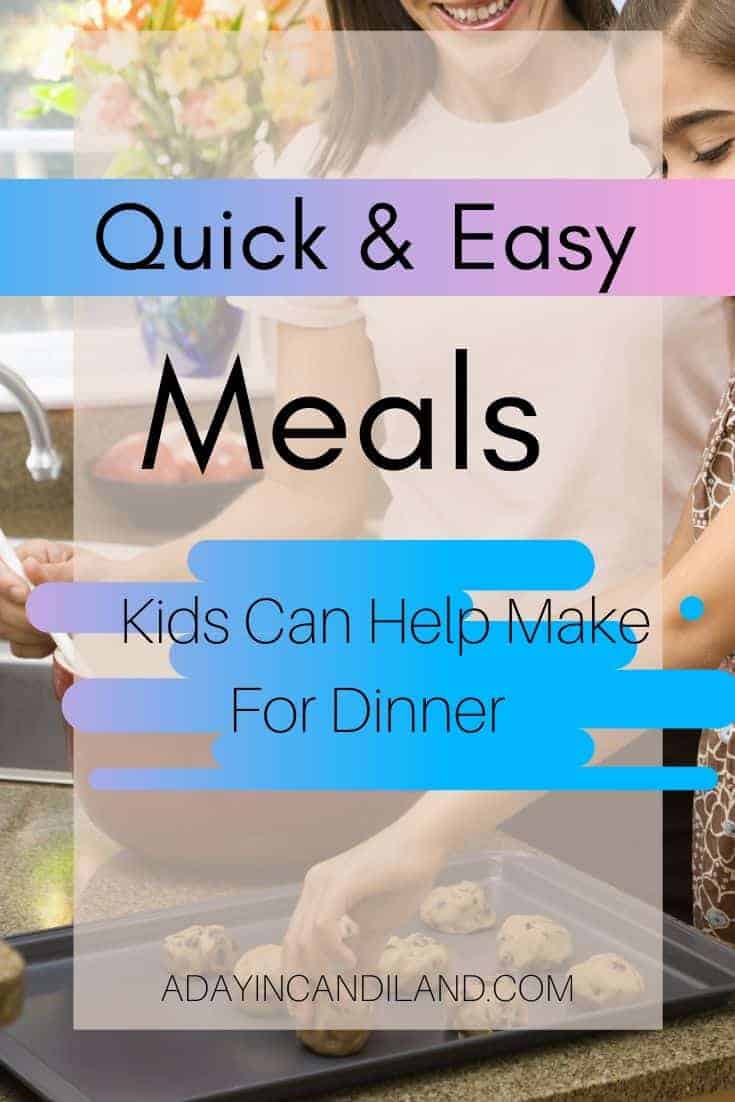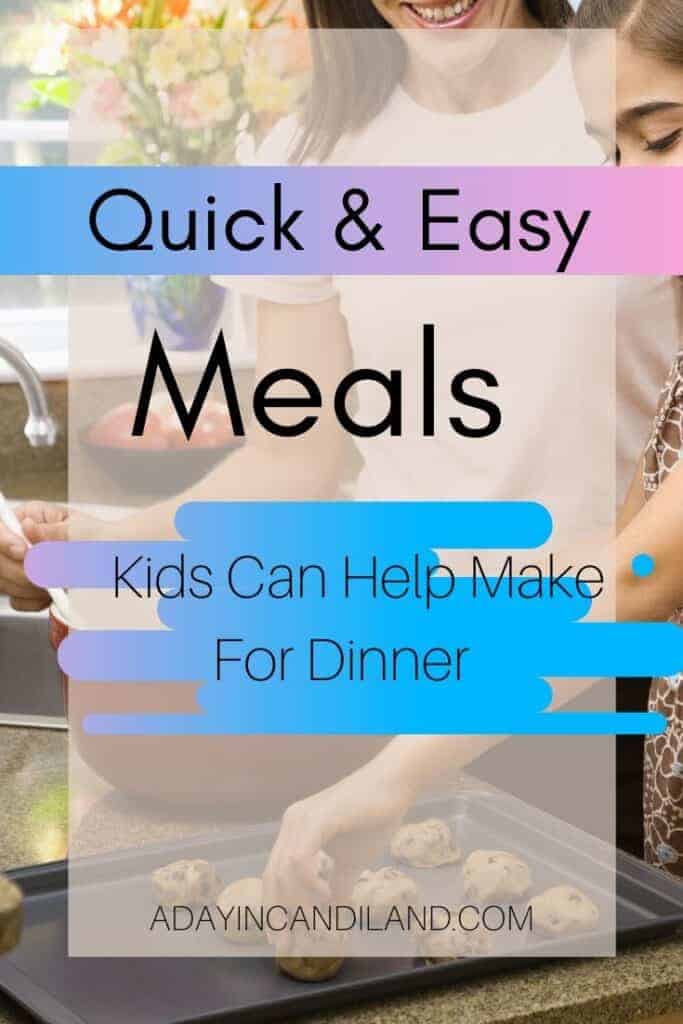 Need some ideas for quick and easy dessert?