Keep this list of 16 Easy Pumpkin Dessert Recipes handy when you need to create some magic for the fall season. This round up is full of dessert recipes. There are also lots of Pumpkin recipes for dinner. Just check out my pumpkin Pinterest board.
It's almost October and you know what that means. Pumpkin this and pumpkin that. All the pumpkin recipes you could ever want are right at your fingertips. You can find mixes in the stores and ready made things also. You can also see try some of my other recipes here.
But if you want to make some deliciousness you probably will go onto your favorite blogs, or Pinterest and find something to whip up in a snap. There were so many recipes, it was hard to choose. I will be doing my other fall favorite soon, apple recipes.
Maybe you can find lots of recipes in one spot. So I wanted to make it easy for you and show you some of my favorites. Last year I even found Pumpkin Pie Yogurt at Target.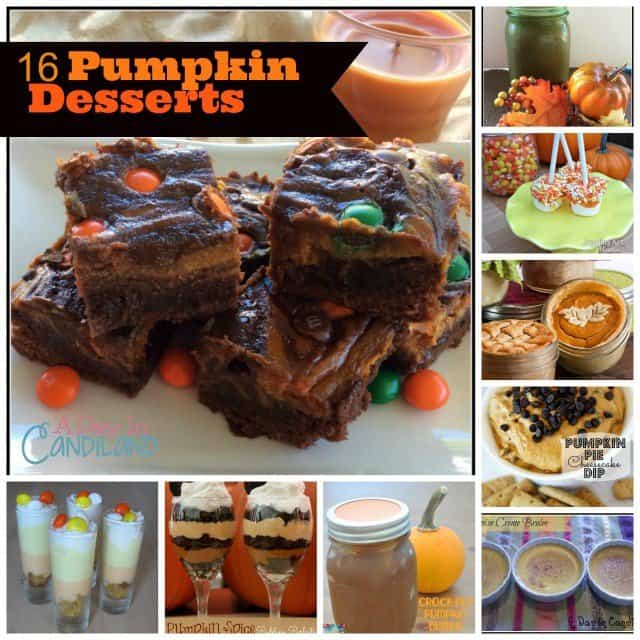 Pumpkin Spice Trail Mix
I hope you get your pumpkin fix with this list of 16 Easy Pumpkin Dessert Recipes. Let me know what your favorite Pumpkin Recipe is.  You can even visit my Pumpkin Board on Pinterest. Here is number 17, it's an added bonus. I guest posted this recipe for White Chocolate Pumpkin Snack Mix.
Here are a few of the kitchen tools that I use to make some of my fabulous desserts. They are affiliate links and the money I make from any sales goes back into the ingredients to make new recipes for the blog.  I look forward to seeing you in a few days with my next recipe.
Get Your 9 Page Menu Planning Kit
Subscribe to get our latest recipes, budgeting and encouraging tips and receive our 9 page menu plan kit for Free. Yay!