Start a Great Morning on Purpose and you will get all you need accomplished and feel like you gained a few extra hours in the day.
How to Start a Great Morning on Purpose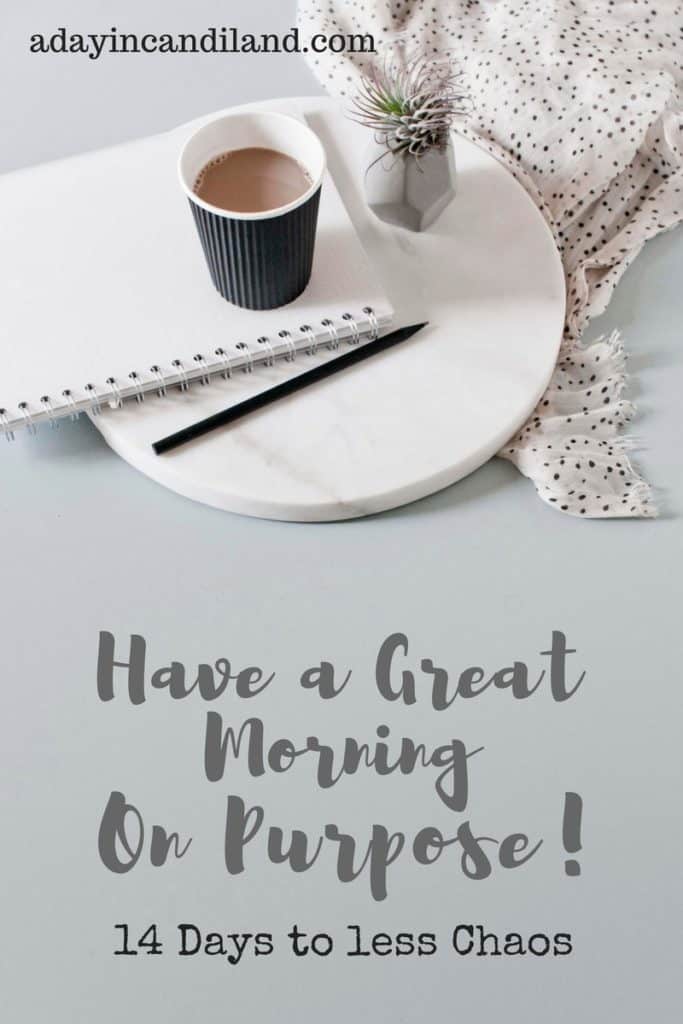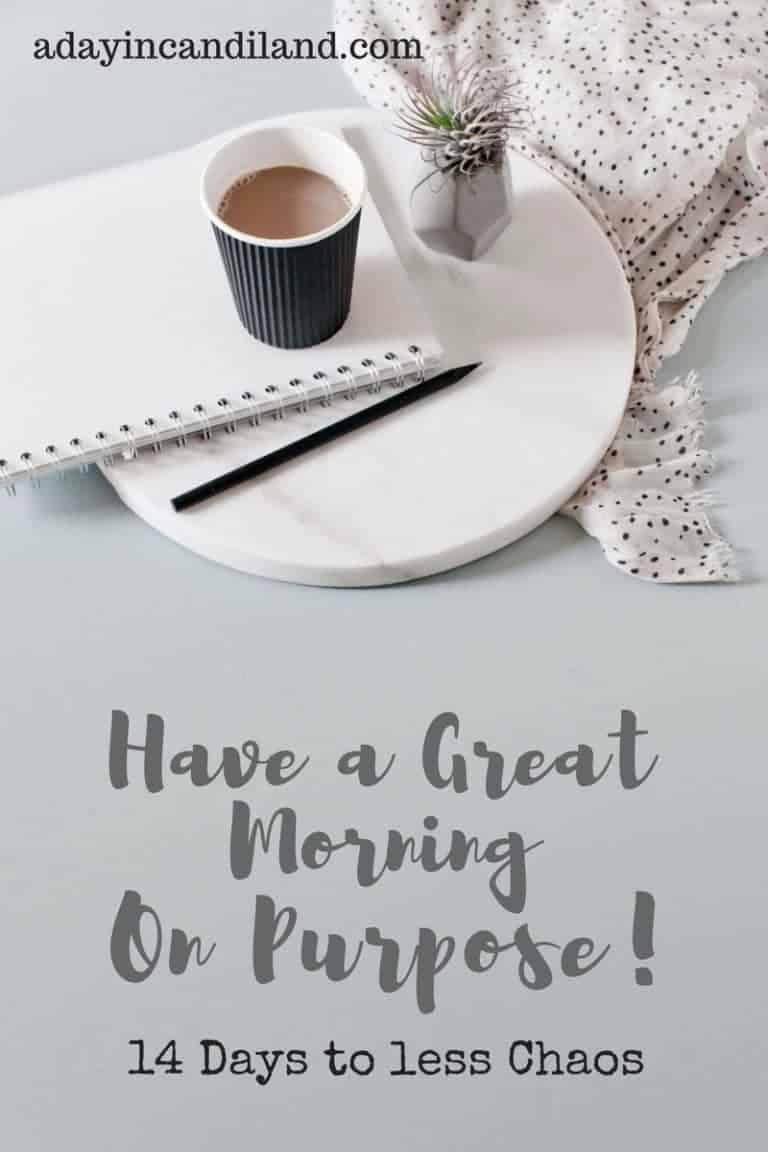 My best days are the days I start out with a purpose. Have you ever just woke up and thought should I get up now or wait 5 more minutes? Then you get up and think what should I do today? You know you have things to do, but at that particular moment, you look at the pile of bills on the counter, you look at all the laundry that needs to be done, the dishes are piling in the sink, so what do you do? ……. You go back to bed. (Not a great idea)
You started out with a plan, but somewhere along the line, you lost your focus. You stopped doing the things that kept you on task.
Now we all have those days, and that's ok, but when it moves into 3 or 4 of them, there's a problem.
If you don't have a plan for your day, your day will be gone and nothing of importance will be accomplished. Now I think once in a great while you can afford to do that. You don't have to be so rigid that you can't have fun, or you feel overwhelmed.
It is also possible, that you have a great plan and that one phone call can change everything and your plan goes out the window.
You need to plan a Great Morning on Purpose.
A few months ago I took a course called Make Over Your Morning, that really reinforced my thoughts on starting my morning on purpose.
As a mom, you have so much to do. I am married and get to share responsibilities with my husband. But the majority of daily tasks fall on me. Single moms have everything fall on them unless they have an older child that can help out.
If you really think about all the different areas you need to focus on, Family, Health, Spiritual, and Finance, how do they fit into your day?
You may have done yearly goals at the beginning of the year, but right now we are talking about 1 week at a time or 1 day at a time. I get out my planner once a week and write out my whole week, and sometimes my month, but I always focus on making sure, I have everything I want to accomplish on that week scheduled.
Each day, I think about the 4 areas that are important. If you don't write things on your calendar they just won't get done. I print off the worksheets that come with the program and I start planning my week. You should be able to do this in 15 minutes.
Steps for Creating your Great Morning on Purpose
First, I write in anything that would be on the calendar that week. For me personally, I block out any church activities, then any family time, work meetings, school functions, work out time, me time, and activities.
Second, I write in my meal plan for the week.
Third, Are there any phone calls or bills that have to be paid, that I don't schedule through my banking program?
Fourth, When will I exercise, write it down. I can tell you if you don't plan this one, it will be forgotten.
Fifth, I schedule my favorite podcasts, one a day. This can be listened too, when I am exercising or when I am in my car. (It is usually a financial, spiritual or business related one)
Sixth, I list 3 -5 things I must get done that day. The ones at the top are the most important.

That is it. Are you willing to start now?
Going through the Make Over Your Morning video series, I learned so many things about what is important and what is non-negotiable that needs to be on the list. Your list may be different than mine. This is just a guideline. I find when I have an outline of what is expected, it makes it easier to understand.
Some of the things I learned was I needed to change my mindset. I also started using a habit tracker that was included in Crystals' program. If you have a habit tracker start using it.
It really is simple. Get an accountability partner, again Crystal explains how to do this on one of the videos. Make sure you plug that into your calendar.
Everyone has the same amount of time in the day. You would be surprised how much more time you really have, when you time block, and use your calendar.
I can't tell you how much great information is on these short videos each day, with a short task included. You can either watch these daily and it would take less than 30 minutes per day, or you could take a weekend and print out the worksheets and watch all the videos at once.
If you like getting organized and starting your day on purpose read these posts.