25 Gourmet Cupcake Recipes you Should Make Your Family Right Away.
I am excited to bring you over 25 gourmet cupcake recipes to tempt your taste buds this weekend and inspire you to get into the kitchen and start baking.
Are you a cupcake lover? They are so much fun, plus you can make them any color, any flavor, different sizes and so much more.  You don't even need an occasion to have a cupcake. Better yet, create an occasion just so you CAN have a cupcake.
These cupcakes are a collection of my own and other bloggers best cupcake recipes. If you find one you absolutely love and make, share this post on Facebook and Instagram.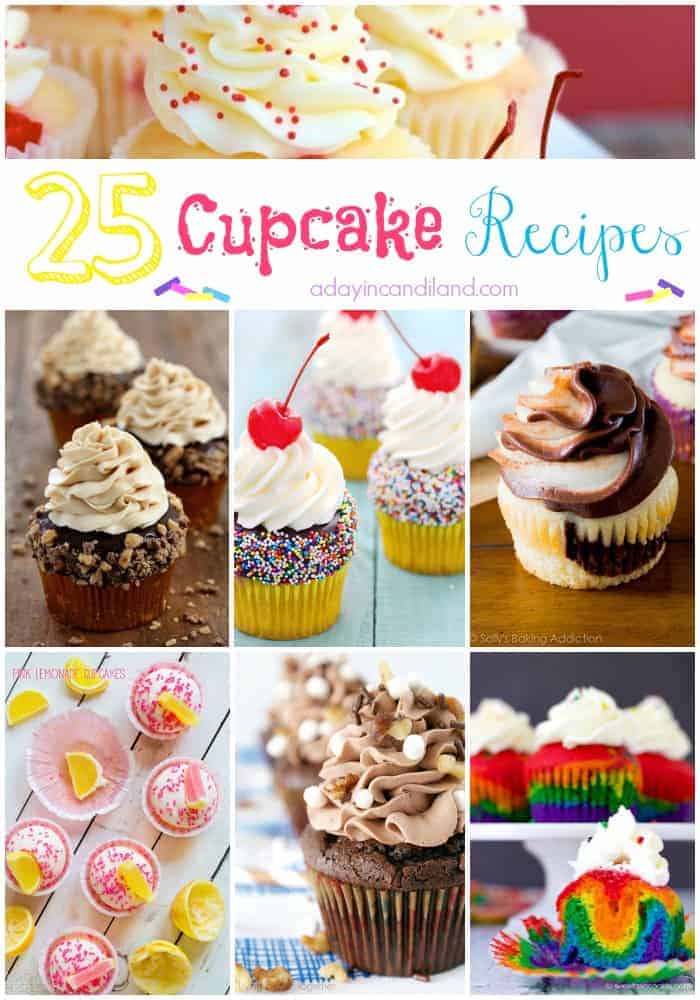 Over 25 Gourmet Cupcake Recipes
Key Lime Cupcakes with Key Lime Curd
A Vanilla Cupcake filled with Key Lime Curd and a Lime Coconut Frosting
Moist Chocolate Cupcakes with Buttercream Frosting
These cupcakes are simply the classic chocolate cupcake with vanilla bean icing.
A tart fluffy vanilla lime cupcake is topped with sweet, creamy blackberry buttercream making these blackberry lime cupcakes a summer favorite!
So what do you do with your favorite ice cream, make a cupcake version of course!
Mexican Chocolate Cupcakes w/Dulce de Leche Cream Cheese Frosting
This sweet Mexican hot chocolate cupcake with a Dulce le leche frosting.
A Vanilla Cupcake filled with Banana Cream Custard, dipped in chocolate, sprinkled with candies and topped off with a cherry.
Salted Dark Chocolate Cupcakes
These salted dark chocolate cupcakes are rich, moist, and crazy good.
Mint Chocolate Chip Cupcakes in a Jar
A chocolate cupcake with a mint cream cheese frosting and mint chocolate chips stuffed in a small glass jar.
Almond Maraschino Cherry Cupcakes
Start with a cake mix, add almond extract, sour cream and a beautiful cherry on top.
Black and White Malt Shoppe Cupcakes
Your favorite Ice Cream Parlor Milkshake treat, in Cupcake form!  You'll love the Chocolate and Vanilla Malt flavor in this Black and White Malt Shoppe Cupcake Recipe.
The cakes are made simply, with a Doctored Up Cake Mix recipe. The buttercream, however, is transcended with the addition of coconut milk and lime zest with a few fresh, Summery flavors to create one of the most dreamy cupcakes ever.
These orange cream cupcakes have that really amazing vanilla-orange flavor combo going on and the frosting is lick-the-spoon good.
Cherry Cheesecake Stuffed Cupcakes
Cherry Cheesecake Stuffed Cupcakes will win over anybody's heart. Really though, you can't beat chocolate cupcakes stuffed with cherry pie filling and no-bake cheesecake.
A delicious chocolate cupcake (using my go-to chocolate cupcake recipe) is paired with light and fluffy mashmallowy frosting and topped with the traditional elements of s'mores… graham crackers and chocolate.
A strawberry cupcake filled with delicious mousse. You won't want to miss this berry sweet cupcake.
A Mocha Cupcake drizzled with syrup.
Root beer flavored cupcakes topped with sweetened whipped cream. Just like the beverage.
Toffee Crunch Cupcakes with Caramel Frosting
Grab your toffee crunch in a cupcake crumb with a little caramel frosting dipped in some chocolate and rimmed with chocolate covered toffee bits.  Its decadence meets gluttony-but should a cupcake be anything else but that?
A delicious vanilla cupcake with a dash of cinnamon sugar.
Pink velvet cupcakes start with soft, tender buttermilk cake. It's topped with a tangy cream cheese frosting, giving you a delicious pink velvet cupcake.
Lemon Cupcakes with Lemon Buttercream
I love all things lemon, any time of year. So I am hoping there are more people like me out there! People who eat lemon cupcakes while putting out Christmas decorations with Thanksgiving centerpieces on the table.
For when you can't decide if you want a chocolate cupcake or a vanilla cupcake!
Pumpkin Cupcakes with Meringue
A sweet and spicy cupcake with a delicious meringue frosting.
Pink Velvet Cupcakes
This Pink Velvet Cupcake tries to upstage the tradition Red Velvet Cupcake. All I can say is it comes pretty close.
These cupcakes are perfect for spring, summer, fall, and winter. Made with real carrots and a cinnamon spice cream cheese frosting.
It is hard to beat a Red Velvet Cupcake with its decadent cream cheese frosting.
PS. Which gourmet cupcake recipes will you be making next?
25 Gourmet Cupcake Recipes you Should Make Your Family Right Away.