One of my favorite dessert recipes to make and eat is Creme Brulee. I love that it is smooth and creamy and the nice toasted sugar brulee on top is always fun to eat. In addition to the Pumpkin Creme Brulee I made, I thought I would go with White Chocolate Peppermint Creme Brulee, one that can be used for the winter holidays. Don't get me wrong this is not just a holiday dessert, you can make it anytime.
Creme Brulee, is simple to make. I only had to purchase a few ingredients because most of them I have in my refrigerator or pantry. I first started by preheating my oven and getting my ramekins ready. This recipe was supposed to make 6 servings, but the new ramekins were a little larger, so it only made four. That is fine for now, because I just tell the family there wasn't enough and since I don't want to skip anyone in the family, I have to eat them all myself. (I don't actually tell them this, they are just gone before they notice).
Oops, I am getting off course here. Back to the prep. I get my eggs separated and store the whites in another container so that I can make my favorite buttercream frosting at another time. I set my pan up and make sure the ramekins fit in it and boil some water. Then I start my recipe.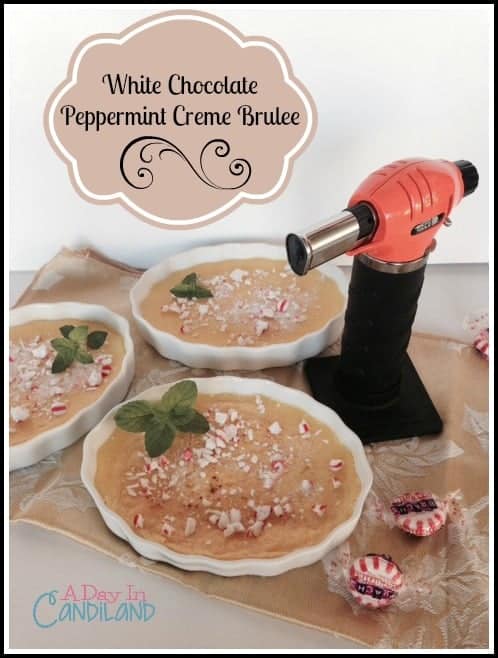 White Chocolate Peppermint Creme Brulee
White Chocolate Peppermint Creme Brulee
I thought I'd try a new flavor of creme brulee. This is perfect for the holidays but of course you can enjoy it any time of year!
Ingredients
8

oz

of good quality white chocolate

3

tablespoons

of granulated white sugar

1/2

teaspoon

of peppermint extract

6

large

egg yolks

2

cups

heavy cream

3-4

Tablespoons

of crushed peppermint candies or candy canes for the carmelized tops

Fresh Berries or mint for garnish
Instructions
Preheat oven to 300 degrees F.

Place white chocolate in a double boiler, or in a heatproof bowl set over a pan of simmering water and stir constantly until melted.

Remove from heat. Whisk sugar, peppermint, yolks, and cream, blending very well. Strain into a large bowl, skimming off any foam or bubbles.

Divide mixture among ramekins. Place in water bath and bake until set around the edges, but still loose in the center, about 40 or 50 minutes. Remove from oven carefully and leave waterbath until cooled. Remove ramekins and place in refrigerator to chill for at least 2 hours up to 2 days.

When ready to serve, sprinkle 1 or 2 teaspoons of the crushed peppermint candy evenly over each custard. Use your torch to caramelize the crushed candies. Once done add your garnish and return to chill for an additional 10 minutes.
Notes
Not a fan of white chocolate? Use semisweet! Don't forget mint leaves for a refreshing edible garnish.
Nutrition
Calories:
869
kcal
|
Carbohydrates:
57
g
|
Protein:
11
g
|
Fat:
68
g
|
Saturated Fat:
41
g
|
Polyunsaturated Fat:
4
g
|
Monounsaturated Fat:
19
g
|
Cholesterol:
422
mg
|
Sodium:
96
mg
|
Potassium:
304
mg
|
Fiber:
1
g
|
Sugar:
54
g
|
Vitamin A:
2134
IU
|
Vitamin C:
1
mg
|
Calcium:
224
mg
|
Iron:
1
mg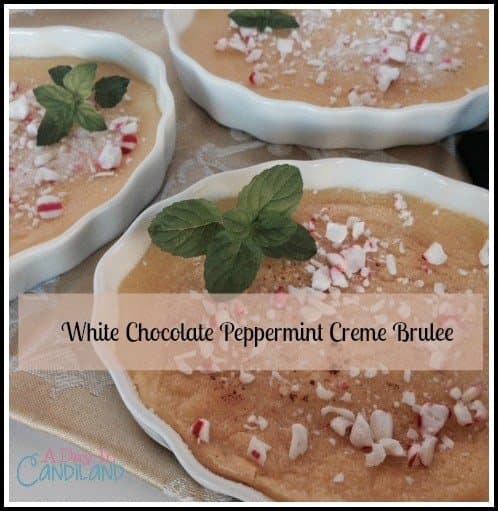 Have you made Creme Brulee before? What is your favorite flavor? You might like these additional desserts to make.
Tools I used for this Dessert: