I recently made some Gluten Free Peanut Butter Kiss cookies. My daughter had a birthday at school and she mentioned some of the teachers and students were gluten free.
So I decided to make some cookies everyone could enjoy and it's so easy with peanut butter cookies. They don't need flour so they are easier to make a gluten free version rather than a packaged version that does use flour. Check to make sure there are no peanut allergies before you bring to school. 
Gluten Free Peanut Butter Kiss Cookies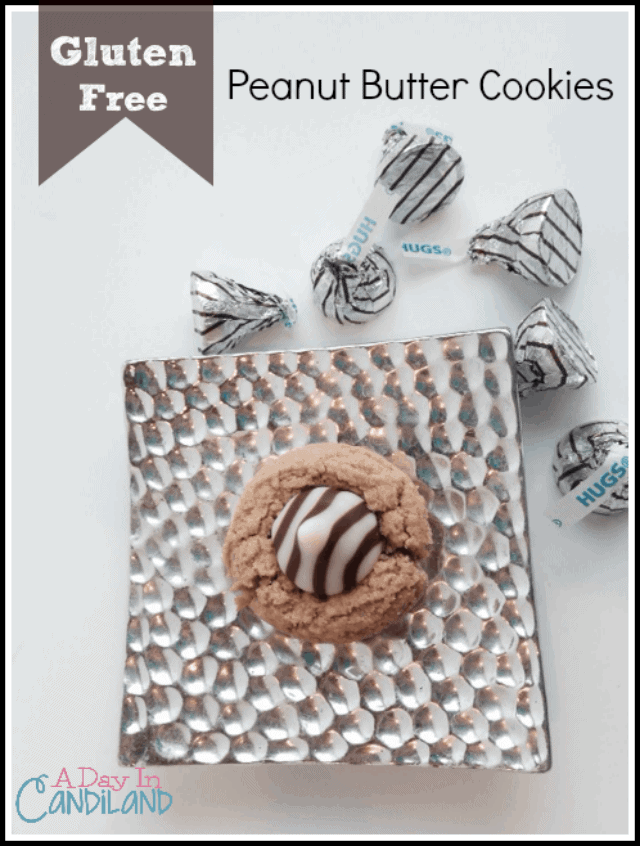 With all my recent baking this one is quick and easy and you can do so many variations with this base cookie. For 4th of July, I rolled them in Red White and Blue sprinkles which you could also do at Christmas with red and green, or Red sprinkles for Valentine's day. I think you get the point.
I was going to use regular Hershey's kisses, but the store was out of them and they had dark kisses or hugs. I opted to go with the hugs because I love White Chocolate.
Tips for Making Gluten Free Peanut Butter Kiss Cookies
The trick to making these cookies is getting the kiss into the cookie without it melting, although some were still pretty even after that melted and also not letting the cookie cool too much before putting them in or they will break. You may need to try a few to get the timing down, but basically, I waited for about 3 – 4 minutes, put the kisses in and then put the tray in the refrigerator.
These cookies need to dry completely before you take them off the tray or they will crumble. I had no trouble with mine and they all came out great except a few that the kiss melted half way, but it still looked good.
Other Gluten Free Recipes
[Tweet "Click over to get this #glutenfree cookie #recipe ]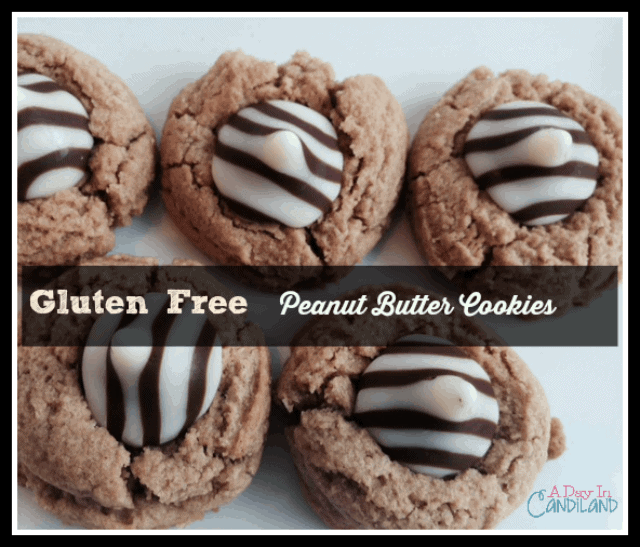 Gluten Free Peanut Butter Kiss Cookies
Ingredients
1

Cup

Creamy Peanut Butter

1/2

cup

granulated white sugar

1/2

cup

light brown sugar

1

egg

1/2

ts

of baking powder

Hersheys Kisses
Instructions
Heat over to 350 degrees

Mix all the ingredients in a bowl until combined.

Using a 1 inch cookie ball scoop get a rounded scoop and place on a cookie sheet with silpat or parchment paper.

Bake for 9-10 minutes

Take out of oven and let cool for a few minutes and then place unwrapped kiss in middle pressing lightly as to not break cookie.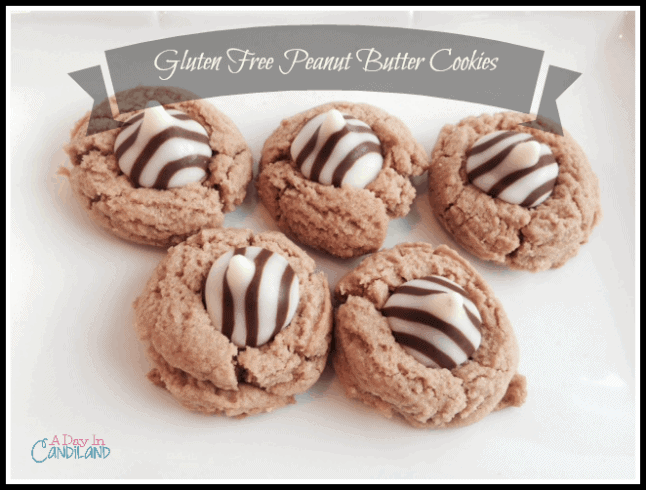 If you like these gluten free peanut butter kiss cookies you might like these also:
Here are a few items I used in making these cookies.