It's easy to Grill up a New York Steak on the Indoor Grill any time of year. Add some of your favorite seasonings, it won't matter what the temperature is outside.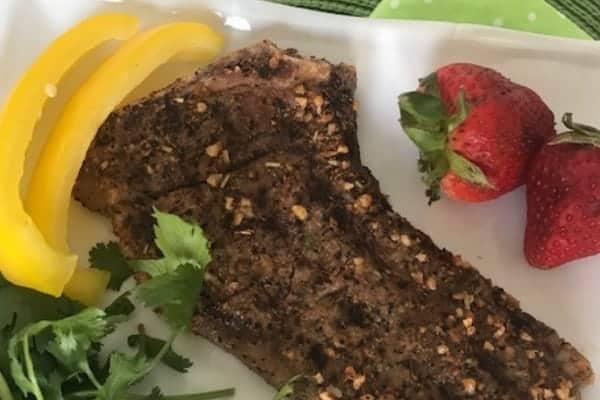 *This post may contain affiliate links. If you make a purchase, I get a small commission. Please see my disclosure policy for details
Easy Grilled New York Steak
Now that summer is here we can't wait to get outdoors, but before we know it the weather might change, the wind may come, or depending on where you live it may rain, half of the year. That's why this Indoor Searing Grill by Hamilton Beach comes in handy.

It doesn't matter what time of year it is, it is always barbecue season. What better way to grill up an easy dinner than with these Beef Loins New York Steaks? They are sliced thin from the meat counter and grill up quickly and easily.

Just add your favorite seasoning on top and add some corn on the cob or your favorite Vegetables made in foil packs and you have a complete meal with easy clean-up in no time.

What Type of Meat is New York Beef Loin
Tenderloin is the choicest cut and most tender. The top loin and sirloin aren't as tender, but they're a bit more flavorful. Cuts from the loin require very little work to taste great.
What is the Best Steak to Grill
Some steaks grill better than others. These are the types of steak you should pick first if you are going to grill your meat! These can be grilled outside or on an indoor grill.
Ribeye
Striploin
Filet Mignon
T-Bone
Porterhouse
Flat Iron
Top Sirloin
Flank Steak
Skirt Steak
Hanger Steak
Why is New York Beef Loin Easy to Grill
This New York Beef Loin was an easy steak to grill, especially on the indoor grill. I purchased a flat steak that only takes a few minutes to grill on each side. It has a lot of flavors and can be found on sale often.

The spices you add to your New York Steak will add a lot of flavors.
The Key to the Flavor is this Spice Rub
These grilling rubs consist of fresh chopped or ground rosemary, kosher salt, ground peppercorns, oregano, brown sugar, sweet paprika, and cumin.
The Best Indoor Grill For Steaks
Cooking with the Hamilton Beach® Indoor Searing Grill is so easy.
Just plug it in and turn the temperature dial all the way up to sear. When it reaches the high searing temperature of 450 degrees, the green preheat light will glow.
Now you're ready to sear steaks, burgers, pork chops, or fish fillets to perfection. If you want to grill food that doesn't need to sear first, the Searing Grill has an adjustable temperature dial to let you grill at a lower heat.
Use A Meat Thermometer For Safe Grilling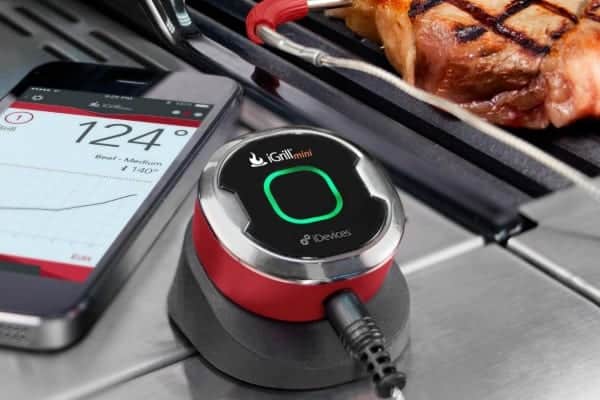 The iGrill mini grilling thermometer is a pocket-sized smart thermometer that takes the guesswork out of grilling, so knowing exactly when to take your meat off the grill has never been easier.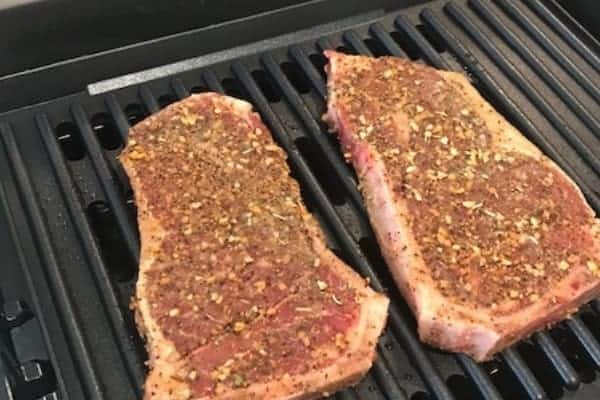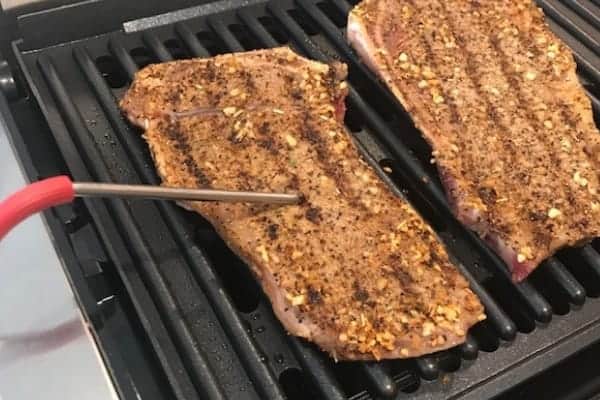 Related Recipes
How To Grill Easy New York Steak
Here's a printable recipe card with all the ingredients, steps, and nutrition information. Don't forget to pin this post so you can find it later!
Easy Grilled New York Beef Loin
This easy grilled new york beef loin is quick and easy to make and full of flavor with this spice rub.
Ingredients
2

6 oz

Thin New York Beef Loin Steaks

6 – 8 oz each Thin

2

Tablespoon

dried rosemary

1

Tablespoon

ground cumin

1

Tablespoon

dried oregano

dried

1

Tablespoon

Lt Brown Sugar

1

Teaspoon

ground sweet paprika

1

Tablespoon

kosher salt

1

Tablespoon

course ground black peppercorns
Instructions
Add the spices together and rub both sides of meat.

Add to a hot grill and cook approx 5 minutes on each side up to the correct temperature.
Notes
Turn the steaks over and continue to grill 3 to 5 minutes for medium-rare (an internal temperature of 135 degrees F), 5 to 7 minutes for medium (140 degrees F) or 8 to 10 minutes for medium-well (150 degrees F) Using a meat thermometer. Tenderloin is the choicest cut and most tender. The top loin and sirloin aren't as tender, but they're a bit more flavorful. Cuts from the loin require very little work to taste great.
Nutrition
Calories:
486
kcal
|
Carbohydrates:
14
g
|
Protein:
34
g
|
Fat:
33
g
|
Saturated Fat:
13
g
|
Polyunsaturated Fat:
2
g
|
Monounsaturated Fat:
14
g
|
Cholesterol:
146
mg
|
Sodium:
3583
mg
|
Potassium:
712
mg
|
Fiber:
4
g
|
Sugar:
6
g
|
Vitamin A:
663
IU
|
Vitamin C:
2
mg
|
Calcium:
162
mg
|
Iron:
7
mg